IN today's modern society we all want our prize possessions to be able to multi-task. If you're purchasing a new 4WD for example it's got to be comfortable, look great and be more than competent both on and off the road.
Now the same can be said when it comes to looking at a new boat, especially for the modern sport fisher; you know that person who has all the latest rods, reels and tackle. The same angler who's backwater bass fishing one week then taking on the wind and the swell the next targeting a new PB kingfish on some offshore reef. Actually, I think I just described myself! Anyway, what I'm getting at is finding a boat that ticks the estuary, bay and offshore fishing boxes and gives you so many options.
My first ever offshore capable boat was a Quintrex Fishabout. I reckon it was mid-seventies vintage and I loved it. Fast forward to 2022 and I've been lucky enough to put the 590 Top Ender Pro through its paces.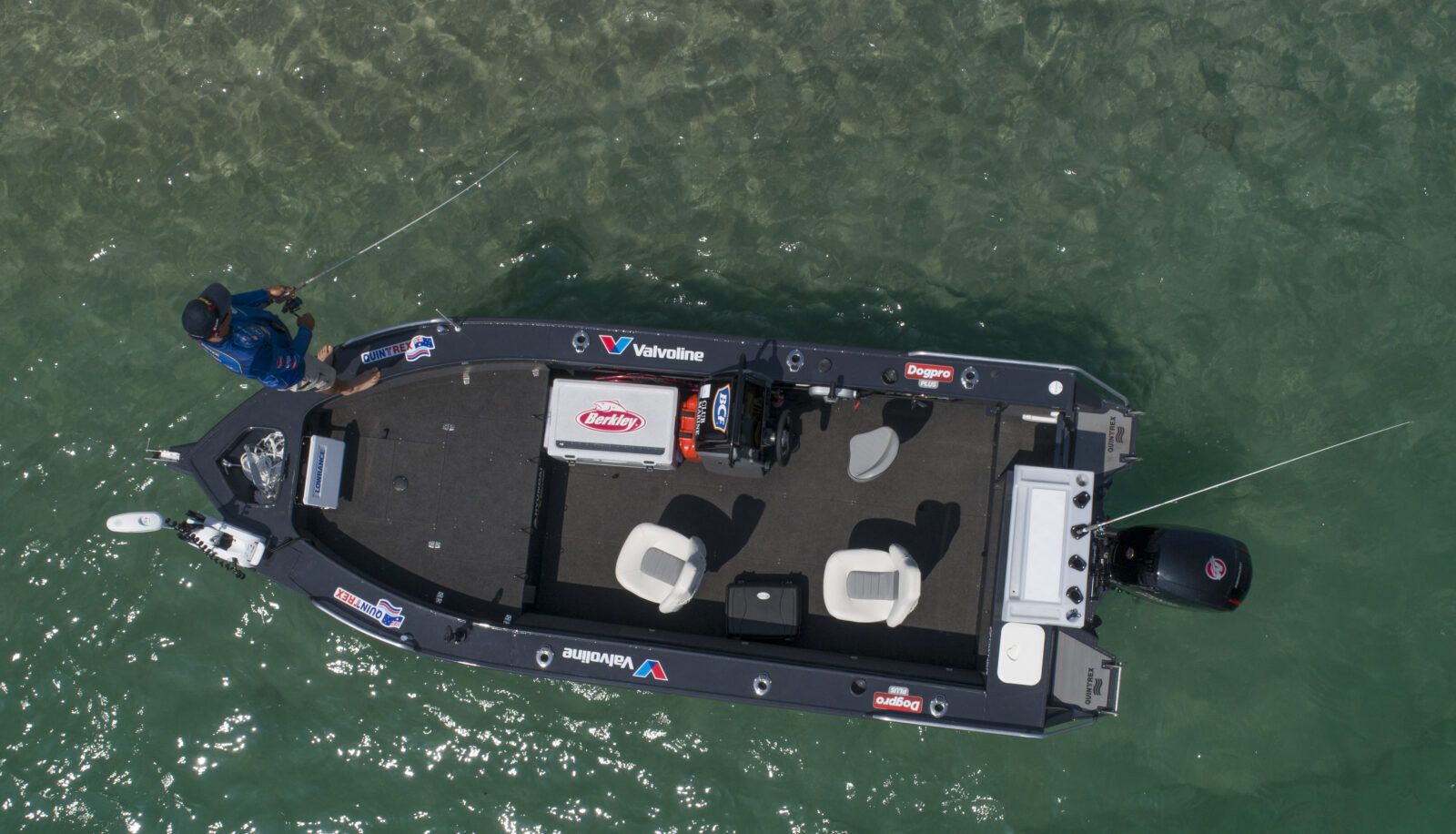 So far, the Top Ender has covered everything from polaroiding shallow sands flats to targeting big kingfish offshore and handled it with ease. The ability for the boat to excel in a range of situations has a lot to do with the hull construction. The blade hull and flared bow combination creates a smooth dry ride by dispersing wind chop and swell.
With an overall length of 6.19m and a beam of 2.13m the Top Ender has a big roomy platform to fish from. The hull construction is made from 4mm alloy on both the bottom and transom with 3mm topsides. The extra sheet thickness on the bottom of the hull creates a strong base and from here the sides are topped with something that I really like and that's nice wide gunwales. Being an avid lure fisherman, I like to stand up high to get a good look at what I'm casting at and to maximise my casting distance.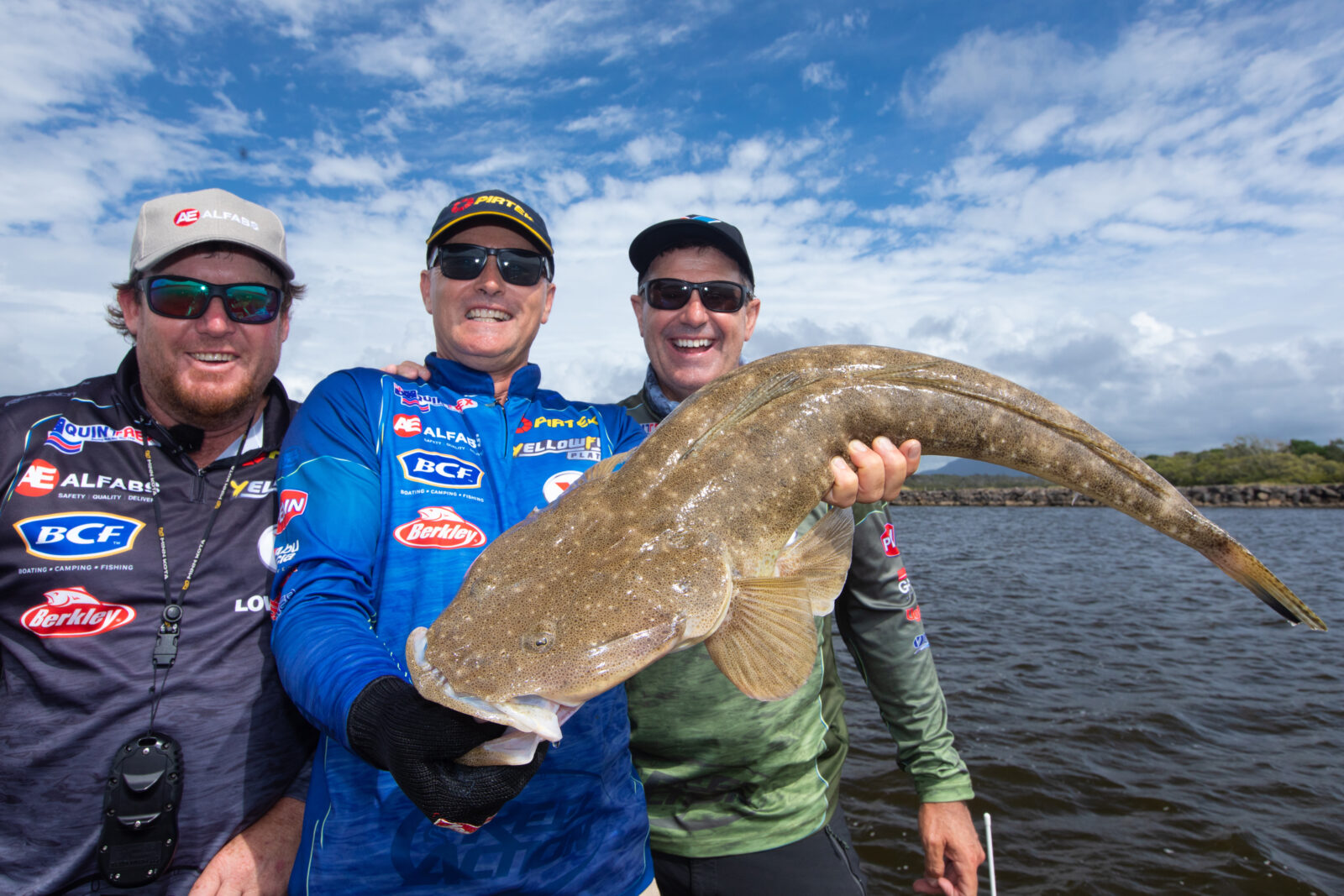 When it comes to casting there is a huge amount of room on the casting platform, I've had three and even four anglers all firing away up on the deck at the same time. I also had a lean seat added which gives you great support especially when the wind gets up.
The deck has three hatches providing
access to the huge area underneath, which is great for tackle, PFDs, and all that other gear boaties seem to accumulate. There's also
one extra storage bin located towards the anchor well.
In general, this is a boat that has a lot of room, once you step down off the deck the cockpit area has three seat spigots and plenty of space for a large ice box. There are two under floor wells with neat, carpeted hatches. The forward well is where I mounted the thirty-six-volt lithium battery to run the bow mount electric and the rear well is great for tackle storage.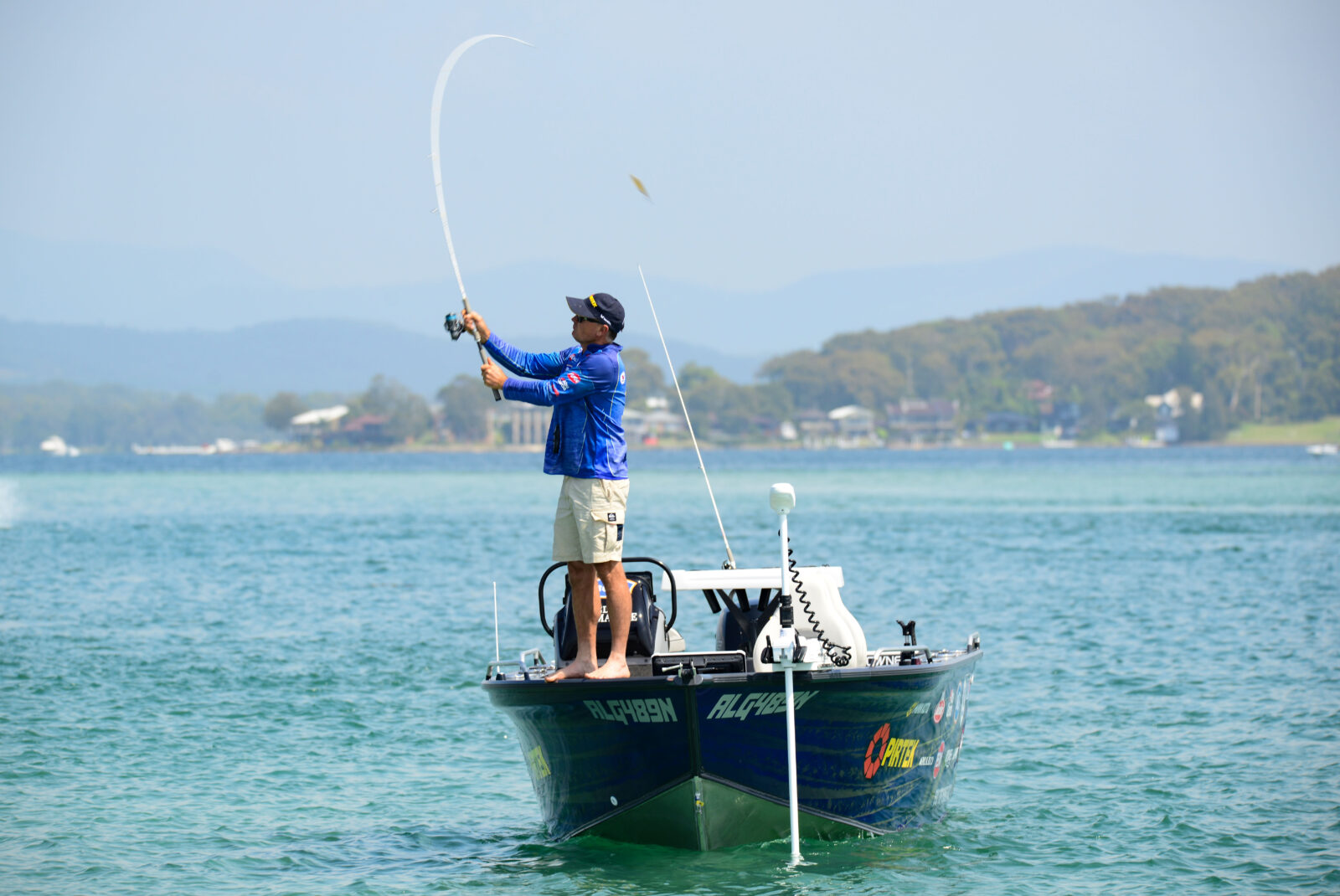 There are factory fit out extras that can be ordered through the dealer and one that I had added was a full-length rod locker. It's a safe place to store all those expensive outfits. The locker comes lined with carpet and a mini rod rack.
The dual cranking batteries are neatly housed under another hatch in the floor at the transom. I always recommend dual batteries with an isolator switch especially if you're keen on heading offshore.
As much as I really like my lure fishing a good-sized live bait tank is an absolute must in any fishing boat. This one is fed by a 500GPH pump and has had a range of live bait in it including yellowtail, slimy mackerel, mullet, and squid.
Recently we took the 590 for a run offshore to target a few big kingfish. It was a typical early start involving coffee and an eastward run into the breaking red dawn. The reef we wanted to fish was twenty nautical miles down the coast; seas were slight on about a metre of swell with 10 knots of westerly keeping things cool. Longer runs like this are always the best indicator of how a boat really performs in the open ocean.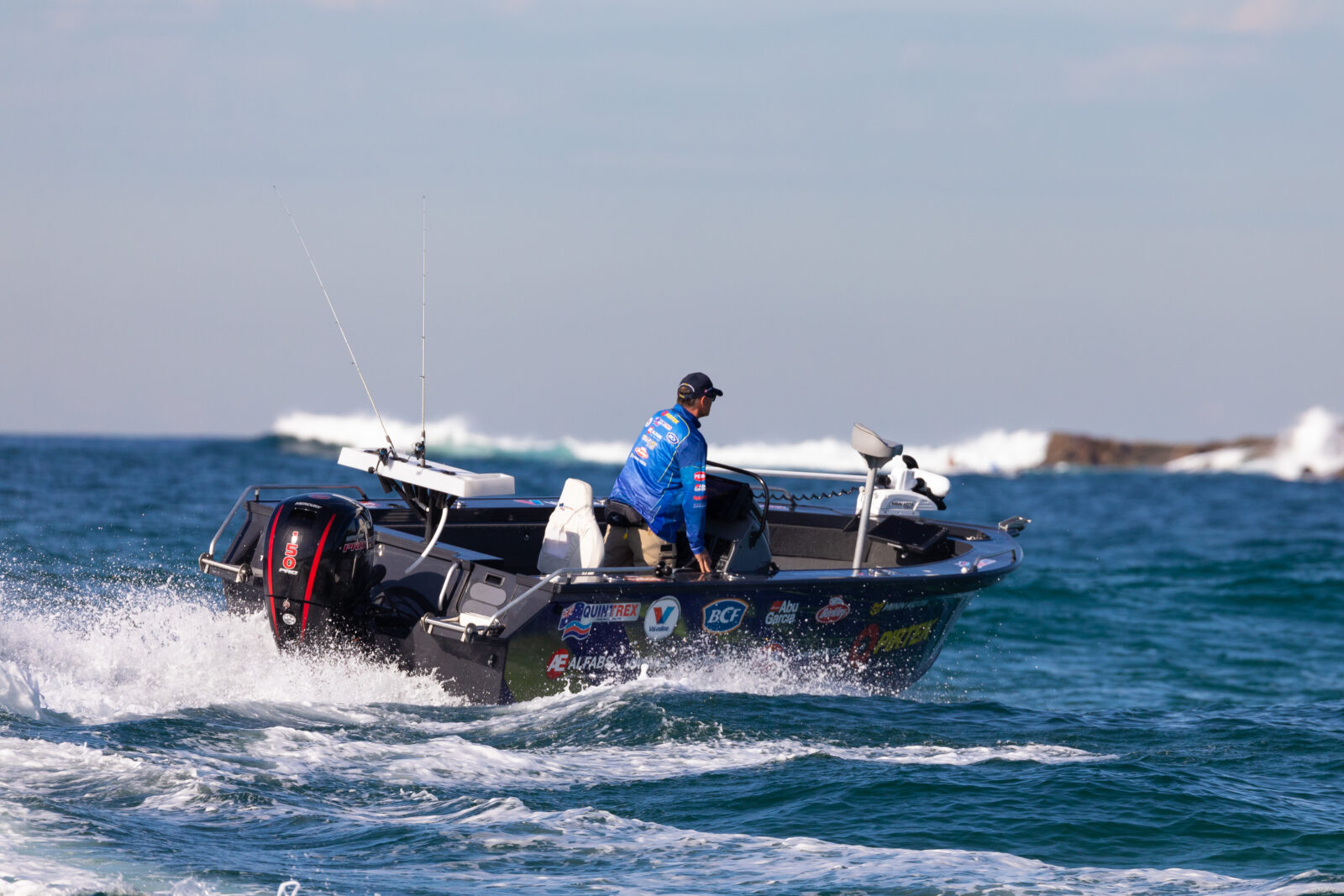 After a quick, smooth dry ride sitting on 30 knots the bow mount electric was deployed and we positioned ourselves just up current from the pressure point of the reef. It's always a good sign especially chasing kingfish when you're on bait and we had plenty of that. The other key factor for kings is current so with 2 knots of downhill flowing past things were looking good.
The live bait tank soon had some nervous looking yellowtail in residence. While the bait was being caught, I cast a lightly weighted whole pilchard out to slowly sink down into the depths for a snapper. Within a minute I was hooked up to one of those early morning freight trains on tackle that was totally out gunned for the situation. Of course, the inevitable happened and I was busted off in the bottom.
Not to be beaten I picked up the 80lb outfit and deployed a live yakka on a 10/0 circle hook and with seconds that was devoured by a solid king. After being dragged around the boat up came a cracking 15 kilo kingfish! On closer inspection there was the 10/0 circle hook pinned in the corner of the jaw and right next to that was the 5/0 hook from my first bait. Now that's one hungry kingfish. It's not often you get two goes at the same fish!
One of the other key additions that I've added is the 112lb bow mount electric motor, the thruster plate is part of the standard build.
The Top Ender is fitted with 110 litre fuel tank and powered by a 150 HP Mercury Pro XS outboard and stainless-steel prop. The blade hull gets up on the plane with ease and performs exceptionally well from tight power turns to both oncoming and following sea running. The hull has a maximum rating of 150 horsepower and I reckon that makes a great package. With some of our days on the water including taking five big blokes and a lot of gear we've put the boat through its paces. Fully loaded the 150 Merc pushed the 590 along at just over 40 knots!
The Top Ender range comes in multiple sizes but two layout variants, either side or centre console. I've really grown to like side consoles due to the floor extra space created. Two other features that I can't go without and are part of the package are a deck wash along with a trusty burley bucket. Options are available for bait tables, ski poles, biminis, vinyl wraps and more.
Access into the boat has been made easier via a drop-down transom door with non-slip decking, this is a great idea especially for your less mobile crew members.
This boat sits on top of a Quintrex aluminum I beam dual axel trailer with override brakes. It comes with a boat catch, if you've never used one, they make launching and retrieving especially on your own so much easier.
I've been super impressed with the Top Ender Pro in all conditions but better still it's been one of those boats that just catches fish.