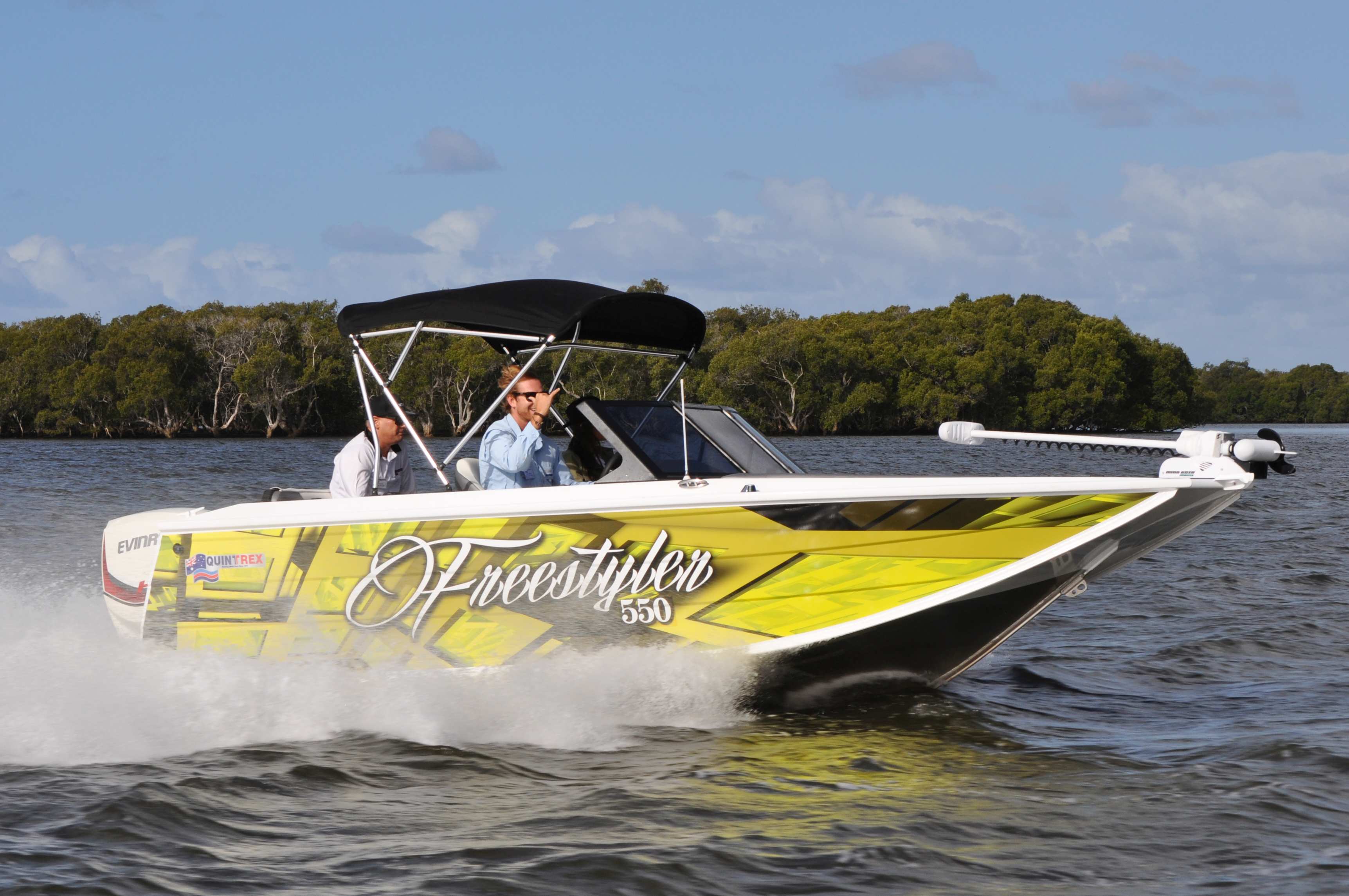 IN a media event yesterday on Queensland's Gold Coast, Quintrex unveiled its Apex Hull, a revolutionary new design for the established boat brand.
The new Apex Hull is available on the Stealth Hornet, Frontiers and Freestylers.
Design
The flare on the new Apex Hull is carried further aft to maintain continual contact with the water when on the plane, which creates a smoother ride.
A wider, sweeping chine design on the Apex Hull opens the front of the hull to allow the flaring to carry further forward up the stem line, consequently improving rough water performance.
By widening the chine on the Apex Hull, Quintrex have achieved increased stability and grip when cornering.
Increased surface area at the bow of the Apex Hull provides much greater lift, ensuring a level attitude.
Space
The new RSD (Raised Side Decks) featured on selected Apex models is fully-welded and increased the overall internal volume of the boat by 20 per cent.
The new RSD feature on the Apex Hull increases freeboard by 80mm, offering extra comfort, safety and fishability.
A compact side deck design maximises internal width in the Apex Hull.
The overall footprint of the Apex Hull has increased by 5 per cent; the forked bow creates room for a large bow seating area on Freestyler models and a large casting platform on Frontier models.
Aesthetics
The lines of the Apex Hull combined with the forked bow, RSD, and sleek windscreen profile (on Freestyler models) provide a much more modern look.
The new upholstery design featured on the Apex Hull, requires less fittings, resulting in a simple and clean looking internal finish.
Quintrex account managers Drew Jackson and Nathan Shaw said they expect the Apex Hull to exceed expectations.
"We released the Apex Hull to our dealer network at a recent conference on the Gold Coast and where overwhelmed with their response," Shaw said.
"Our dealers love the new design and we have already received great orders and customer enquiry."
"I encourage anyone to test drive one of the Apex Hulls because the results speak for themselves, it is a truly great design," Shaw said.