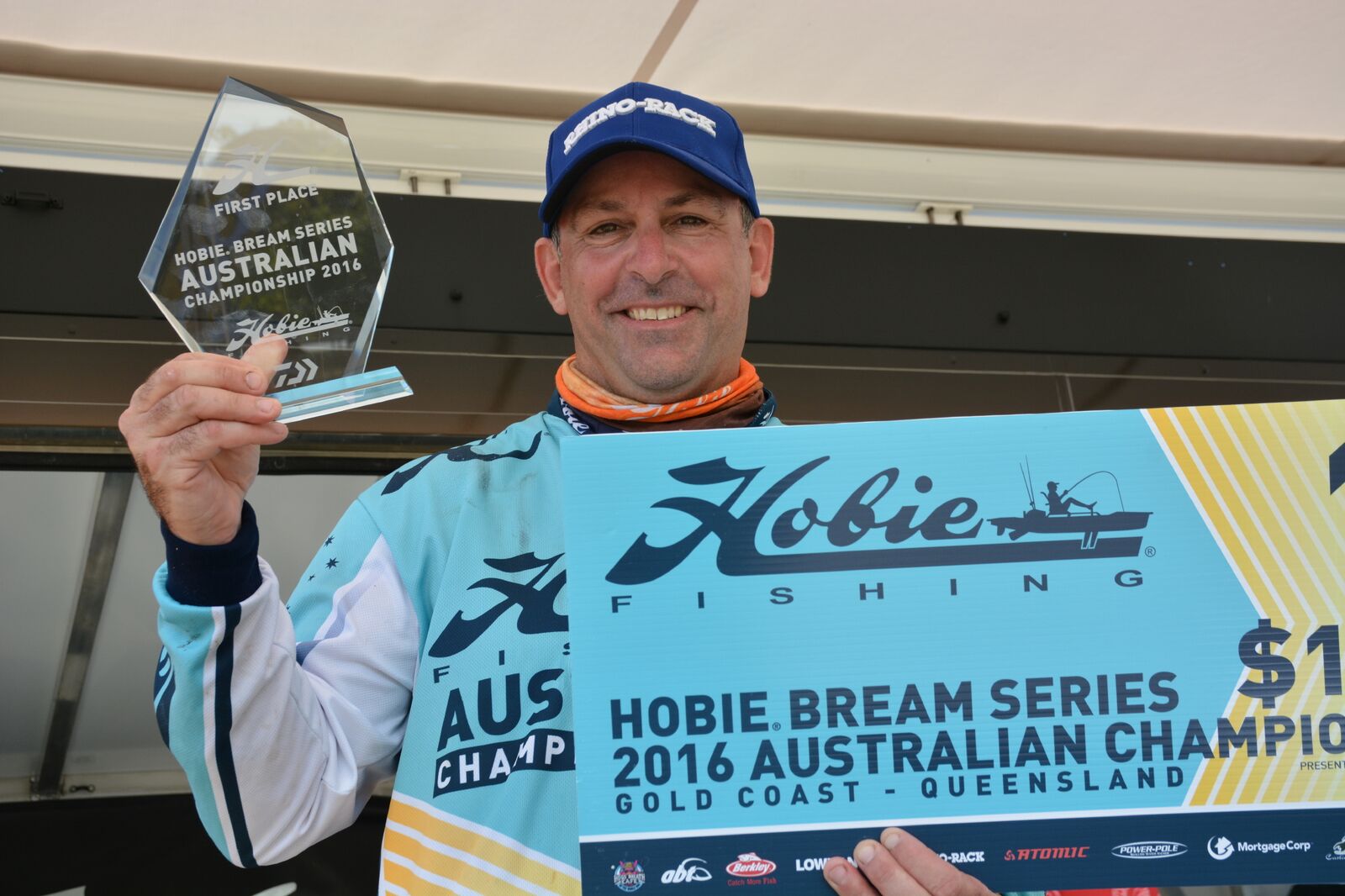 THE Hobie Kayak Bream Series culminated last week with an amazing final day to the Series 8 Australian Championship on the Gold Coast in Queensland.
Exceptional weather greeted the 53 qualified anglers from across the country, and two from China, as they gathered at the Broadwater Parklands event site around 5:30am for breakfast and the 6am registration.
All fired up and eager to get amongst the fish, the competitors hit the Power-Pole starting line at 7am in absolutely perfect conditions. Many travelled to their successful locations from day one and others sought out new ground in the hope of a change of fortune.
Richard Somerton from Victoria, who was leading the tournament after day one, covered plenty of ground on day two doing well at a couple of locations that he had fished on day one.
At one point he spotted a relative monster which he estimated to weigh-in around 1.2kg, chewing on the rock wall a few metres in front of his kayak. Somerton enticed him to the lure, the fish rushed the presentation but unfortunately snubbed it at the last moment. Despite missing the kicker he had filled his bag by around 11am and was able to work on upgrades for the rest of the session.
His day two 5 fish for 2.54kg bag, on top of his 4 for 2.17kg on day one, turned out to be enough to win the brilliant Victorian angler the Australian Championship for 2016, adding to his impressive list of achievements including the 2013 world championship.
2016 was the eighth Hobie Fishing Series since its inception back in 2009, and it will go into its ninth season next year even stronger than the record breaking year just completed.
The program for next year is yet to be released but Getaway Outdoors executive Matt Williams flew across the country to the Australian Championship site on the Gold Coast to announce that the 2017 Hobie Bream Series 9 Australian Championship will be held in Western Australia.