WITH an influx of fresh water and large numbers of undersize bream, winning last weekend's Tweed River round of the 2012 Daiwa Hobie BREAM series was going to take supreme consistency.
Queensland bream fishing fanatic Nicholas Meredith showed his skills as a tournament angler, filling his bag each day to record a perfect 6/6, 2.48 kg bag, in the process securing his first win of the 2012 season.
On both days Meredith caught his winning fish in the Oxley Cove canal system; early in the first session Meredith targeted the pontoons and bank side structure for no reward.
"Even after the large fresh in the system, I knew there would still be fish holding in the area, it wasn't until I miss cast into the open space that I found where the fish were holding", explained Meredith.
Victorian Richard Somerton showed that he is one to watch no matter where a tournament is being held, catching a 5/6, 1.77 kg limit to claim yet another podium finish.
After making the long trip from Victoria Somerton knew that he would have to make the most of his limited pre-fish time. He found good concentrations of fish located on the flats in Terranora Creek and knew it would be all about dialling in on what the fish would respond to.
"It was important to get the jighead weigh correct so the lure would run in the correct zone, once I found that zone it was just about sorting through the undersized fish", explained Somerton "I really enjoyed the challenge of fishing a new tournament venue and have to thank Steve Fields from Hobie Cat Australasia for transporting a kayak for me to fish out of for the weekend", said Somerton.
The Hog's Breath Boss Hog went to Denis Metzdorf for his cracking 1.01 kg Tweed River monster. In a river plagued with undersized fish over the weekend Metzdorf's fish was a stand out for the event. He fished the flats near the mouth of Terranora Creek targeting fish on the edges of the weed beds, with the fish falling to a Pontoon 21 Mojarilla (colour 907). Metzdorf imparted a slow rolling retrieve pausing it occasionally to allow the fish to key in on the lure.
"Once it hit I knew it was a better quality fish," said Metzdorf.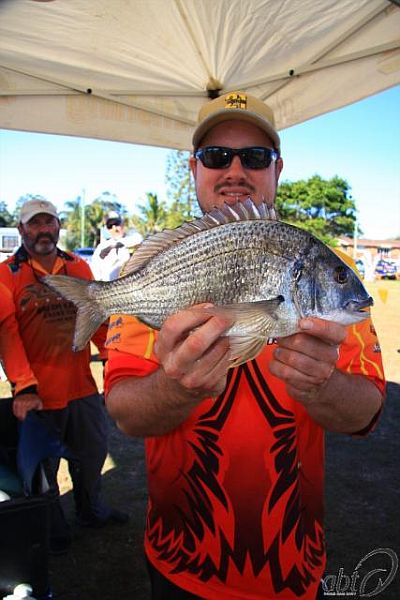 Hobie Boss Hog winner Denis Metzdorf and his 1.01kg cracker.
With the end of the season fast approaching the race for the 2012 Daiwa-Hobie BREAM Kayak Series Angler of the Year is heating up.
For more information on a tournament near you head to www.bream.com.au