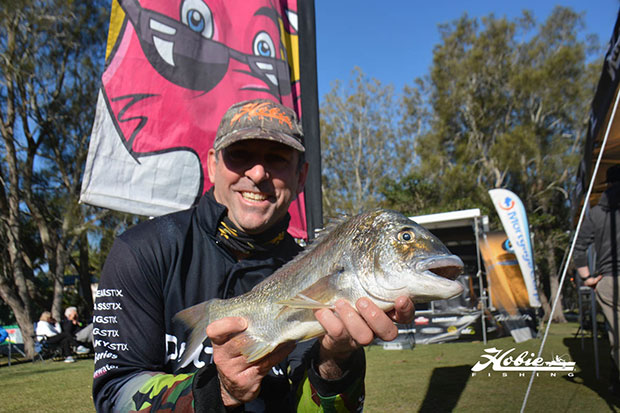 ALMOST one hundred anglers from as far afield as Western Australia descended on the seaside town of Forster in New South Wales to compete in the Hog's Breath Cafe round of the 2016 Hobie Kayak Bream Series presented by Daiwa.
All were competing for a seat at the 2016 Australian Hobie Fishing Championship to be held on the Gold Coast in late October. This was also the last chance for those waging a campaign for a spot on the 2016, Australian, Hobie Fishing Worlds team to build their qualifying score.
The weekend started with wet, cold and windy conditions coming from the South South West stirring up the water and bringing on an epic afternoon of fishing on Saturday resulting in 41 full bags of 4 bream and a total of 225 yellowfin bream for the day.
Day two, in contrast, delivered considerably calmer conditions with high sun and very little wind making for a more comfortable, albeit tougher, second day on the water. At the close of competition, 81 of 96 anglers had presented a total 390 Yellow Fin Bream to the tournament director, weighing in excess of 180kg over the course of the weekend.
Ultimately, It was Richard Somerton from Victoria who claimed the top spot and took home the monster cash prize of $2,730.00 as well as a generous sponsors prize pack for his trouble.
Somerton's impressive two day total of 8 Bream for 6.6kg were pulled from the racks, near Tuncurry, about 8km pedal from the Atomic Lures, launch site and were enough to secure him the victory with a comfortable 1.29kg lead over second place getter Kris Hickson (NSW) with 8 / 5.11kg and Carl Dubois (NSW) in third with 8 / 4.67kg.
Somerton put the work in with a 16 kilometre round trip snatching the bulk of his fish from the cover some particularly shag covered oyster racks, which not only provided shelter for the fish but also a plentiful food supply. The decision paid dividends as the racks not only delivered his bags but also landed him another $100.00 for the Hog's Breath Cafe, Boss Hog Big Bream Award for his 1.41kg Horse!
Like all of the events in the Hobie Kayak Fishing Series, this round could not have gone ahead without the great support of our generous sponsors Daiwa, Berkley, Atomic, Lowrance, Rhino-Rack, Strike Pro, TT Lures, Yamatoyo, Ecogear, Power-Pole, Hog's Breath Café, Mortgage Corp, ABT and also to the team at Barclay Marine for providing dealer support for the tournament.
Thanks especially to those who helped out on the day and the 96 anglers in attendance for making this the largest New South Wales round since the series started in 2009.