Here are the 10 best tinnies for fishos looking to save a few bucks without compromising on quality. JEREME LANE reports.
TINNIES are the most popular boat for Aussie fishing and for good reason. These tough little boats offer great value while providing fishos with a quality platform for targeting a variety of estuary species. Best of all, everything in the boat guide below costs less than $10,000 for a full package. Now there are no excuses for not buying a boat!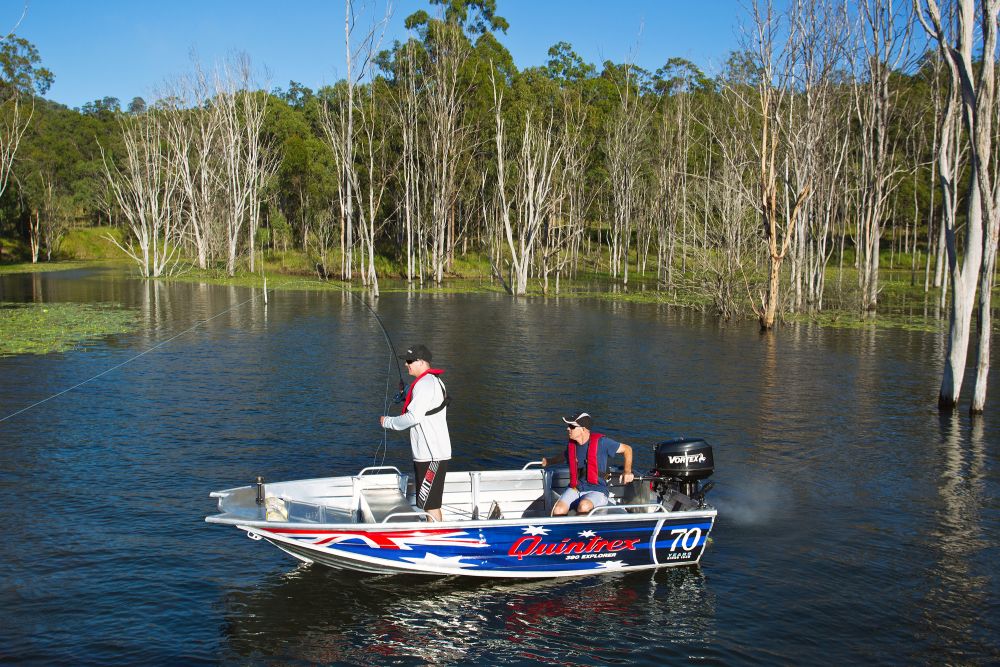 Quintrex 390 Explorer
WITH a new forked bow design the Quintrex 390 Explorer now features wider chines generating better stability at rest and extra storage room for your fishing gear, while the sharper entry point creates an even softer riding hull. The new Explorer features stronger side sheets and a sleek new look thanks to a new pressing design which increases strength by up to 50 per cent. Quintrex said that while the Explorer range is idolised for being a no-fuss tinnie, if you are after something a little extra you can still option up with a casting platform, rod holders, bimini and envelope and transom step and rail. The Explorer is backed by a three year warranty for peace of mind and is available as an "Instant Boating" package complete with boat, engine and genuine Quintrex trailer.
More info: www.quintrex.com.au
Package price: From $5795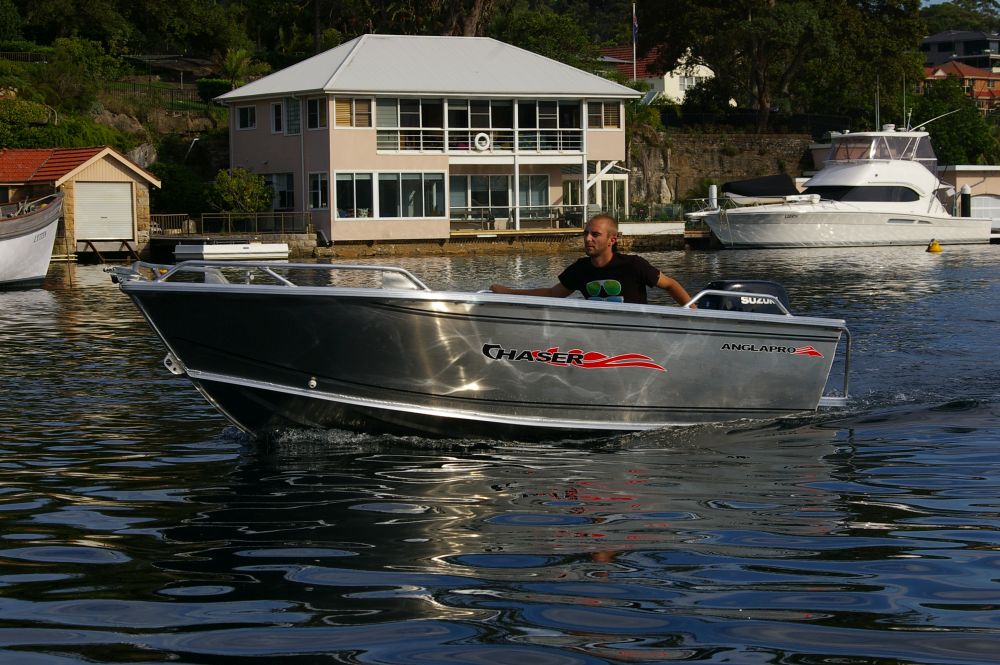 Anglapro Chaser 404
ANGLAPRO claims its Chaser 404 raises the bar in four metre tinnies. It comes packed full of standard features including 3mm bottom and side sheets, 650mm freeboard, front casting deck, bow and side rails, anchor well with drain, side decks, bow roller, long side pockets, cockpit floor, fuel tank shelf and rear boarding step.
More info: www.anglapro.com.au
Package price: From $9,990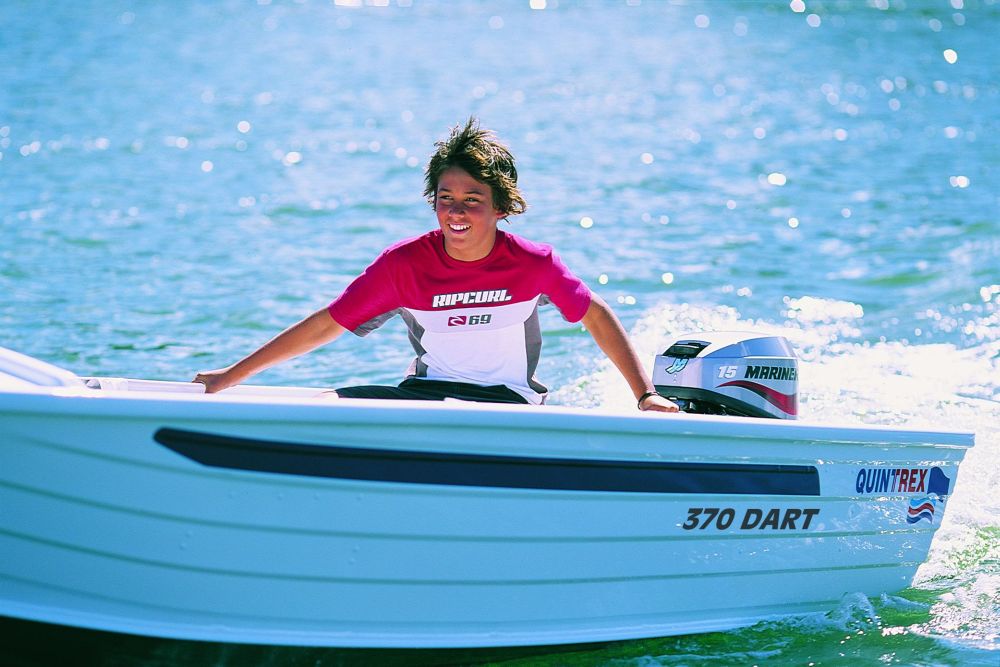 Quintrex 370 Dart
QUINTREX's 370 Dart is perfect for those looking at getting on the water without a big budget. It features 1.60mm swage pressed bottom sheets, is available with a short or long transom and also comes standard with a built-in glove-box and drink holder. This model also features Bench Seat Flotation to seat four people comfortably and is rated to a maximum 20HP. The 370 Dart is backed by a three year warranty and is available as an "Instant Boating" package complete with boat, engine and trailer.
More info: www.quintrex.com.au
Package price: From $5595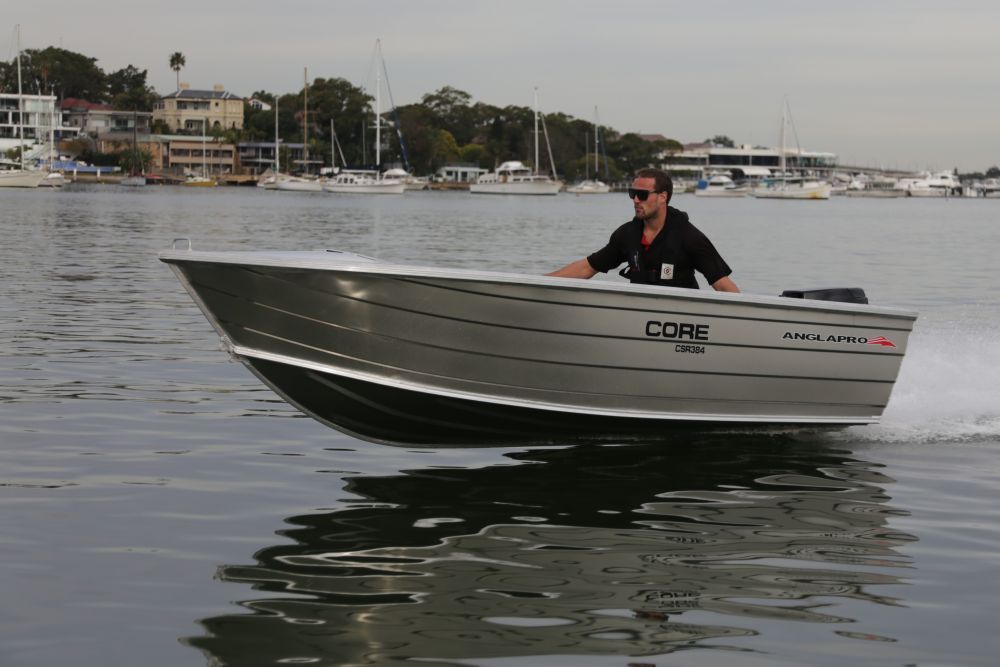 Anglapro Core CSR384
ANGLAPRO'S Core CSR384 is a super tough little tinny that will give many bigger boats a run for their money when it comes to size, features and performance. Featuring a very strong structural design that includes an internal keel, close placement of hull ribbing, additional side rib support, fully reinforced box section framing for the transom, double transom support bars off the internal keel, solid transom corners, oversized thwart seats for added safety providing level flotation, and a 2mm bottom and side sheet thickness. It's a very tough boat with deep freeboard and broad capability. Anglapro has drawn much of the design features from their bigger hull line up using the X-Core construction. Anglapro claims where most manufacturers go cheap and light with their small boat ranges, Anglapro said its gone in the opposite direction building a hull with strength, size and performance with a minimum of extra weight.
More info: www.anglapro.com.au
Package price: From $6990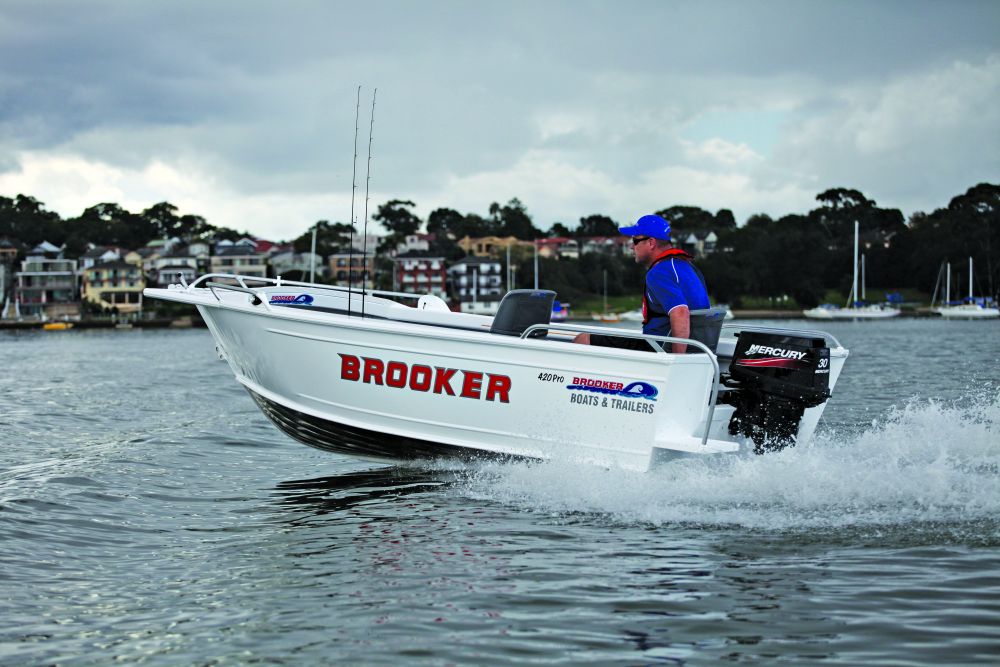 Brooker 420 Pro
BROOKER'S 420 Pro is an open deep vee style tinny suited for fishing estuaries, rivers and impoundments and is Brooker's answer to a specced-up sportfishing boat, with fully carpeted floors, rear and forward casting platforms and a few other add-ons. Under the rear platform on the starboard side there's a 25 litre fuel tank, while the opposite hatch features a battery tray and wiring. There's a reasonable amount of storage and a dedicated electric motor bracket on the bow. The maximum rated outboard for this hull is 40hp. The 420 Pro is easy to tow, easy to store, nicely finished and available in several colour options and sizes.
More info: www.brookermarine.com.au
Package price: From $9,990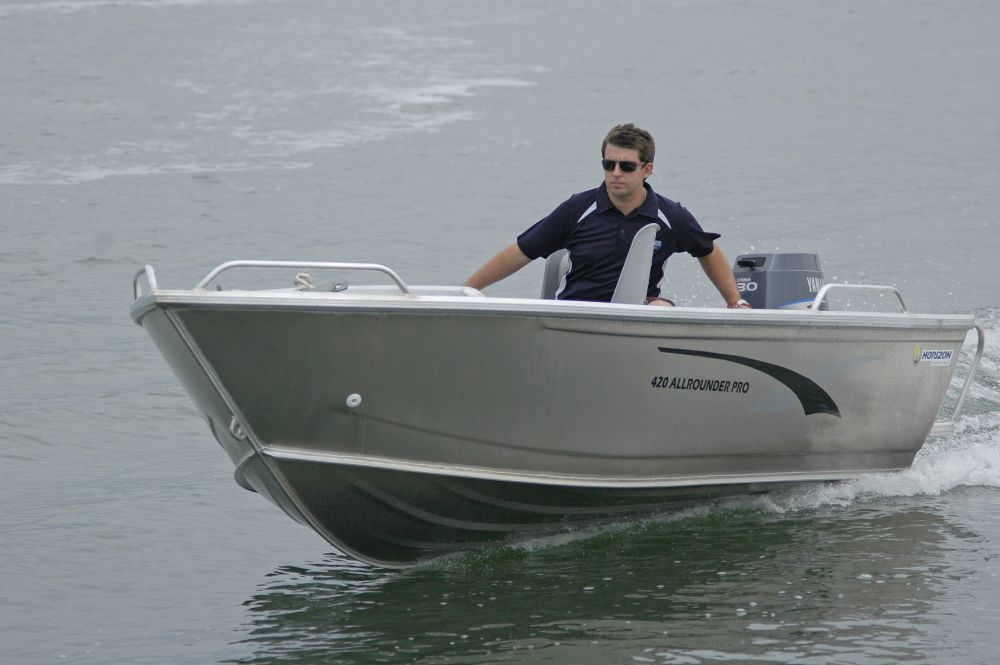 Horizon 420 Allrounder
HORIZON'S 420 Allrounder is a great entry level tinnie, ideally suited to anything from a family day out on the water, to serious fishing in lakes and estuaries. The 420 Allrounder features 3mm bottoms and a 1.85m beam and deep bow entry, which allows for easy handling in choppy conditions and good stability at rest. Horizon said that the 420 Allrounder is a feature packed vessel that includes carpeted low floor, two thwart seats, front casting deck, side pockets and an anchor well just to name a few.
More info: www.horizonboats.com.au
Package price: From $8990.00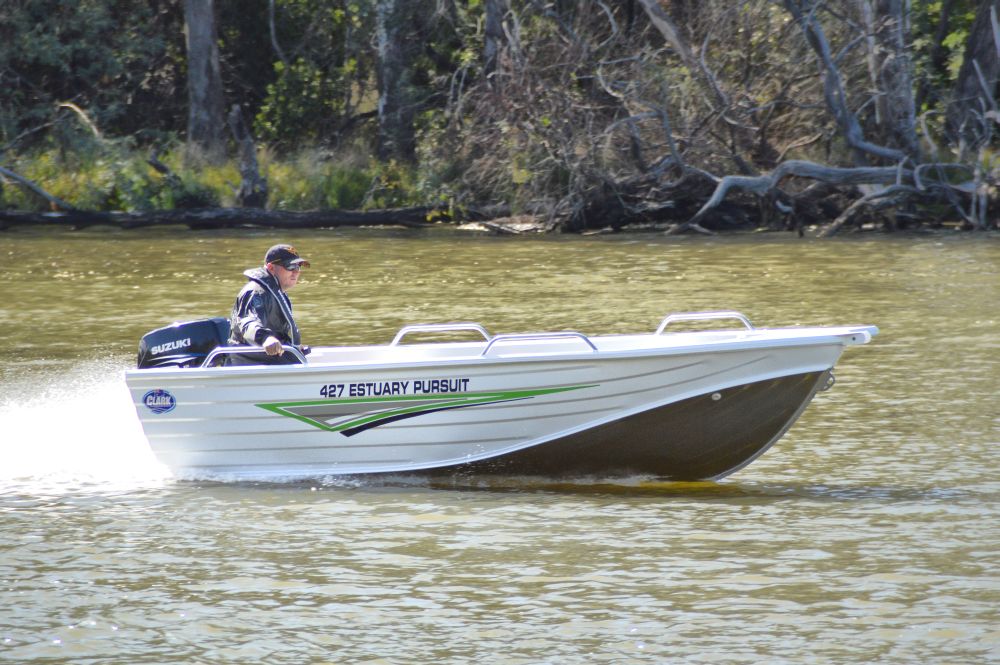 Clark 4.27 Estuary Pursuit
CLARK'S 4.27 Estuary Pursuit is an ideal boat for a complete beginner and yet just as useful to an old hand looking for that handy sized boat for a couple of mates to spend time in. This boat comes standard with a Long Shaft transom. It also has a rear step making getting on and off this boat a breeze. This is a solid rig with 1.6mm pressed side sheets and 3.0mm bottom sheets with fully welded construction all around, however 4mm plate can be order built. Within the bow, an open large anchor well provides plenty of room for the anchor and rope, as well as an Electric Motor Bracket. An enclosed carpeted casting deck with hatch comes off the front bench seat providing added storage. The fully carpeted low part floor between the seats and full battery tray is just another reason why this boat is so popular. The boat also comes standard with all the usual features like Sports Bow and Side Rails and Storage Side Pockets. The base model does come standard unpainted, with painting and striped as pictured optional.
More info: www.clarkboats.com.au
Package price: From $8,500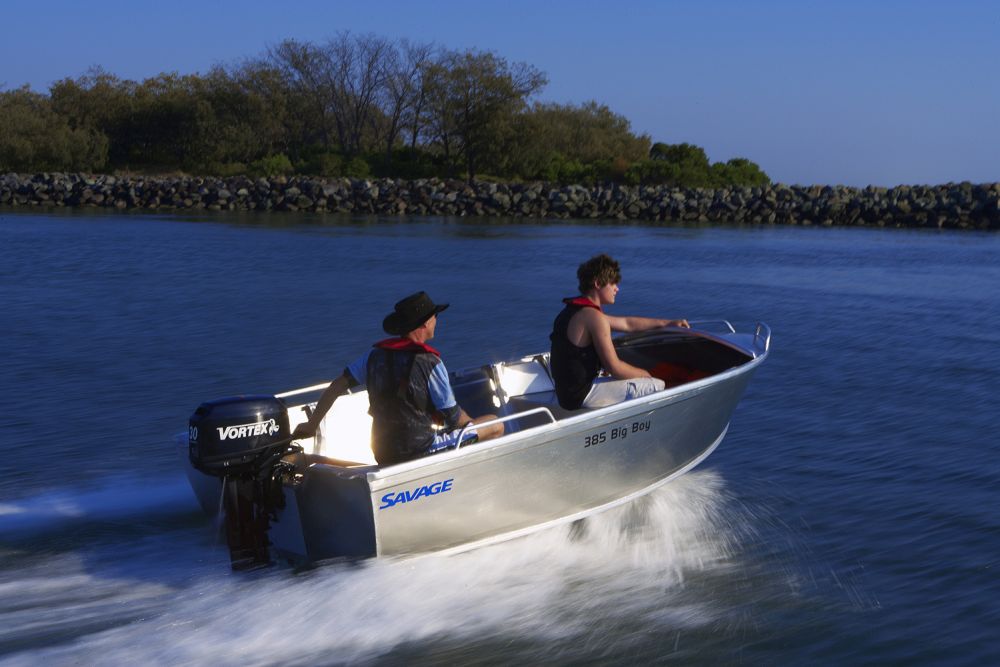 Savage 385 Big Boy
SAVAGE'S 385 Big Boy is an affordable option for the fishing enthused and is built to the same engineering integrity expected from Australia's oldest brand in aluminum boats. The Big Boy features really tough 2mm top sides and is rated to 30hp. With a 1.85m beam and an overall length of 3.90m, the Big Boy has the capacity to carry four people comfortably with enough room left over to store the fishing gear. The 385 Big Boy has a range of features, with front and rear bench seats and bench seat flotation for passenger safety, short side rails and a short bowrail, two transom handles and carpeted floor between seats for greater stability underfoot. Added extras include a casting platform, bimini and envelope and two rod holders and the hull can be painted in white or colour to really stand out on the water.
More info: www.savageboats.com.au
Package price: From $7366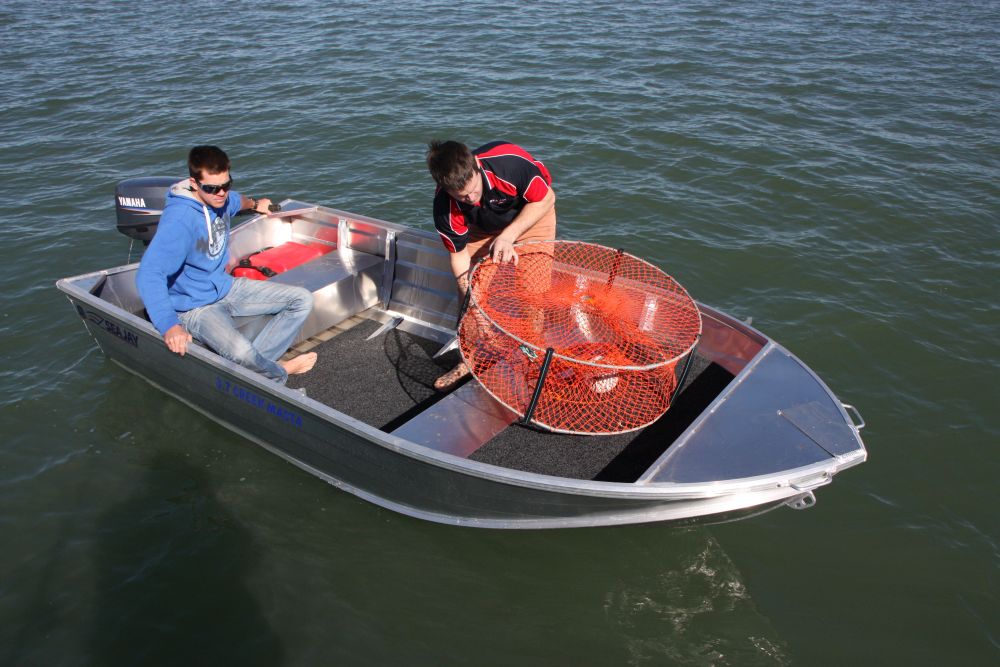 Sea Jay Boats 3.7 Creek Masta
SEA JAY'S Creek Masta is a V-nose model that is an extension of the standard Sea Jay Nomad, and the Creek Masta takes this model to the next level. The Creek Masta is a good little boat for sneaking around the creeks and estuaries, with the front casting deck giving a stable platform for flicking a lure, throwing a cast net or setting the crab pot. An electric motor plate on the front deck allows the use of an electric for those anglers who want to take their fishing to a higher level and the carpeted floor makes moving around a breeze. The Creek Masta range is versatile in that it can be roof topped or trailered and it is max rated for a 20hp engine.
More info: www.seajayboats.com.au
Package price: From $8000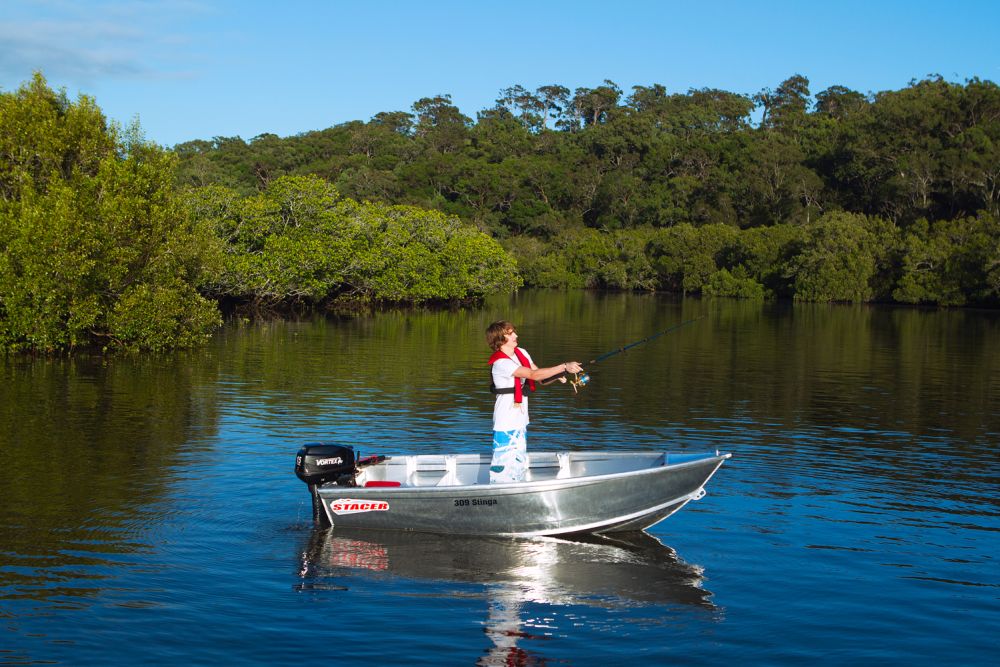 Stacer 309 Stinga
STACER'S 309 Stinga was developed for budget concious boaties and fisherman. Measuring in at 3.21m in length and weighing a practical 70kg, loading onto a 4WD or camper trailer is an easy task. The Stinga is built tough with 2mm bottom sides and features a wide beam and high sides, making it safe and easy to handle no matter your experience. The Stinga has a max rating of 15hp and additional extras including two rod holders, a painted hull, transducer bracket, vinyl wrap and bow rails. The 309 Stinga is available as a Stacer 'Ready 2 Go' package complete with boat, motor and trailer and comes with a three year warranty.
More info: www.stacer.com.au
Package price: From $3471 (no trailer)