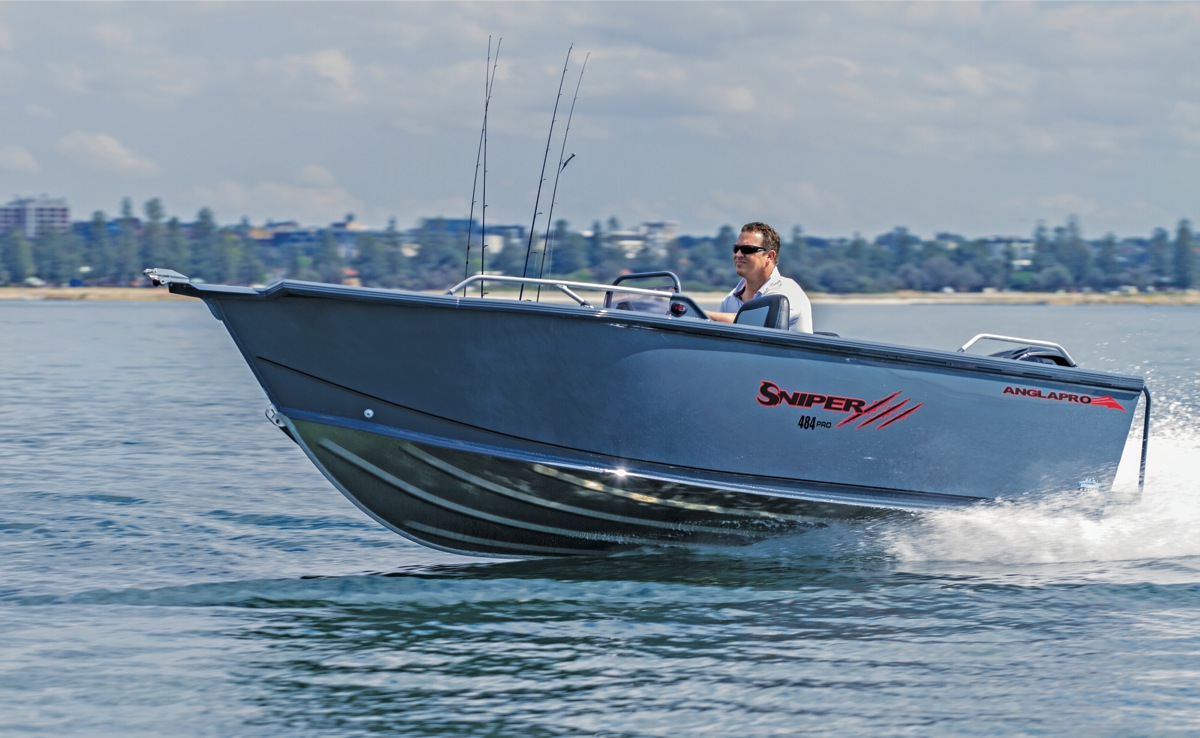 This recent offering from Anglapro is gaining popularity with Australia's serious sport fishing community. Mick Fletoridis reports.
KEEN anglers tend to expect a lot from their fishing boats. While fishos who are on the water weekly mightn't waste time pampering their boats, they're likely to ensure they're regularly serviced and always in tiptop shape for the next trip. Most would probably attest that a reliable and comfortable fitting boat you can spend long hours on the water aboard is more important than its looks. Which brings us to the latest review boat from Anglapro. While it might be the sort of rig you'd like to spend lengthy fishing days on, it's also hard to go past how it looks, courtesy of its striking military style paint job. Wrap that stealthy finish around the familiar style and shape of an inshore sportfisher, and the Anglapro Sniper 484 Pro looks to mean business – fishy business.
Boat of many colours
In recent years, Anglapro has earned a reputation as a maker of serious fishing boats. AnglaPro director and operator of southern Sydney dealership Good Times Marine, Derek Rodway, says the Sniper line-up has been well received since its launch sometime last year. Not surprisingly, the model's gunmetal "Military Grade" paintwork (it is available in other colours) has cemented the Sniper in AP's ever growing range. The Sniper slots in neatly amongst other similarly themed Anglapro boats such as the Bandit, Outlaw and Chaser. On face value there isn't a lot to separate the different models, with layout and finish the main variables and as Rodway says, Anglapro makes a point of making all its boats easily customisable.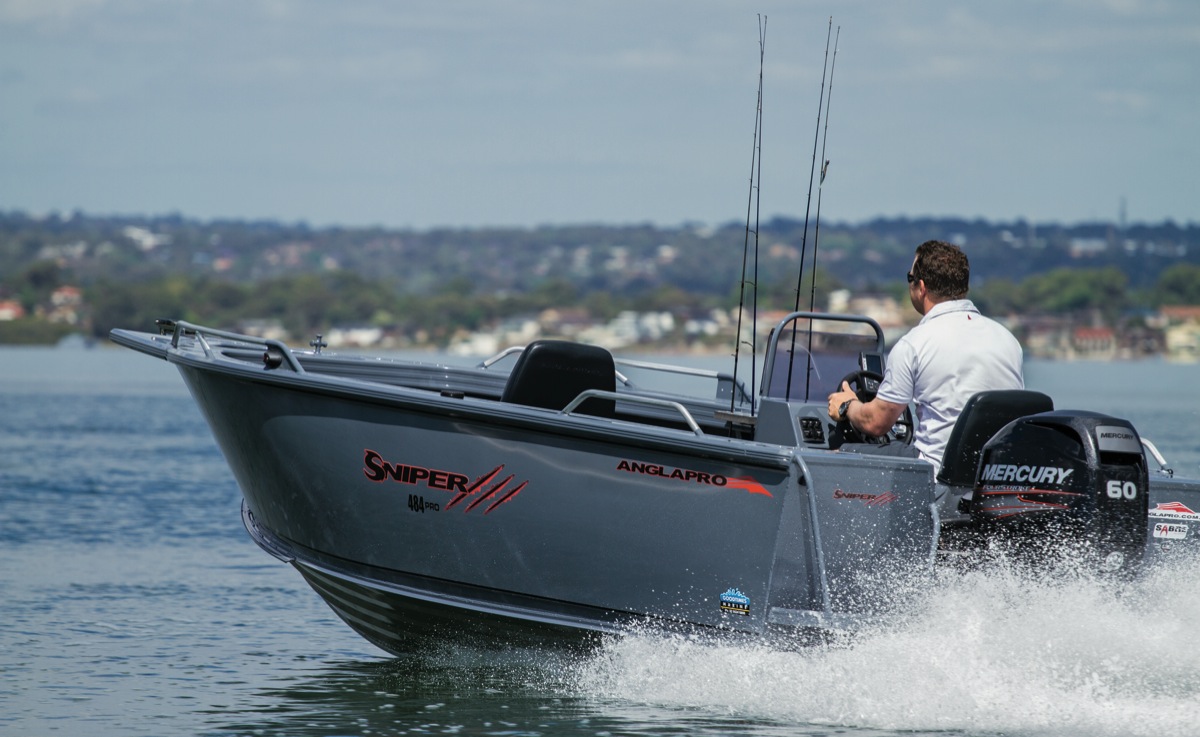 Design & layout
The Sniper 484 Pro is the second largest of the model's line-up which also includes the 424, 444, 454 and 514. All Snipers are available as basic unpainted CLX packages or in the higher specced Pro variation as seen here. Whichever boat you choose, it will still come in under the $30,000 mark, drive-away. The Sniper's aluminium hull features Anglapro's XCORE construction for added strength and rigidity. The hull has a basic flotation rating and has been constructed from 3mm thick alloy sheet on its bottom and sides; customers can opt for heavier hull thickness if required. The legal carrying capacity of this boat is five.
I was surprised at just how much interior space there is on board the Sniper 484 Pro. While on paper the boat boasts a 2.2m beam, it feels somewhat wider. Add a freeboard height of 630mm and this is definitely one of the roomier side console boats available in the 4.8m class. Being up front on this rig is a good place to be for a fisho. There's plenty of space for moving around working the front carpeted deck casting lures or flies without feeling cramped when operating an electric motor foot control. There's also a decent sized live well (plumbing optional) for housing big fish during tournaments or for a session's live baits.
As well there's good storage space for safety gear and an extra battery in the far forward hatch. While the test boat didn't have a bow-mount electric fitted, there's a mounting plate in place for most buyers who will opt for one – a mandatory purchase for this style of boat. As well as a bow roller and adequate anchor well at the pointy end, the casting platform has an extra base for the boat's two supplied pedestal seats. There's also an extra base on the main deck. Just aft of the bow casting deck the test boat sports an optional vertical rod rack and storage pocket sandwiched between the console and side deck. The boat also has two gunwale mounted rod holders positioned towards the stern.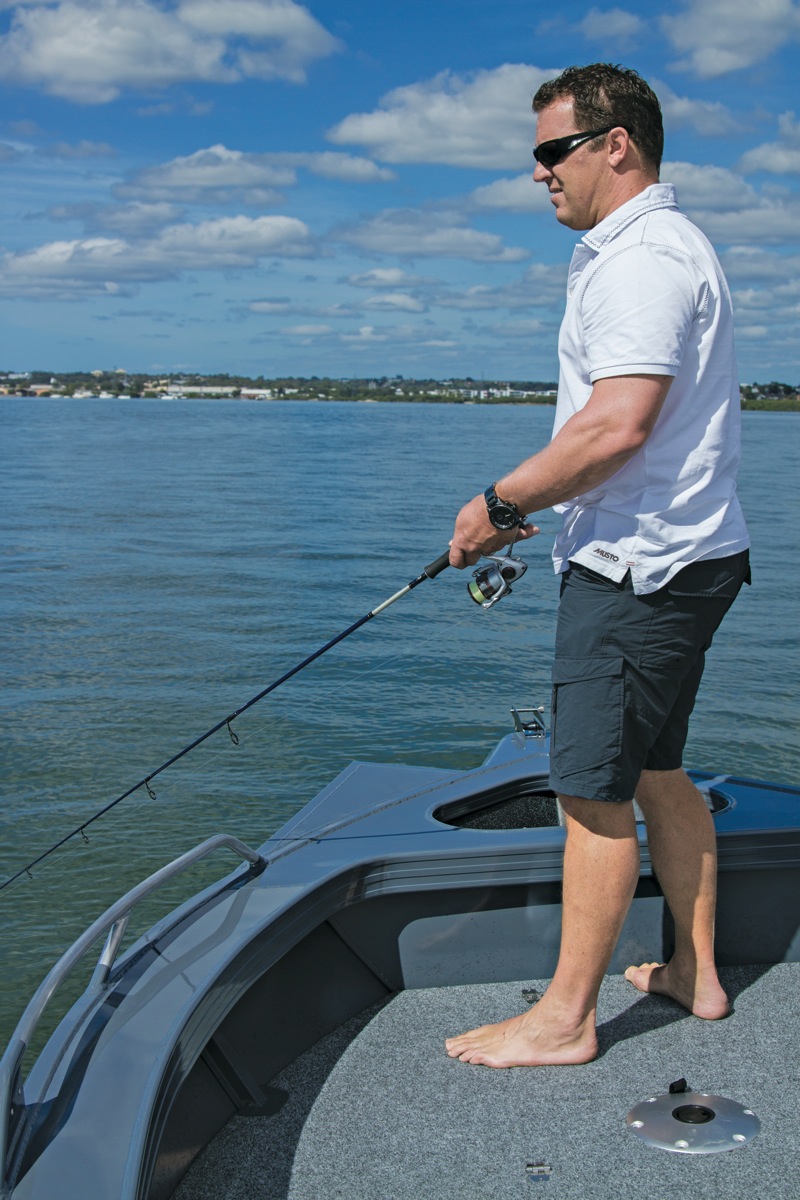 The Sniper's side console is basic and functional. It has a grab rail and tinted screen above the main facia which would easily accommodate a larger sounder/GPS unit than the standard Lowrance Elite 4-X unit fitted to the test boat. There's also a five-switch switch panel controlling the boat's electrics which include bilge pump, 12 volt socket, navigation lighting and more. The test boat's console also housed a tacho for the Mercury outboard and a storage shelf below. There's space at deck level for storing a tackle box or small ice box.
The skipper's pedestal seat, while not adjustable, provides comfortable support and a good ride height. The steering wheel's position is user friendly for those who prefer to stand while driving or for spotting feeding fish and distant bird activity.
The rear casting deck is also carpeted and features hatches for storage and battery/bilge access. The Sniper test boat featured an open engine well arrangement rather than the optional fully enclosed transom which allows for twin bait wells and the fitting of accessories such as bait boards.
While rated to a maximum of 80hp, the Sniper 484 Pro offers impressive performance with its 60hp Mercury four-stroke. Two up, the quiet running Merc got the boat up on the plane at around eight knots and a lazy 3350rpm. Wide open throttle had the boat easily hitting over 30 knots at 6100rpm. While the boat might be rated for more power, personally I don't think it's needed if you only plan on fishing two-up or solo. This will keep the original outlay price and ongoing fuel costs down.
The test boat was fitted with non-feedback cable steering which was surprisingly light and responsive. Hydraulic steering is also an option but not really required. Negotiating a few full turns at speed on Botany Bay demonstrated the boat's easy steer manners and surefootedness. Like other Anglapros I've been on, the Sniper 484 Pro felt very stable and threw up no unwanted surprises. It just feels like a well designed and constructed sport fishing package that should suit anyone who spends most of their time fishing bays, estuaries and lakes and might occasionally venture out to a close reef on a calm day.
Those looking for a centre console option might also want to check out Anglapro's Bandit 484 Pro. If you're after a no nonsense sportfishing boat that can be fully customised and just looks cool, the Sniper 484 Pro is right on target. Like the old line, "available in every colour as long as it's black", I reckon most Sniper buyers will opt for Military Grade paint – there's just something about it.
More info www.anglapro.com.au & www.goodtimesmarine.com.au