AS the popularity of kayak fishing continues to grow, some interesting paddlecraft are hitting the water. Here MICK FLETORIDIS tests the new Aquayak Scout with a Torqeedo Ultralight electric motor.
NORMALLY, heading off in a kayak without a paddle would be a bad idea. The thought struck me as I was driving to a nearby boat ramp to do this on-water review. Halfway there I realised the kayak tied to the roof racks hadn't come with a paddle and I'd forgotten to grab one from home. The good news was the 'yak was set up with an electric motor. So, no paddle required, at least as long as nothing went wrong.
The review kayak was a Scout by Aquayak, an Australian manufacturer fairly new to the scene and judging by its website one producing quality 'yaks at affordable prices. In a market brimming with high-end paddle craft loaded with features, I'd describe the Scout as an entry level boat that covers all the basics and with a starting price tag of under $700, one that won't break the bank.
From a design point of view the Scout is 3m in length and has a tri-keel style hull for improved tracking and manoeuvrability. Unlike some heftier poly kayaks, the Scout is refreshingly light. At 19kgs, loading it onto a car roof by yourself isn't the back breaking chore it can be with heavier craft.
The Scout has a healthy beam of 0.79m and its cockpit feels quite roomy. Despite its light weight it felt fairly surefooted and stable on the water, although it's probably not a 'yak to stand up on while fishing. You sit fairly low in the water courtesy of a clip-in padded seat that sits flush to the deck and has strap adjustments for back support. The seat was fairly comfy during the short time I was on board, but I reckon additional cushioning might be needed for long sessions on the water. The Scout has a carrying capacity of 150kgs, which should make it a fairly versatile 'yak for the average sized fisho who carries quite a bit of of gear.
To that end there's ample space behind the seat position for stowing a gear crate or cooler, with elastic cord for support. There's also a moulded drink holder and a couple of storage hatches for keeping gear dry, with the central one having a bag for items like keys, wallet and phone.
This particular Scout appeared to be fitted with the optional "Fish Kit" priced at an extra $100, which adds to the package a couple of flush mount rod holders, a swivel style rod holder, bait bucket and extra Starport for Railblaza accessories. The review 'yak also had a rail mount fitted for attaching mounts for sounders and the like.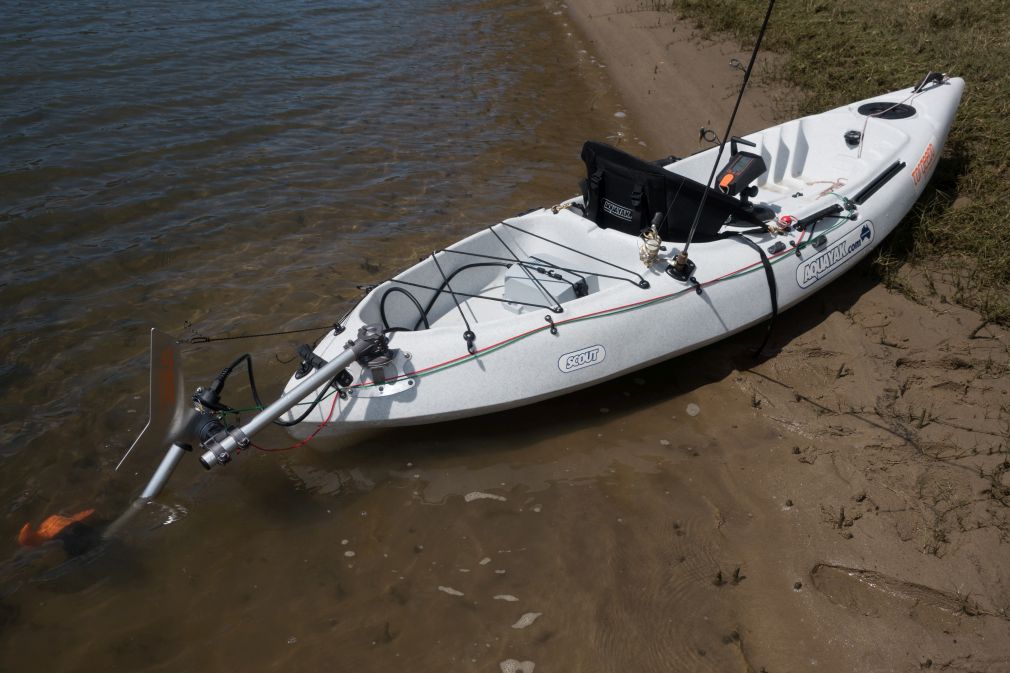 Power on
Where this Scout looked particularly interesting was at the stern. Sydney Torqeedo agent Boating Connexions had set it up with an Ultralight 403 electric motor. Not having used a Torqeedo, or any other motor on a kayak, it was quite a change. Fitting the German-made motor took a few minutes at the ramp as it requires the fastening of four hex-key bolts to secure it to a ball mount permanently attached to the 'yak. Once done, it's just a matter of plugging the battery and throttle cables in and slotting the throttle control into its centre Starmount, making sure the magnetic kill switch is clipped in place.
The battery is light at 2.9kgs and sat neatly in the rear cargo space, secured with elastic straps. All up it probably took around 20 minutes before I was ready to hit the water. Having done it once I reckon the set up time would easily be halved next time around. While the motor can stay mounted on the 'yak, it adds around 4.5kgs and for ease of transporting and preventing potential damage is best removed. Interestingly, steerage of the motor is done via two colour-coded cords attached to the motor via large snap swivels.
Pulling the red cord directs the motor's aluminium keel to steer the 'yak to port, the green cord veers to starboard. The Torqeedo throttle controls power delivery, both forward and reverse, via corresponding lever movement. When in place the throttle was well located between the knees which made for easy reach and control. It boasts an on board computer with range GPS that supplies readouts for charge level, speed, power usage and recharge interval at current speed. The motor also features wireless connectivity to smart phones.
When applying the Torqeedo's throttle there's a noticeable lag before the motor cuts in so it's a good idea to apply the throttle cautiously at first. Manufacturer specs claim the motor is equivalent to a 1hp petrol outboard, and it has more than enough thrust to get a lightweight kayak moving along briskly. The steering took a little getting used to and while it worked reasonably well it requires two handed use to avoid veering off course, which means casting lures at the same time would be fairly difficult.
From the few hours I spent on the Scout I'd say the Torqeedo electric is best used for getting you to fishing spots a lot quicker than by paddle – at maximum throttle I saw 8.6km/h (4.6 knots) on the readout while running against a reasonable current – or for trolling duty. Kept at full speed the battery would require recharging a lot earlier than at low speed settings. At a more stealthy speed of 2.8km/h (1.5 knots) the readout showed the motor would run constantly for 6.3 hours before needing a recharge.
For a typical fishing scenario, I reckon the electric as tested would be good for a full day's running or more. Overall, the Scout/Torpeedo combo provided a lot of fun. If you're after a set up that can get you places without any physical exertion this will definitely do the job. Just make sure you strap on a paddle, just in case.
For more information visit the Aquayak website.