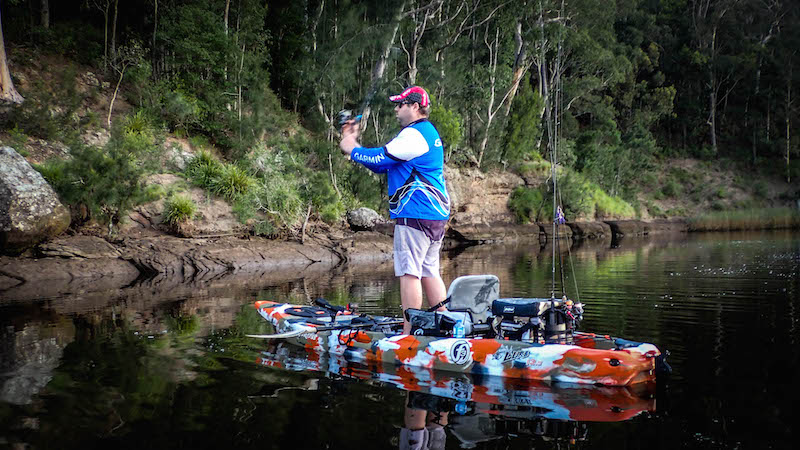 TIM McGoldrick reckons Feelfree's Lure 13.5 ticks all the boxes for someone looking for a versatile fishing kayak.
WHEN the search began for my next kayak I had a few key things on the list of requirements for fishing offshore, bays, rivers and dams. After trying out a few different models, researching specs and watching YouTube videos, I knew there was only one that ticked all the boxes – the Feelfree Lure 13.5.
The Lure 13.5 is big! At 4.1m long and 91cm wide, not only does it have great stability, it also paddles effortlessly for those longer trips in search of better fishing grounds. Feelfree has also made the most of this kayak's beamy design and excellent stability with a flat deck which gives you a great padded platform for standing up fishing with confidence.
Features
Feelfree offer three sizes of kayaks in the Lure range – the 10, 11.5 and 13.5 – and one of 
the stand out items featuring in all three is the Gravity seat, a removable, height adjustable extra wide padded seat that brings a whole new level of comfort to kayak fishing. You simply pull the red tab, which unlocks the seat to be moved up or down then let go of the tab and it locks back into place again.
Another great innovation is the removable sonar pod, which for me holds my Garmin echoMAP Chirp 75sv, the battery to run it, and the transducer mounted below. It's an all-in-one-unit, so there's no need to drill any holes in the kayak. With the lift of a latch the whole system comes out and can be stored securely, which is a great feature if you're travelling. 
I take it out and lock it in the car for security.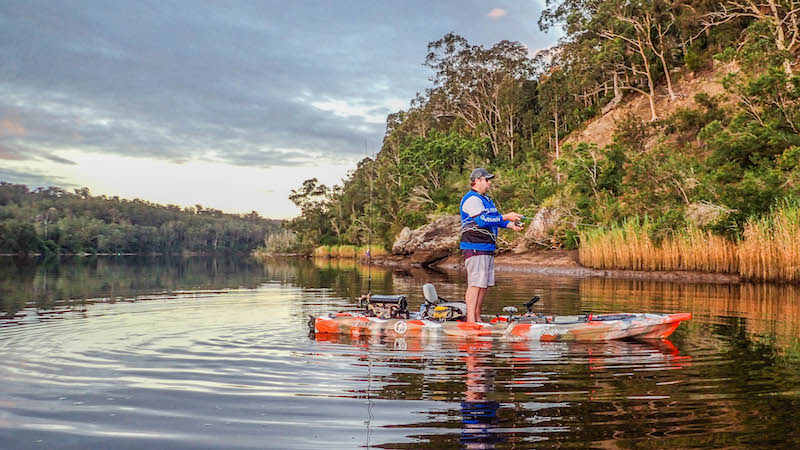 The Lure 13.5 comes with two built-in flush mount rod holders, but I think most people will make use of the uni-track system which allows you to mount multifunction plates onto the inbuilt rails. I've personally done this and have used aftermarket rod holders and camera booms from Railblaza. It's been great as you can bring the holders closer to you or push them further away depending if you are fishing or paddling. The rails feature both at front and the back of the kayak, so there's fantastic flexibility as to how you personalise your kayak.
The 13.5 features plenty of storage with a large front oval waterproof hatch that's perfect for stowing things you want to keep dry, like clothes, small tents, food, etc. A useful feature if you plan on going kayak camping for a few days. I also use it for storing my C-Tug wheels after walking the kayak down long paths to get to the water's edge.
Towards the middle, a front console with integrated cutting board in the lid makes a great space for prepping bait or cleaning fish. The lid is also insulated, 
so things like drinks or sandwiches are perfect for this hatch. There's also a large rear well that fits the optional Feelfree crate bag like a glove. The crate bag offers additional storage for tackle boxes and fishing accessories plus an additional five upright rod holders.
I often use aftermarket kayak wheels for long distance walks to access points. However, for those times when you're able to just launch at 
a boat ramp or somewhere similar, a unique feature to FeelFree is the wheel in the keel system. This is exactly what the name says, 
a wheel built into the keel of the kayak which is great for walking the kayak short distances without the need of a trolley.
The kayak has four moulded handles, one on both sides, and one front and back, along with a rubber encased strap handle on the rear. This combined with the keel wheel system or third party wheels makes transporting the kayaking to and from the water easy.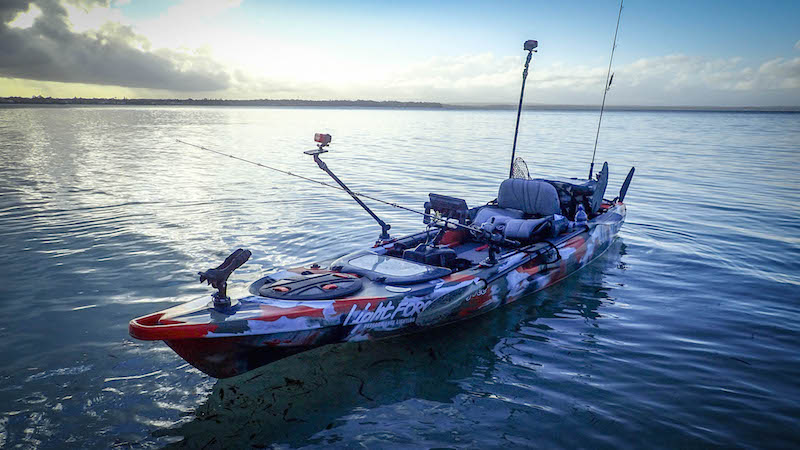 Paddling and fishing
A big factor with paddle kayaks is the tracking ability. This is how well they paddle in a straight line. The Lure 13.5 comes with a rudder on the rear which has the ability to be lifted or lowered by a hand cable near the seat and is controlled by your feet with the rudder controls being integrated into the adjustable foot rest.
On water the paddling is great, the rudder gives the kayak a quick response to the input of the foot controls. It handles swell and chop with ease and with the addition of an anchor trolley system and a drift bag, I'm able to sit in comfort in the gravity seat flicking lures all day long.
The sharp entry and flared bow allows for easy paddling and cutting through chop with minimal water making it onto the deck. For any water that does find its way on board, it swiftly channels down to the scuppers via moulded channels for rapid drainage. As mentioned above, the Lure 13.5 is a big kayak and with its width and length does come some weight. At 43kg it's not a feather, but it is still considerably lighter than many other 'yaks of similar size, some of which pack on another 20kgs!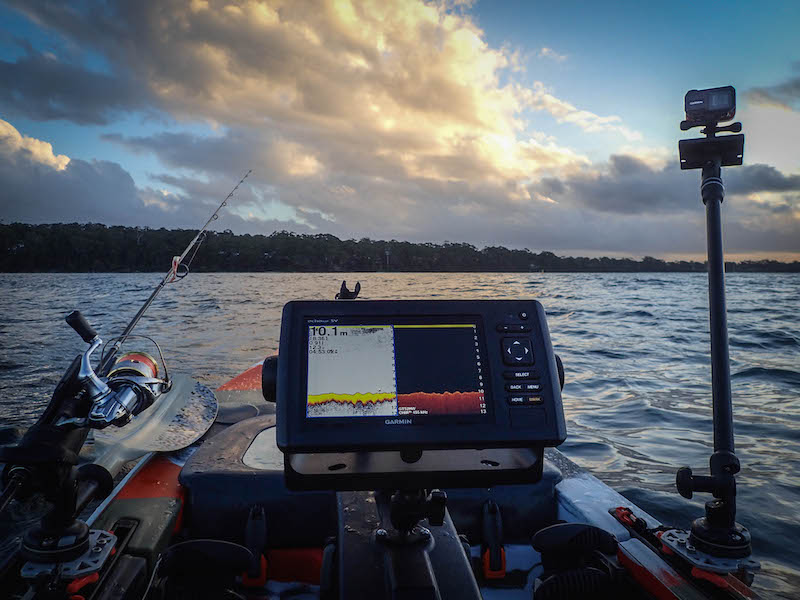 The future
The Feelfree Lure 13.5 has been designed with the angler in mind and for me is the perfect answer for all of my fishing pursuits. This is now going to be enhanced ever further with Feelfree's recent announcement of its new Overdrive system. Overdrive now gives you the flexibility to add both peddle and motorised propulsion to any the FeelFree range that has the sonar pod fitted.
It's an all in one unit that has both the peddle and motorised function available at the same time, so if you get sick of peddling, just flick the motor on and cruise to your destination with no effort! This is going to be great for those of us who want to explore as much water as possible. The Overdrive system is expected to be available in May 2017.
More info at feelfreekayaks.com.au