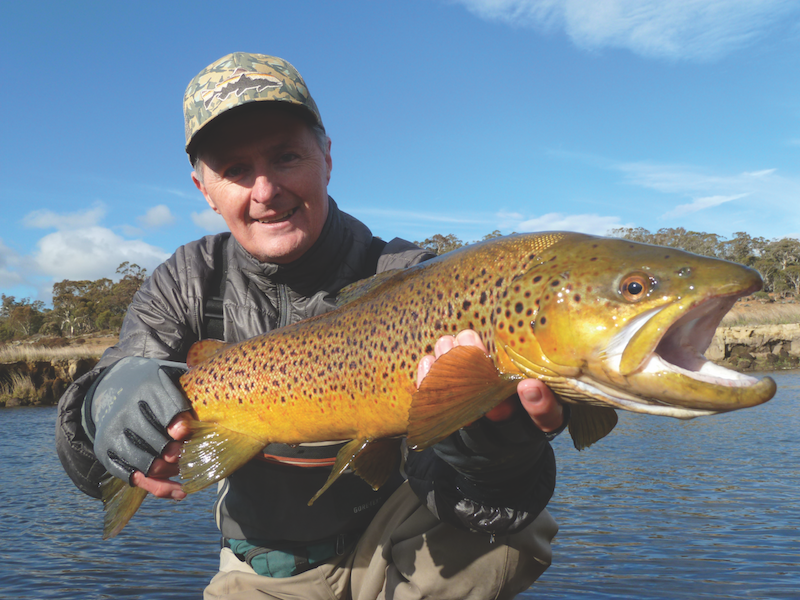 AN awareness of conservation issues has led to a surge in the popularity of spawn run trout. Ben Caddaye explains how to catch these trophy browns on spin gear.
FISHING the rivers for trout during their annual spawning migration isn't every angler's cup of tea. I remember reading fishing magazine articles in the 1980s and early '90s about fishing the spawn run. Back then it was a numbers game with photos of huge hauls of dead trout gracing the pages. The slaughter that took place on the Eucumbene and Thredbo rivers in particular probably put a lot of trout anglers – especially the purists – off this form of fishing for life.
But a lot has changed. Strict bag limits, increased size limits and a general shift these days to catch and release has greatly improved the image of spawn run fishing. It's no longer viewed as the sole domain of "meat" fishermen hell bent on filling their creels with kilos of breeding brown trout. It's "self-regulated" to a degree as well, with attempts by anglers to keep an undersized fish or exceed their bag frowned upon by their fellow fishos.
Personally, I have no qualms about fishing for spawning trout. It's an exciting form of angling and there's a genuine buzz around the high country rivers in April, May and June as waves of fish, including some of the largest trout you're ever likely to tangle with, make their way upstream to breed.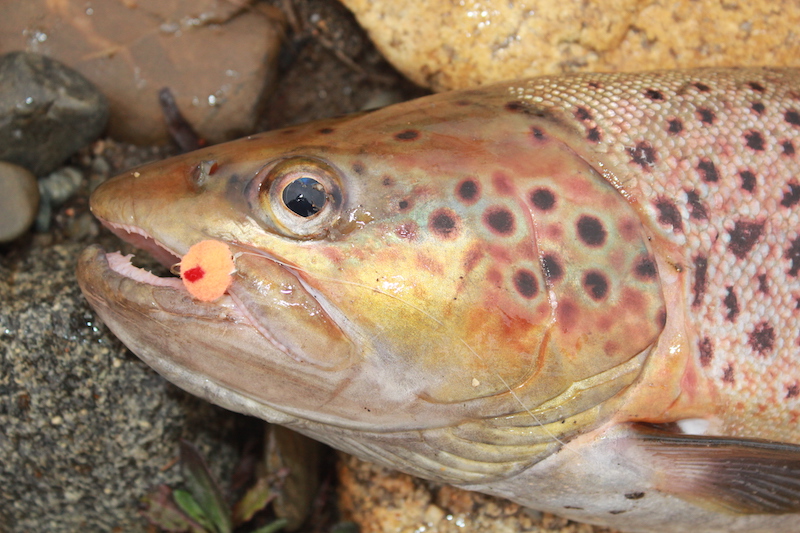 Like the vast majority of anglers who head for the hills during trout spawning season, I'm not interested in knocking a trophy brown on the head and dragging it back home to boast about it. I'm more than content to take a few happy snaps of my fish and then let them go. If I do decide to keep one for the plate (and anglers are permitted one river fish over 50cm per day in May and June) I'll ensure it's a healthy, clean fish fresh out of the lake, meaning it won't go to waste when served up to my seafood-loving family.
Trout chasers in southern NSW have been lucky of late. The past four spawning seasons have dished up the best fishing action that many trout anglers can remember. It's gained a fair few converts too, with quite a few newcomers to trout fishing trying their hand at this form of angling for the first time – and getting hooked in the process!
I count myself amongst the ranks of spawn run "newbies'" Even though I live in Canberra, on the doorstep of some of the best trout water in the country, I've tended in the past to 
head to the south coast in autumn and early winter to chase bream and flatties instead of capitalising on the great freshwater action unfolding to the west.
But that's no longer the case. As soon as the leaves start changing colour I find myself glued to trout fishing and weather reports from the NSW Snowy Mountains and, at the first signs of significant fish movement, I'm off to stand shoulder-to-shoulder with scores of others in the quest for a big brown.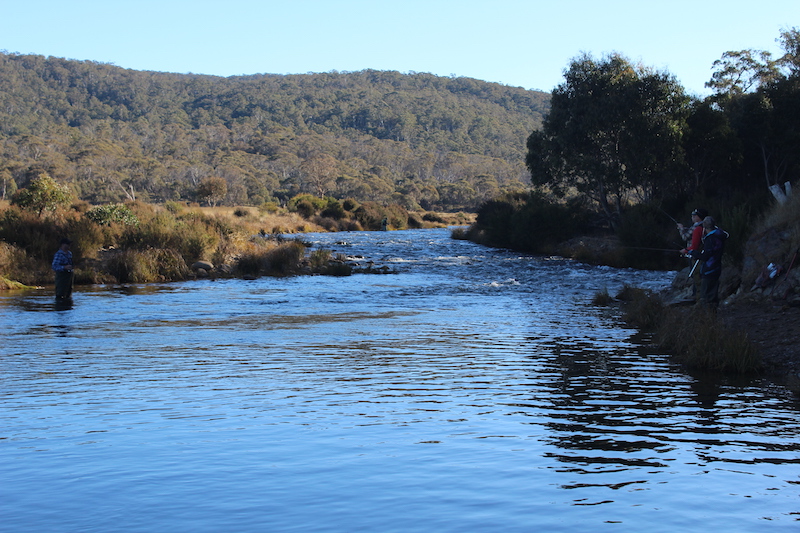 In a spin
A lot of anglers who fish the spawn run are fly-casters. But there's a growing band of anglers armed with spin gear who fish the spawning season and do just as well – or even better – than their counterparts waving the long wand. Some of these guys are casting large, brightly-coloured hard-bodies, but plenty are drift-rigging with glo-bugs and weighted nymphs – an absolutely deadly technique that, when done correctly, is ideal for snaring aggressive pre-spawn browns.
Despite the sheer volume of fish that pour into the rivers towards the end of the season, catching them on spin gear isn't always straightforward. For instance, while some anglers easily landed 10 or more fish per session last spawn-run season, plenty of fishos armed with almost the same tackle and fishing in almost the same manner lucked out completely. There can sometimes be a fine line between getting it right and drawing a blank. Here's how to do it right.
What is drift-rigging?
Drift-rigging with spin gear isn't a new technique by any means. It's an approach that's been used for decades by anglers fishing the Eucumbene and Thredbo river spawn run. It's gained popularity of late, though, because of advances in ultra-light spin gear and the advent of braided and fluorocarbon lines. Drift-rigging allows anglers with conventional threadline tackle to bounce a tiny nymph and glo bug combination across the rocky river bed where spawn-run trout are sitting.
These fish are generally preoccupied with doing what comes naturally – making baby trout – and aren't necessarily actively feeding as they head upstream. Put a bright orange glo bug in front of their nose, however, and you're suddenly in with a shot. Trout will hit the glo-bug out of hunger or aggression, or swallow the trailing nymph because, well, it's there!
How to drift-rig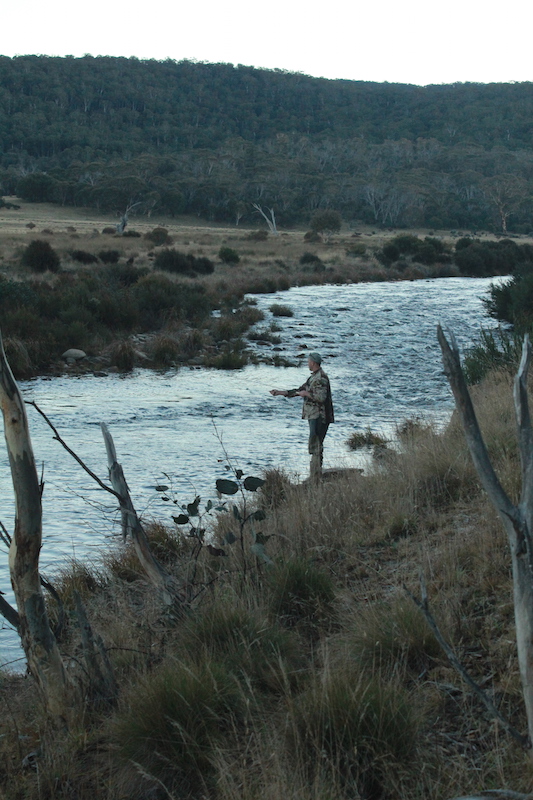 Drift rigging with spin tackle is a balancing act. Success hinges on being able to get your glo bug and trailing nymph, weighed down with a split shot or two, rolling along the riverbed at the right pace and correct depth. Too much weight, and your rig will consistently snag on the bottom; too little weight, and it will drift too high in the water column and go unmolested.
I start with a light approach and adjust accordingly after a series of exploratory casts. The perfect scenario is a rig that is regularly in contact with the bottom – and, with braid, you'll feel the tell-tale bumps transmitted up the line – but not consistently fouling on rocks, weed and sticks. To get into the strike zone, expect a few snags – that's just part and parcel of targeting fish that are hugging the riverbed.
The flow of the river plays an important role, too. Spawn-run fishing fires when water levels are high – and this can make it challenging to get a tiny nymph and small fuzzy glo-bug where the fish are sitting. If the river's "pumping" you will almost always need two split-shot to weigh your rig down sufficiently. If you're not getting snagged, but you're not catching fish, always react by adding a little more weight.
The cast and retrieve process is simple. After a long cast towards the opposite bank and slightly upstream, take up the slack and follow the drift with the tip of your rod, gradually taking in more slack to ensure you remain in touch with the rig at all times. A hit from a spawn run brown – even a big one – can be subtle so it pays to strike at the first sign of any bumps or extra weight. Watch the line, in the same way you watch it when bream fishing with plastics, for any pauses or changes in the direction of the drift. A lot of these will be false alarms, but some will also be fish.
You'll know when you're on, especially if it's a sizeable trout! Expect lots of near-misses, too, with fish often fumbling around with the glo-bug or nymph, or sideswiping it half-heartedly as its drifts by. 
In my experience 50 per cent of fish will hit the glo-bug and the rest will snaffle the trailing nymph. Sometimes a fish will inhale both!
There are a number of drift-rigging set-ups that spin anglers use with varying degrees of success. The one that works best for me involves 4-6lb braid and two-to-three metres of 6-8lb fluorocarbon leader. At the end of the leader, tie on a weighted glo bug, then add a 30cm length of leader trailing behind the glo bug (I tie it to the gape of the hook). To this trailing line attach a small (size 8, 10 or 12) weighted nymph in olive green, brown or black. To add weight, attach one or two small split shot about 45-60cm above the glo bug.
Where is the spawn run?
In NSW, the spawn run centres on two locations: the Eucumbene and Thredbo rivers. Literally tens of thousands of brown trout pour in to these waterways every season. As mentioned, the last few seasons have seen unprecedented numbers of fish leave the lake and enter the rivers, resulting in vintage fishing.
Brown trout can and will travel a long way up river to spawn but, in general, most fish tend to concentrate in the two-to-three kilometre stretch of water upstream from either lake. At Eucumbene, the Providence Flats area immediately up river from Providence Portal is by the far the most popular spawn run fishing location and, when the fish are running, is sometimes home to more than 100 anglers, especially on the weekend. At Jindabyne, the focus is usually on the stretch of river between the lake (at Creel Bay) and the bridge where Kosciusko Road crosses the river, just before the entrance to the national park.
Of course, trout will travel much further upstream than these areas just mentioned, especially towards the latter end of the season. The key is to keep your ears to the ground and tune in to the latest fishing reports to determine where the fish are at any given time. If in doubt, just follow the crowds of anglers – that's usually a sign the fish are in the vicinity.
The deeper pools at either the tail-end or the head of a set of rapids are likely haunts to chase spawn-run trout. Fish will generally favour the deeper sections in broad daylight and be inclined to move over the shallow sections, from pool to pool, under low light conditions. That's the thing about spawn-run browns – they're constantly on the move, so the fishing is always changing. When the going is a bit tough, anglers will have to put in some hard yards on foot to find fish. Conversely, at the peak of last season, it was just a matter of finding a likely hole and waiting as wave after wave of fish swam by virtually under anglers' noses.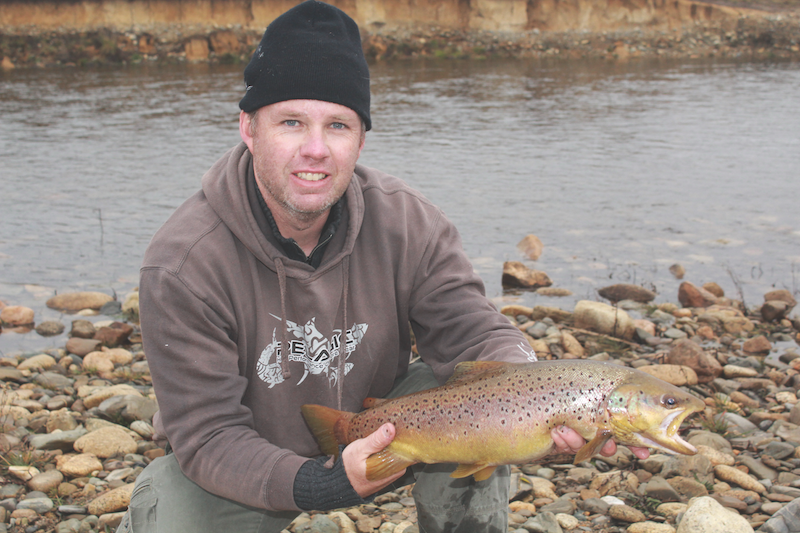 When is the spawn run?
The annual spawning migration of brown trout usually commences in mid-autumn and runs well into winter. The run is triggered by two key ingredients: air temperature and rainfall. A decent fall of rain and dipping temperatures as early as April will see the first waves of trout spill into the rivers. From then on, the run gathers momentum with every cold front that hits the NSW Snowy Mountains.
If we get an unusually mild and dry autumn, the spawn run might not commence until June, meaning anglers will only have a small window of opportunity until the season closes on the June long weekend. Last year, the spawn-run fishing was at its absolute best during the second half of May and first week of June – but that can vary.
Rules and regulations
From 1st May until the close of the season, anglers fishing the Eucumbene and Thredbo rivers are permitted to keep one fish per day over 50cm. Trout streams in NSW are closed from the end of the June long weekend until the start of the October long weekend. For more information on trout size and bag limits, and closed season restrictions, 
visit the NSW DPI website.
For further tips on how to catch Autumn trout on bait, lures and fly check out this article by Pat Brennan.