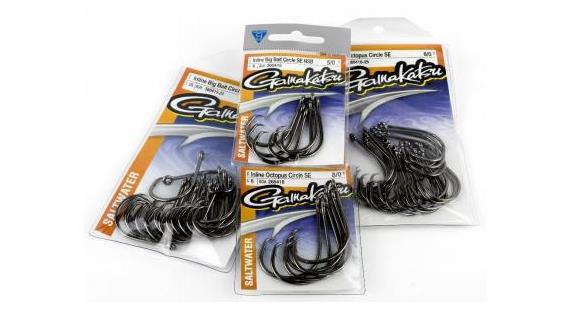 INTRODUCING the Inline Big Bait Circle Straight Eye hooks, which are 4x strong and crafted using Gamakatsu's state-of-the-art tempering process in temperature controlled oil baths.
These all new hooks are high-end, tournament-friendly circles. They are heavy and versatile, and designed to catch all reef species and pretty much any fish that pulls hard. It can be trolled, stitched into fresh bait, or thrown into a live bait.
These Inline hooks also comply with ever-evolving fish-friendly practices. The conical point has been chemically sharpened for catch and release, rather than cutting its way out of the fish's mouth.
The sibling to the Big Bait Circle hooks is the Inline Octopus Circle Straight Eye hook. The Difference between the Big Bait and Octopus Circle is the wire strength. The Octopus is a standard wire and Big Bait a strong wire; the profiles of these hooks are the same.
According to the manufacturers, the Inline Octopus Circle SE is dynamic and versatile with a broad range of hook sizes catering for smaller species in the estuaries as well as larger fish in the inshore and offshore reefs.
The Inline Bait Bait Circle comes in sizes 1/0 to 10/0 in pre packs and 25 packs. The Inline Octopus Circle SE comes in sizes 6 to 8/0 in pre packs and 25 packs.
For more information, click HERE.