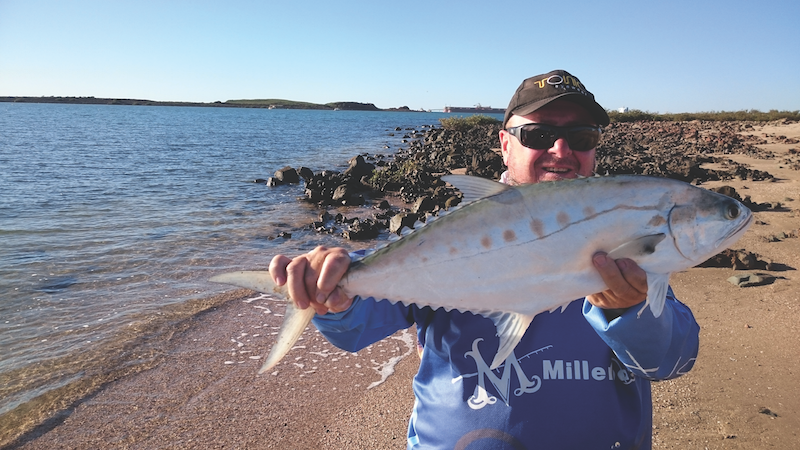 IAN "Big E" Phillips recently returned from the trip of a lifetime travelling to some of this country's finest fishing spots.
(NOTE: This is Part 2 of the story. Click here for Part 1: Planning for the lap)
HAVING recently completed the biggest adventure of my 59 years I thought I'd like to share a number of tips that would assist others in undertaking such a trip. These are things that I found helpful, others that were unnecessary, or what could have been done better. Plus big factors like the cost of such a trip, and how good preparation is a vital key element for any successful adventure.
The adventure was primarily a five month long camping and fishing trip towing my Renegade 420 behind my Ford Ranger that departed the South Coast of NSW in May and travelled across into SA, down the Eyre Peninsula and back up and across the Nullarbor into WA. Then I went down around the south west and then up the west coast of WA and into the Kimberley. Finally I visited Darwin and Kakadu before heading down through the red centre back into South Australia before heading home. The entire trip covered almost 20,000 kilometres!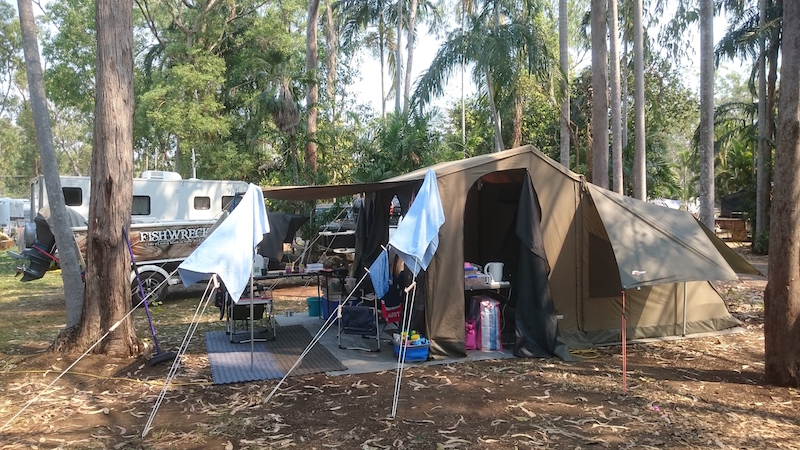 Camping
For such a trip a reliable and sturdy tent is essential and the OzTrail Tent RV4 was magnificent. It proved itself time and time again as we endured some horrendous weather along the way but remained dry and secure at all times. The additional side and front walls were excellent and gave us the extra space to relax in of an evening on cold, windy and rainy days. An extra heavy duty tarp was another great addition as this assisted with keeping the tent cool in the tropical heat as well as giving extra waterproofing in the rainy conditions. Being older and not wanting to sleep on the ground, the OzTrail camping stretchers with inflatable insert mattress was money well spent and allowed me to have a decent sleep, which is critical when travelling.
Some other items I took along were two Coleman folding camp tables and two folding camp chairs, two butane cookers, a solid frying pan, three saucepans (large, medium and small that all fitted inside each other), and a kettle that could be used on the butane cookers or in an open fire. This kettle proved to be an essential part of our kit and was used every day. Additional items such as rope, bungy cord, eyelets (for tarps) and tent pegs always come in handy and take up little space. When staying in camping grounds and caravan parks with powered sites I found an electric kettle was much more convenient and cheaper to run than using the butane cookers. At only $7.50 it made up an essential part of my daily coffee ritual.
Keep it cool
I originally started this trip with a 42lt fridge/freezer that I ran as a freezer only. I had a 87lt Waeco Icebox for my daily cold items where I would run eight Igloo freezer blocks in the icebox and have another eight in the freezer at any given time. These would be changed every three days. This system worked well enough, 
but I would recommend the purchase of either 
a second 42lt fridge/freezer or a dual system. 
I stored these on the back seat area of the Ranger after removing the back seat intentionally to allow for their storage. This worked okay, but 
I have now designed a new aluminium canopy and will build it before my next trip and install my two x 42lt fridge/freezers on slides in the rear which will be better for access and allow the use of the back seat.
The two x 120AH deep cycle AGM batteries and Ctek dual 250s battery charger I installed worked brilliantly and I was never at any time without power for LED lights, fridge/freezer, charging of phones, laptop, iPad, etc. I put 50amp Anderson plug connections on everything and this made the usability work perfectly as everything was adaptable.
During the times when free camping and no 240v power was available I used my 120w folding solar panels which were run back through the Ctek charger and into the two batteries keeping them charged at all times. This allowed me to be totally self-sufficient with power.
The set of drawer units in the rear tub of the Ranger were another item that worked brilliantly and allowed access to all of our dry foods we had stored in them. They fitted perfectly in between the wheel arches. Apart from taking far too much in the way of dry foods as access to supplies was readily available in every town at compatible prices, I would recommend stocking up on long life milk if you're a milk user.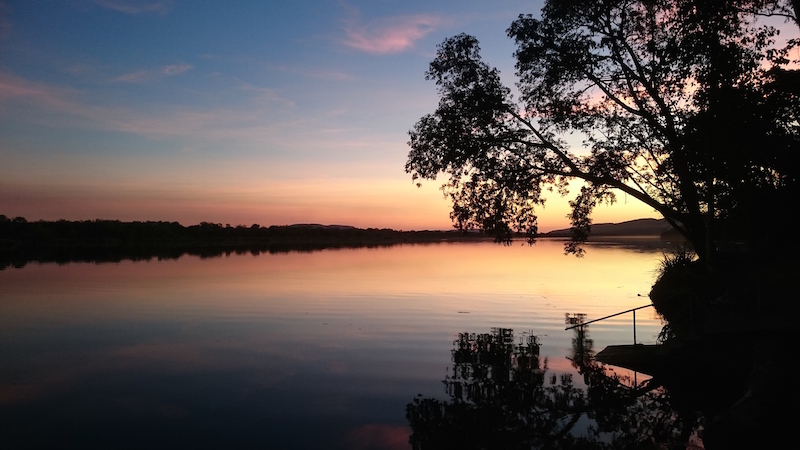 Spare parts
I found I took too much in the way of spare parts for both the Ranger, Renegade boat and trailer. My recommendation is that unless you're going to do lots of off road, such as the Gibb River Road, then don't weigh yourself down with excessive spares as they're readily available. I'd only look at taking a spare fuel filter for both the car and boat, spare bearings for the boat trailer along with grease, spare split pins, and spare prop for the boat and a few spare U bolts for the trailer as well as two spare wheels and tyres.
Fishing gear
Being an avid fisherman I took way too much fishing gear, especially not wanting to get to an area and find I didn't have the necessary tackle. In spin outfits you'll need a heavy, medium and a couple of light rods and matching reels. I also took a baitcaster for barra and a fly rod for the Top End billabongs. These covered every aspect of my fishing without wanting for anything else. In regards to lure selection whatever you think you need, halve it, as it won't see the light of day!
Fuel and accommodation
The two greatest expenses on a trip like mine was diesel fuel for the Ranger and accommodation costs, but having said that you can do a trip exactly the same much cheaper if you don't want to stay in camping grounds or caravan parks and don't mind roughing it. On the other hand it can be much more expensive if you decided to stay in cabins rather than tenting it. The following is a breakdown of my fuel and camping costs.
We stayed in cabins 21 nights of the 140 nights to either have a rest from the tent, or to just spoil ourselves over the five months. The remainder was in the tent in camp grounds, caravan parks or free camping.
Diesel fuel for the Ranger $2,787.00 using 2,049lt, which was an average cost of $1.36 per litre, and about 10lt per 100km or 9.76km per litre of fuel. This was extremely economical towing a loaded boat with the Ranger.
Camping fees and cabin costs $6,132.00 for 140 nights, averaged out at $43.80 per night, but keeping in mind the nights spent free camping (nil cost) lowers the overall accommodation cost.
Therefore total fuel and accommodation costs for the trip was $8,919.00 for five months. That's without food, sightseeing, charters, helicopter flights, boat fuel and vehicle service costs which added an additional $6,000.00, making the grand total rounded up at $15,000. I believe this is within most people's financial range and ability to undertake a similar trip.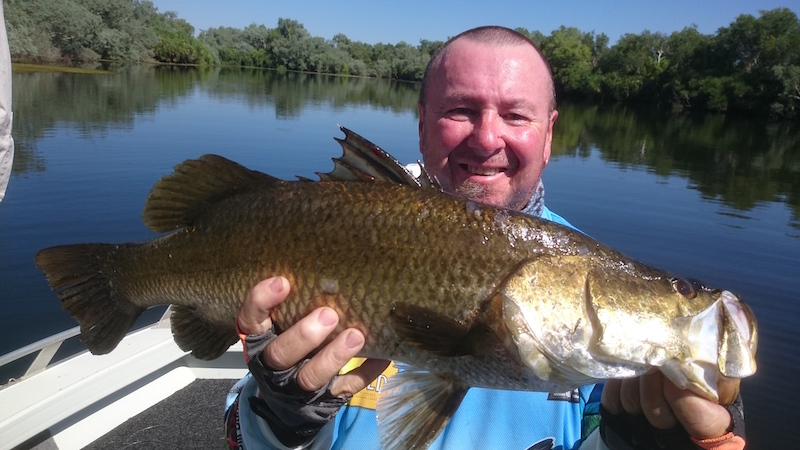 I've been asked many times since I returned if there was any one place that stood out for me or was a favourite and my single reply has always been "Kakadu"! I was kindly taken to the Yellow Waters Billabongs by Tim (BC) Harding from the Darwin Flyrodders Club and the experience was something that will forever remain with me. It has a presence about it that feels so special and the flyfishing was awesome with saratoga, barra and tarpon. It wasn't the best time of the year, so one can only imagine how good it will be when it is. 
I was so taken with the place that I have already set plans in place and will be re-visiting it in 2017.