Easy Deepwater Action
As a follow on from the September issue's article on specialist deep water fishing, NSW angler TONY WATERS details how to get amongst it with affordable tackle.
PLUNDERING the oceanic depths of 100m or more is not everyone's idea of fun, but when the weather gods smile, the inshore reefs aren't firing and the pelagics are a little shy, the results can be well worth the extra effort.
To access the land of the "long drop" and even longer retrieve, keen anglers must bypass many traditionally productive reef systems and hope that the wind stays away, the current is not too strong and the pesky leatherjackets are not dominating the ocean floor. These factors are compounded by the 40-minute trip out, usually into left over wind chop, and then the longer trip back, often in deteriorating conditions.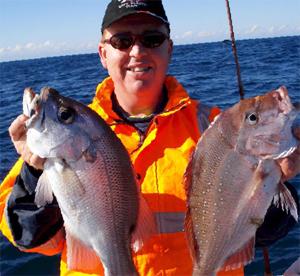 Designated Area
The NSW Mid North Coast between South West Rocks and Coffs Harbour is a well documented angling Mecca blessed by a plethora of bluewater options. The two larger centres provide user friendly launching facilities whereas Scotts Head, Nambucca Heads and Urunga rely on beach launching as a preference to notoriously dangerous river mouths.
Launching from a beach is not for the faint hearted and is an acquired skill all on its own. Poor preparation and simple mistakes can be very time consuming and expensive.
Target Species

Plumbing the depths is a lucky dip of potential species but the three prime targets on the Mid North Coast are bar cod, snapper and pearl perch. Bar cod tend to inhabit the edges of the reef and flat areas. Catching the bug eyed ocean perch (a red rock cod lookalike) is a good indication that you are in prime cod country. Snapper, pearl perch and most other species are found on the actual reef structures or above them. Common by-catch includes long finned perch, pigfish, morwong and nannygai as well as a host of other delectable ooglies. One distinct advantage of fishing this depth is the table quality of most species, except sergeant baker which becomes a very valuable source of fresh or frozen bait.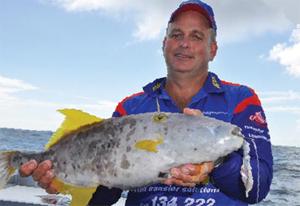 Outfits & Tackle
Big Alvey deck winches, overheads and electric reels are effective deep water fishing tools but recent technological advances have opened up the advantageous world of the threadline coupled with 30 to 50lb braid. Any decent 6000 to 12000 sized reel will do the job but steer away from the high speed models as these become quite exhausting to use after a while. Rods need to have a firm, fast taper to cope with the heavy weight of the large sinkers and line drag yet remain tippy enough to feel the often timid bites of the target species.
A commonly held misconception is that you need expensive, specialised tackle to take on the deep-water challenge. This may hold true for hard core jigging and venturing even deeper but if you stay within the 120m mark your budget can remain manageable. Buying what you can afford or adapting what you already have is advised until you target these areas regularly.
An economical combination, in my experience, is the Penn 6000 or 8000 Applause reel coupled with Silstar's 8-15kg Crystal Tip rod and 30 or 50lb Tuff Braid. This sort of gear makes an extremely versatile outfit, which can be easily adapted to a multitude of uses such as trolling, floating livies for pelagics, live baiting the bottom for samson and kings or dropping a simple paternoster rig to effectively fish the 40 to 80m reef systems. Multi-purpose outfits make sense from both a financial perspective and for the convenience of rod storage in small vessels where space is of a premium.
Threadlines have the added advantage of being more user friendly for the inexperienced angler and when dropping to the bottom can be left unattended with the bail arm open without backlash issues. They are, however, not as well balanced or smooth to use as a good quality overhead when hauling in a larger fish.
Any decent 40 to 50 pound fluorocarbon or mono can be used as leader material. However, if targeting samson or kings on metal jigs or livies then at least 80 pound leader would be advised. Large snap swivels are used on the mainline as rigs can be pre-made and stored in snap lock sandwich bags ready to clip on and off as required. Due to line twist and the toothiness of most deep water species, rigs are discarded at the conclusion of each session.
Rigs
The standard paternoster rig is used (see diagram opposite) with the addition of an extra hook. A swivel is essential and if using two or more snapper leads then taping them together with insulation tape will decrease the line twist from sinker spin.
Baits
Strip bait such as squid (tubes or tentacles), mullet, octopus, salmon, tuna, bonito or sergeant baker are very effective; as with most fishing, the fresher the better. Livebait is also very effective, especially on larger bar cod and samson. We follow the simple philosophy that anything with a heart beat will do, although slimy mackerel and yakkas are definitely the preferred jelly beans of the ocean. (Check your state regulations for legal sizes of any fish you use as bait.) Strip baits should be placed through the hook only once or twice so they move naturally. A random blob of bait passed through the hook many times is much less effective.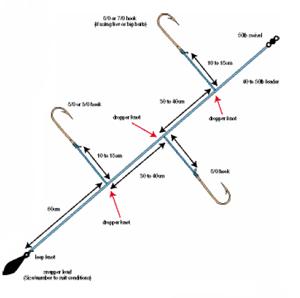 Electronics
A good quality sounder is essential and can turn an apparently lifeless bottom into a thriving ecosystem rich with top order predators. An economical choice I've used is the Eagle 480 dual frequency unit, however more powerful colour units will provide extra detail and a clearer picture of the bottom.
When sounding a new area you are looking for any rise in the bottom (one or two metres is enough) or obvious reef structure, the rougher the better. One of our main local patches is in 102m, rises to 98m and peaks at 96m. The areas around and between these points are the most likely haunts of bar cod. The ideal situation is to find a thick "cloud" of fish on the sounder, mark it on the GPS and keep your drift on or as close to it as possible. This is likely to be a school of snapper or pearl perch. You may find that you are only working an area 50 to 100m in length. Often if you miss a strike you have already drifted away from the hot spot before you have wound up to rebait.
Another essential tool of the deep-water trade is a GPS unit. Basically any GPS, handheld or mounted, will do the job so long as you are competent in its use. Finding the desired location is its primary purpose but a more important application is showing the direction and speed of drift. This is crucial to staying on the fish, sinker selection and planning your overall strategy.
For the sake of safety it would be remise not to mention a 406 EPIRB is mandatory. Being such a long way from help, it provides a reassuring element of safety should it all go to hell in a handbag.

Times
Along the mid north coast of NSW the prime times are November through to late January, before the EAC starts pumping, and during winter when the big stable highs centre themselves over the state. The problem with winter is the arrival of leatherjackets in plague proportions. These guys are such voracious feeders that nothing, including bare hooks, metal jigs and sinkers are safe. Often up to 20m thick at the bottom of the sounder, they make other species hard to target. In this case the best option is to replace your mono leader with multi-strand wire rigs, harvest a tasty feed of leatheries and then start moving around to try and get away from them.
When conditions are stable other windows of opportunity can present themselves but you need a reliable source
of information to stay well informed. Tackle shops, charter boats, commercial fishers and the ever present "marlin brigade" are all good sources to call on. They can save you a lot of wasted time and effort spoilt by current or wind.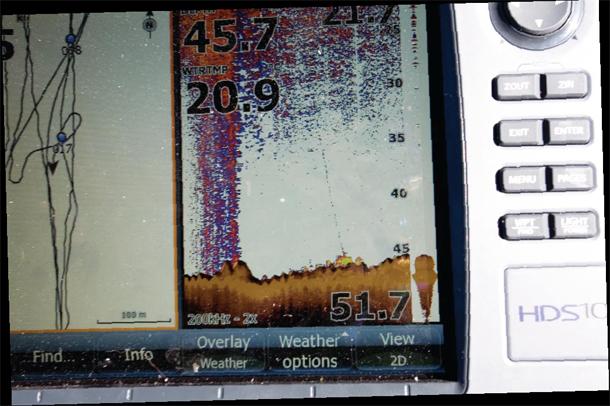 Warnings
In our neck of the woods you are 22 to 25km from shore when fishing the 100m line and many mobiles don't get reception. Sometimes it is also hard to contact the local Marine Rescue squad and we are often the only boat outside the 60m mark. In addition to this, the trip home is frequently made interesting with a raging nor'easter or southerly that can quickly pick up.
Deep water guideline
To fish the bottom effectively with one large snapper lead, ground speed, according to the GPS unit, should remain under 2 to 2.5 km/hr. Using two or more sinkers to compensate for a faster drift is just simply hard work. Ocean current will also have an affect on this with the old lemon philosophy of "suck it and see" being the only reliable way to determine direction/speed of drift and the sinker weight required to fish effectively.
Conclusion
Venturing out to fish the deep drops of 100m can be an intimidating process and not one to be taken lightly. Help is a long way away and the weather can turn nasty very quickly. Careful planning, logical preparation and having the right equipment is essential to ensure consistent success. However, you don't need a huge boat or expensive purpose built, hard–core equipment to do it effectively and efficiently.
Having confidence in your boat, motor, electronics, crew and your own boat handling abilities certainly opens up new water to explore.
Next time the inshore reefs are not firing consider "the land of the long drop" as an alternative, tasty destination. You might get hooked.
Techniques/Tips
•Don't use high speed reels.
•Tape sinkers together.
•Add a large ball sinker above snapper lead if needed.
•Use 3 hooks (see diagram).
•Place a 5 to 7 inch unweighted soft plastic on the middle hook.
•Use a sea anchor (a must!).
•If wind picks up, idle into it whilst dropping bait (last resort).
•Vary your bait between hooks.
•GPS and good quality sounder essential.
•Use a deep tub or kill tank with ice slurry.
•Bleed all table fish.
•Unfortunately catch & release is not an option for many species.