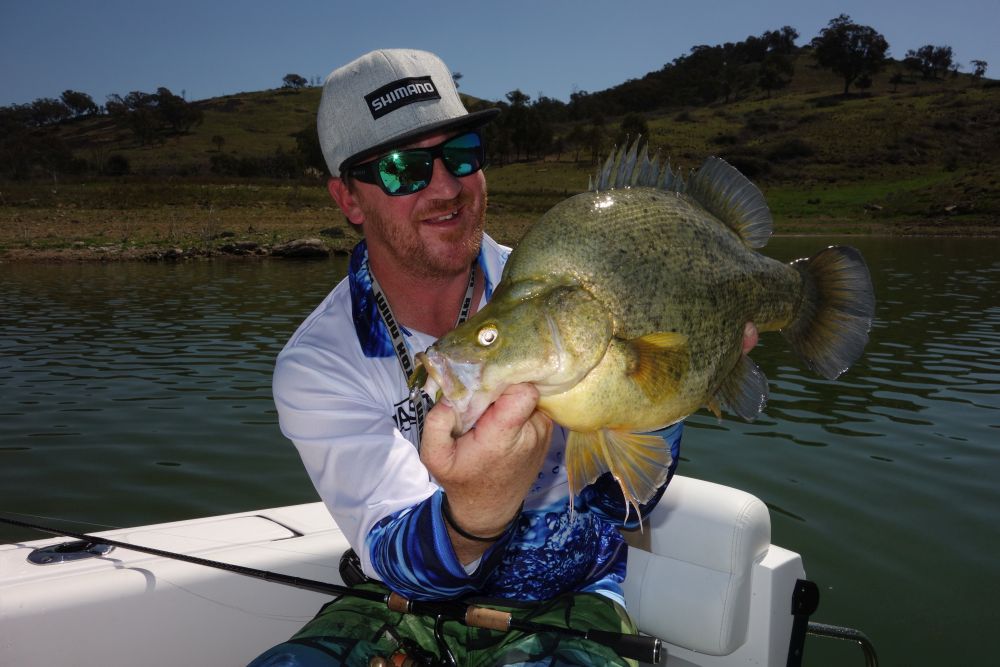 Golden perch, or yellowbelly, are an iconic native sportfish. CHRIS CLEAVER takes a fresh approach and shares some tactics to help you improve your success rate.
THE fire began to spark after a few incidental by-catches while chasing cod in the "Bidgee". There's something about their appearance and how they can slam a lure with the aggression of a raging bull, yet reject one in the very next cast. Regular trips chasing those beasty Murray cod often started with twitching suspending hard bodies in the snags to snare a few golden slabs. From there my addiction developed and I was hooked!
I now understand why they've become such an iconic target it recent years. It reminds me of the bream on lures fad and I guess in some ways they have similarities. Both fish are widely distributed, have equally wide acceptance of lures, and much the same tackle and techniques seem to work.
Discovering gold
The river fish were great, but I really wanted to chase some true slobs; those obesely oversized footballs that have put popular locations such as Windamere, Hume, Eildon, and Blowering on the map. Windamere, in the Central West of NSW, was the place to do it. Just over three hours drive from Sydney and nestled between Lithgow and Mudgee means it's easily a single day mission. With a well maintained camping area, boat ramp and facilities, overnight stays are also an option for extended trips.
As I waited for spring and warmer water temperatures I pondered a few techniques. Last time I was there in the early 90s we were casting hard body lures. Lures like Deception Shrimps and Bennet McGraths, mostly along weed edges. Without a doubt these techniques would still account for their fair share of fish, but I had a few other ideas.
As late September rolled around temperatures had risen and a healthy barometer was on the cards. Scott Anderson, his son Noah, and I were on our way! With zero degree overnight temps I aimed for an 8:30am arrival, so it was not too chilly, plus I had a hankering the shallow margins would fish better once the sun warmed them.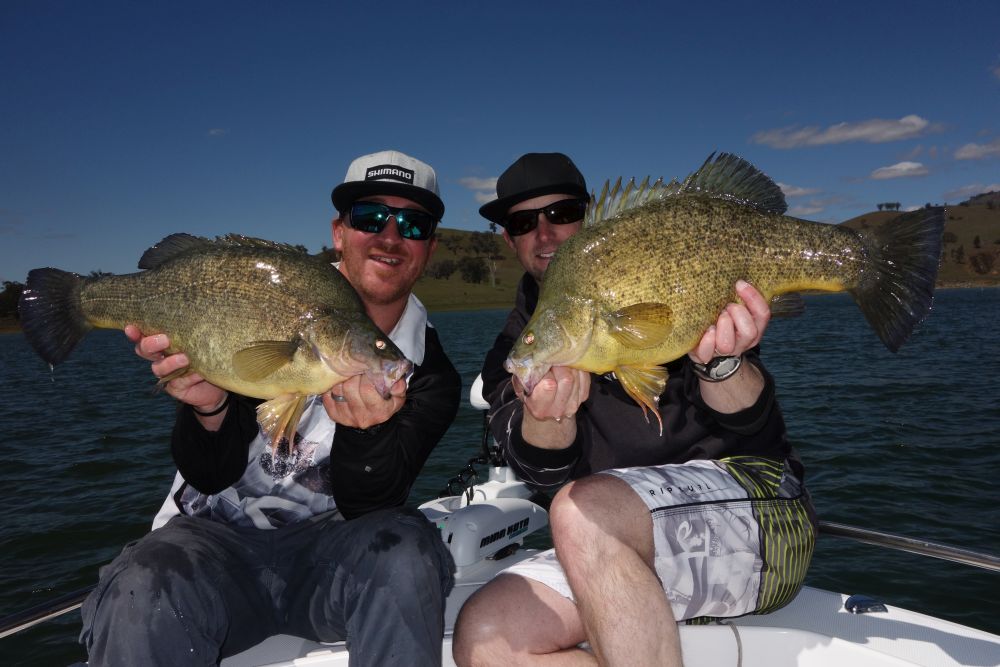 How's the serenity
The car trip seemed to have an ironic ring from the back seat. "Are we there yet?" Scott's son murmured from the back seat. It didn't bother me, but I was thankful when we cruised over the last crest to see a beautiful glassed-out dam in the early morning sun. There's just something truly Australian about a western native dam in summer or spring.
Half an hour later and I eased the throttle on the boat along a likely looking area, dropped the electric and watched the sounder intently. A few fish began to mark as we approached a likely looking point at the front of a bay. I opted to go with a bream style approach, one rod rigged with a plastic on a 3 gram jighead, while the other had a small blade. Scott on the other hand, being a cottage lure maker for his brand NutterJuck, had some interesting creations he was trialling on the highly strung goldens.
We started casting, not really sure if what we were doing would work. Then only about 15 casts in I felt a clunk shortly after hopping the plastic off the bottom. I struck quickly to solid weight and after a few solid head shakes a golden broke the glassed-out water. Before too long I worked out where the fish preferred to feed and the numbers started to increase. We even experienced the odd double hook-up and had a ball catching some truly trophy-sized goldens.
A week later and I was back with mate and freshwater junkie, Ben Coombes. Ben had done some homework and figured there was a good barometer for the coming weekend, so a plan was set. A week passed and I found myself rounding the last bend over the crest to see another glamour glassed out morning on Windamere. I quickly raced up the dam to where Scott and I smacked them only a week prior.
Second cast with the plastic was met with a sharp bump and I was on, Ben just shook his head in amazement. Shortly after, that fish was followed by another of similar size, then it was Ben's turn. Only 15 minutes down and three fish on the scoreboard. While they weren't huge, I was feeling good that I'd worked out a good technique and figured out these temperamental aquatic sumos. Over the next few hours the fish moved shallow and were super aggressive. The fish averaged 56-62cm and were built like beach balls. It was fantastic fishing that I won't forget anytime soon, and yes, it was all on a freshwater dam!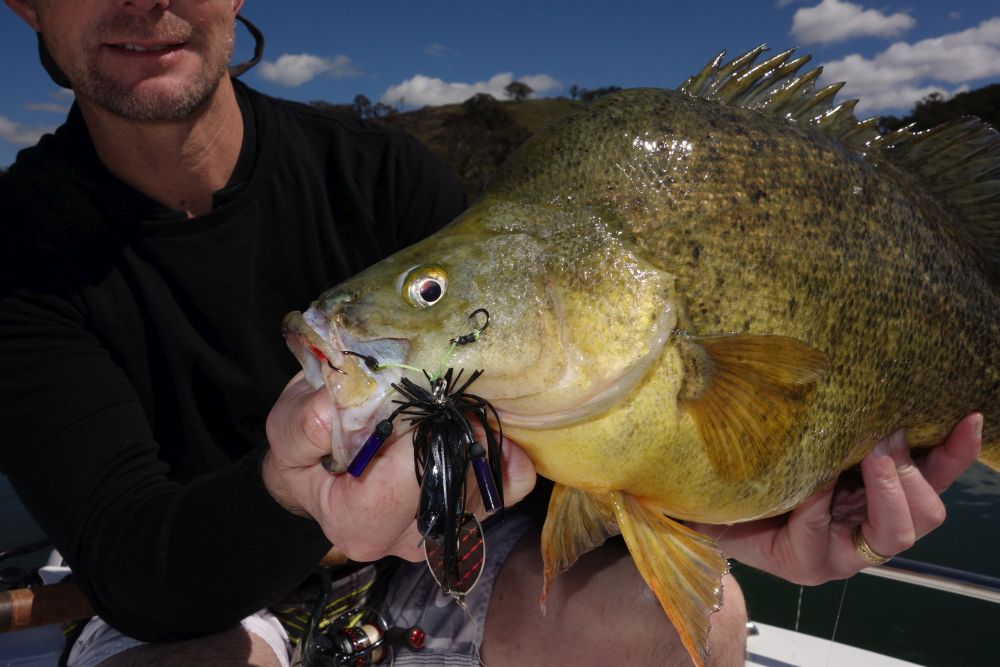 Tackle choice
While I'm a big fan of using low profile baitcasters on my freshwater natives, the style of approach I discovered for these dam fish doesn't need it. I simply use a 1000-2500 sized threadline loaded with 3-5lb braid topped off with 2m of 4-8lb fluoro on a 6'6" to 7ft 2-4kg graphite rod. I usually take two, one rigged with a jig headed plastic and the other with a blade. I almost exclusively run 6lb fluorocarbon for leader, but in tournament situations with many boats and a shutdown or finicky bite, 4lb might turn a tough day around.
Try to have a range of jig heads from 2-7grams or 1/16 to 1/4oz in the older scale; I prefer a hook size from about size 2 to 1/0 depending on brand. Try to use jig heads with a medium gauge wire. While goldens are not show stoppers in the power dive department, they do carry a lot of bulk in sheer weight. Plus if that mighty Murray cod takes a liking to your plastic – with patience and good rod work – you stand a good chance of landing it.
Plastic choices are wide ranging and many, and it's quite surprising what they'll eat. I've found Squidgy Wrigglers in the 80-120mm, Squidgy Lobbies small and large and the Squidgy Paddle Prawn and Wriggler Prawn to bring home the bacon on most occasions. It may seem a little one-sided on the above choices, but that's what works for me. I have seen other brands like Atomic and Berkley also work well, especially those 3-inch Gulp Jigging Grubs.
Another lure type is small metal blades, notably the Ecogear VX in 35-55mm size. A lure originally sold to target the bream market which has proven even more deadly on dam goldens. A little trick is to find the Ecogear assist hooks with the rubber feelers and attach them to other brands of blades – it works well!
Be sure to always carry a couple of Jackall TN40 to TN60, Jackall Mask Vibes and some suspending hard bodies like Jackall Squirrels or Pontoon 21 crackerjacks. The TNs and their softer brothers, the Mask Vibes, can prove very deadly at times and are great if it's windy.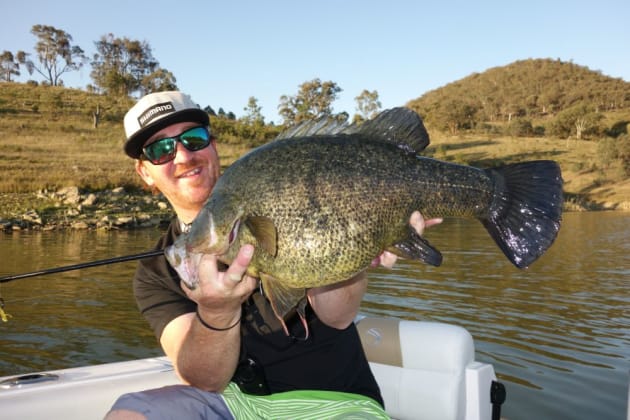 Tactics
Hitting one of the larger freshwater dams can be a seriously daunting task for the first time. It's best to Google Earth the dam and pin drop likely looking points. These are rock walls and stands of timber that look fishy. I'll either quickly fish each of these likely locations or simply sound each area until fish are found. Once you've found fish in a location take note of its features and look for similar spots throughout the dam. Goldens have a knack for being in a similar holding pattern throughout a dam, and realising this and locating similar structure will give you a bank of locations to attack.
When you do find fish be sure to take time and fish for them thoroughly with multiple lure styles and colours. There are days where goldens will bite on anything, while other days they can be very fussy. It also pays to return to a likely spot after a few hours to check if the fish have become more active.
Goldens can be strange creatures at times. Be persistent and try a few different techniques and retrieves and when you get a fish, try to determine what got the bite and repeat it. The best technique I've found for the plastics and vibes is small hops close to the bottom with the odd pause. Some days might require a longer pause of up to 10 seconds where others it will barely touch bottom before you pick the lure back up again.
Another tip is to plan your trip with stable weather and rising or steady barometer. Spring, summer through to autumn are the best times to target these beasties, so get the gear sorted and experience some truly exceptional fishing that can be had on these golden slobs, you won't be disappointed.