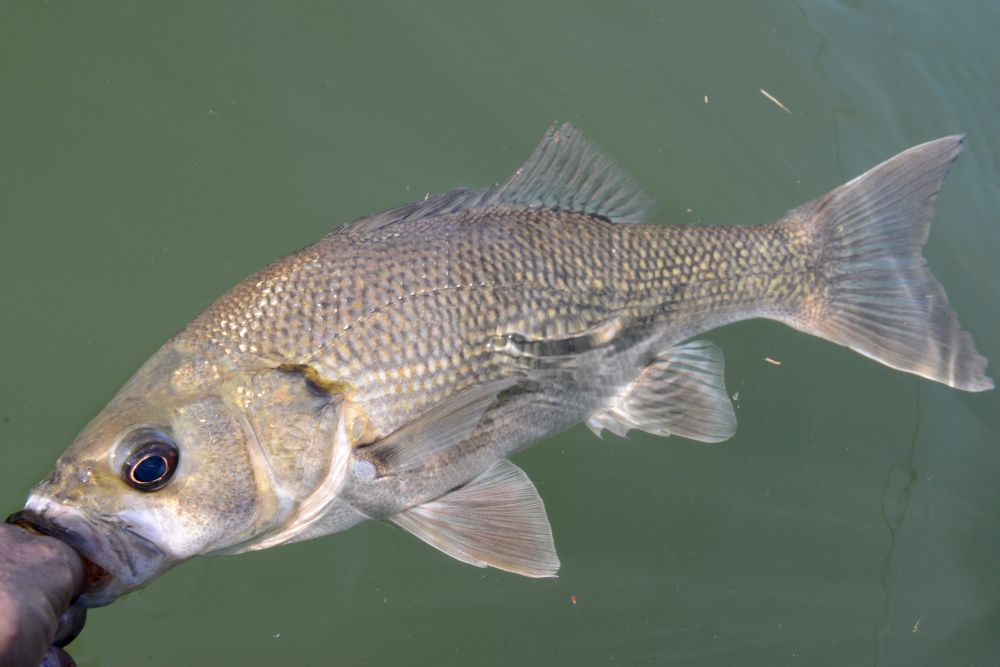 NSW's Hunter Valley is known for its superb sportfishing for bass in Glenbawn and Lake St Clair. Sami Omari reports on proven tactics for these sometimes tricky impoundments.
WITH camp duties over, we hurriedly collected our tackle, jumped into the tinny and headed for a nearby shoreline adjacent to an area of deeper, timbered water. I started off fishing a soft plastic while Mick opted for a lipless crankbait. As we hummed along from one location to the next under electric power, the sounder scratched out a few tell-tale markings of dormant bass hugging the bottom.
Approaching a solitary cluster of trees I belted out a long cast and allowed my plastic to sink, mindful of the wooded landscape below the waterline and praying I didn't snag a soft, waterlogged branch while working my plastic along the bottom. That first bite after a period of inactivity caught me by surprise and I cursed at the missed opportunity. I fired out a second cast and when the tell-tale transmission of a bite was felt through the rod I struck instinctively to be met with resistance on the other end. The light spin outfit yielded a small amount of line to a fish that was determined to stay low and slug it out near the bottom.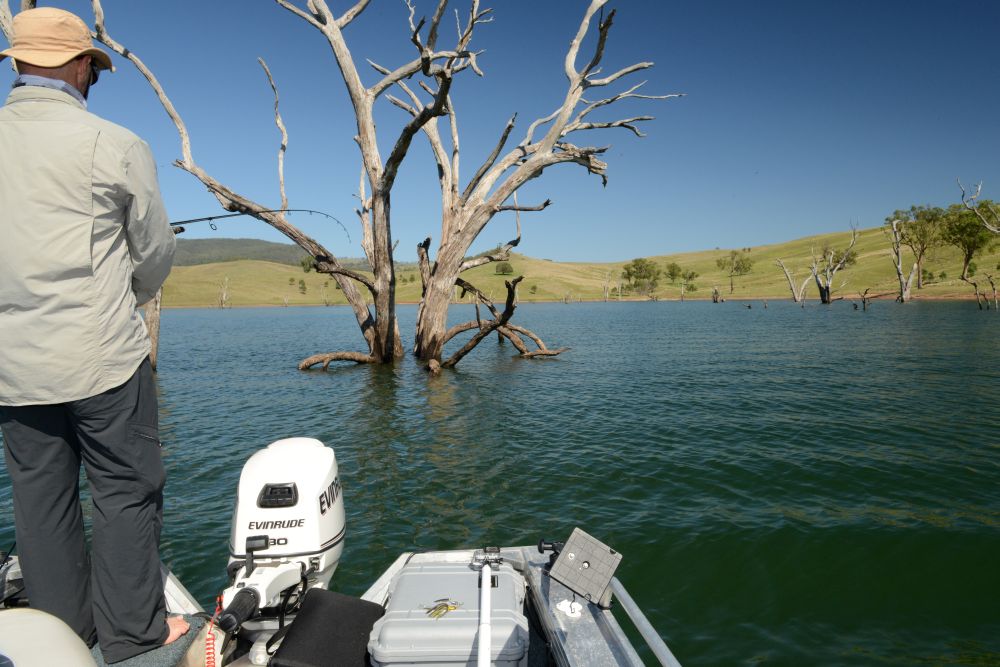 Eventually the fish yielded and the olive hued flanks of a healthy bass appeared on the surface before the fish was directed into the waiting net. With the monkey off our backs and light starting to fade, we edged our way closer towards the shoreline hoping for an edge bite. Mick changed over to a spinnerbait while I tied on a sinking minnow and we both fired off casts into the shallow, weedy fringes.
My second or third cast practically hit a bass on the head and was inhaled in a foaming mass of whitewater the moment it landed. This felt like a better fish as it powered towards an adjacent spindly tree. Applying gentle pressure helped steer the bass away from danger before it finally succumbed and was hoisted aboard.
With daylight quickly changing to night, both Mick and I changed to top water lures with Mick opting for a crawler style lure while I tied on a fizzer. This time it was Mick's turn to enjoy all of the luck with fish after fish taking a liking to the irresistible gurgling of his lure as it waddled across the surface.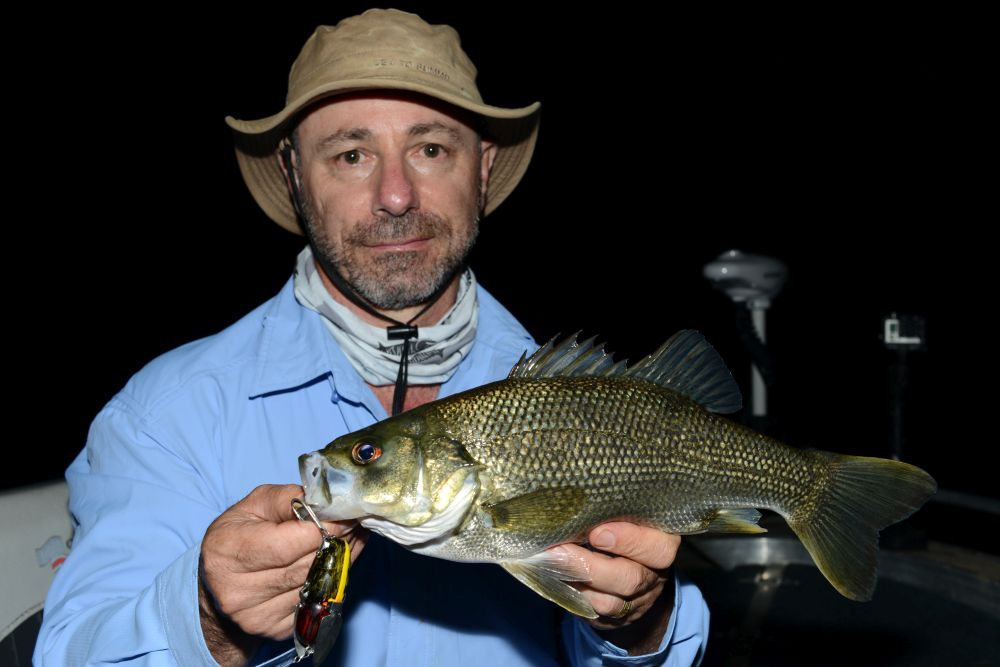 At night your senses dial in to the surroundings in an attempt to compensate for the lack of visibility. The muddy bank we were fishing featured a weed-lined margin; cast too far and you'd hear the distinct thud of the lure landing on mud; too short and an audible "plop" was heard as the lure landed in deep water. Hitting the sweet spot amongst the weed where the bass were feeding sounded like a muted mix of the two sounds. Once my eyes had become accustomed to the ambient light and silhouette of my black fizzer, most casts started hitting the weed line and it was only a matter of time before the sound of actively feeding bass belting the lures was heard.
I was struggling to convert the seemingly savage strikes on my lure with Mick having far greater success on his walker. It was a great way to fish with the two of us cheering and laughing with every raucous top water strike during what was otherwise a still and quiet evening.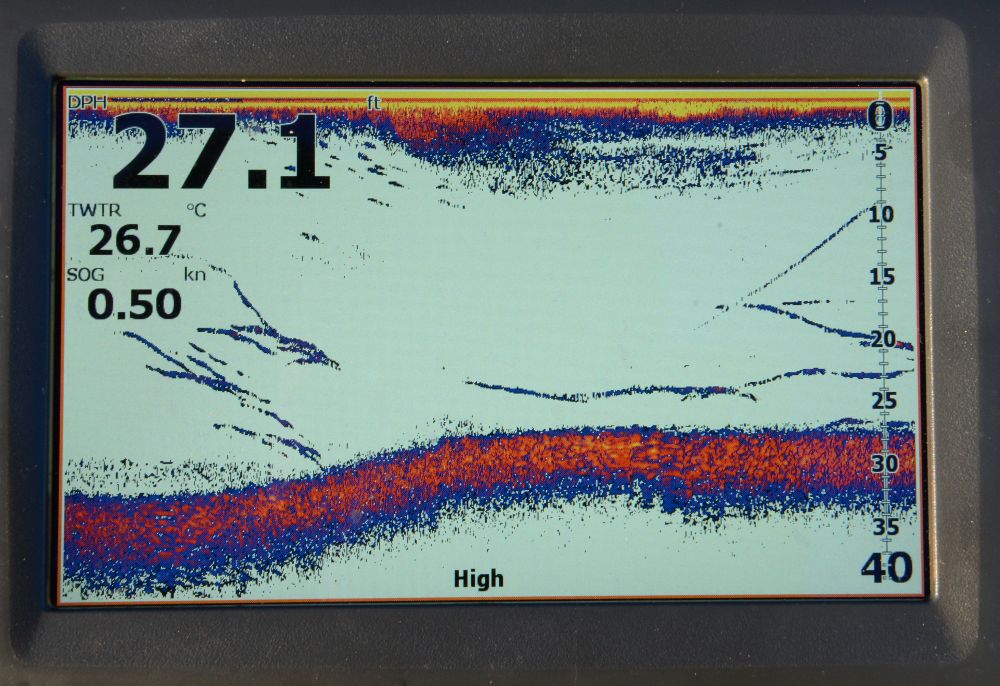 I eventually slowed down my retrieve and resisted the urge to strike, dramatically increasing my conversion ratio. By the end of the night we were well into double figures each on hefty bass caught and released. We left them biting shortly after midnight and idled back to camp for a quick feed before catching a few hours sleep.
Retracing our steps the following day saw the bass holding along deeper water off the steep rocky shorelines. While it was a tougher morning than expected, we still managed to tempt a dozen or so fish before heading back to shore to regroup. The late afternoon session brought with it an air of expectation, however an ever so subtle cool breeze heralded a change in fortune. We fished the next six hours for four small fish in total and were left dumbfounded by the subtlety of the weather change forcing the bass into hibernation.
Gear & tackle tips
My choice of line and leader is generally based on the location and how often I'm likely to be snagged. When fishing the Hunter impoundments of Lake St Clair and nearby Glenbawn Dam, I generally use 8lb braid coupled to a 14lb leader on a suitably light single handed spin outfit. Ideally I'd love to fish lighter, however doing so results in a high likelihood of busting off your lure every time it makes contact with a submerged tree or heavy thicket of weed.
When it comes to lures, an all-time favourite soft plastic is a three-inch paddle tail in a dark brown colour coupled with a ¼ ounce light gauge jig head. The thin wire of the light jig head generally straightens when you pull hard enough – if you're not getting snagged in the timbered waters of Glenbawn and St Clair then you're not fishing close enough to the structure! Remember to check the point of your hook after each snag and close the gape of the hook if it has opened slightly. Some people might balk at this practice, preferring to change jig head rather than reform the bend – just remember that you might get snagged 20 or more times in a day so you'll be changing jig heads often!
Spinnerbaits are an obvious alternative for snagless casting around the trees, though I must admit that their success rate seems to have dropped over recent trips as soft plastics and soft vibes have become far more productive. Either soft and hard vibes or lipless crankbaits are a tried and trusted bass lure; they cast further than minnows and can be fished at varying speeds and depths allowing you to cover more water.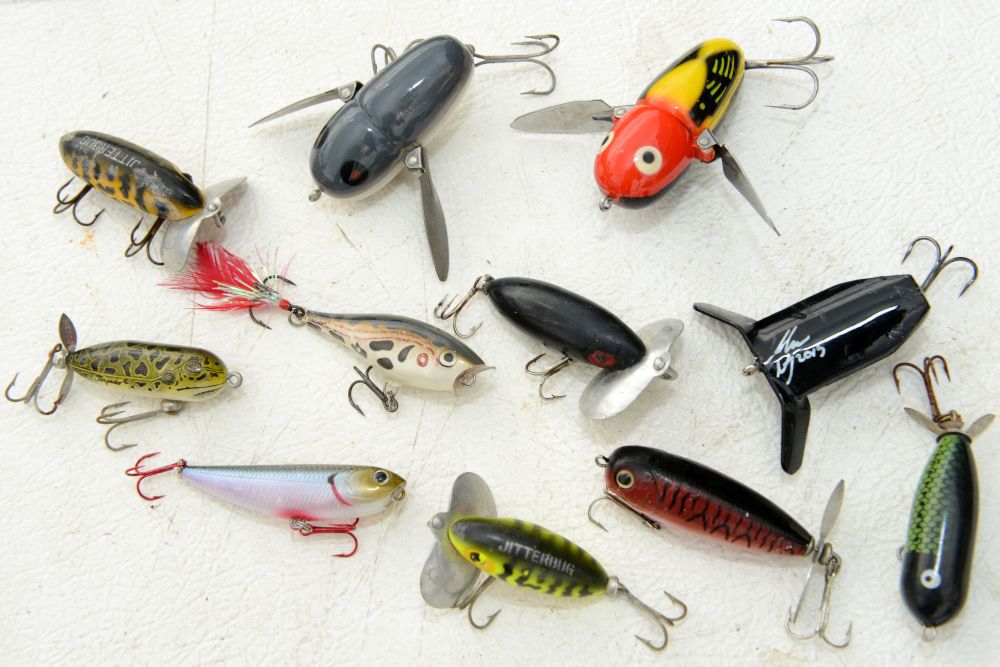 Weed-lined banks
I love fishing the weed edges as they can produce fish at all times of day. The low light periods of dawn and dusk prompt the bass to cruise along the shallow fringes and can result in some spectacular fishing with surface lures. On cloudless and relatively calm mornings, I'll start by fishing a small stick bait or surface walker for a subtle top water presentation. I'll alternate every few casts opting for a shallow running minnow to determine what mood the fish are in. During the late afternoon and evenings, I love fishing fizzers on the fringes – the sound of the fizzer and a bass exploding on the surface makes for some heart stopping action!
During the middle of the day with the sun blazing overhead, I'll switch to a lipless crank or soft plastic and cast parallel with the shore to run the lure along deeper, shade-lined sections of water adjacent to the weed where the fish might be holding.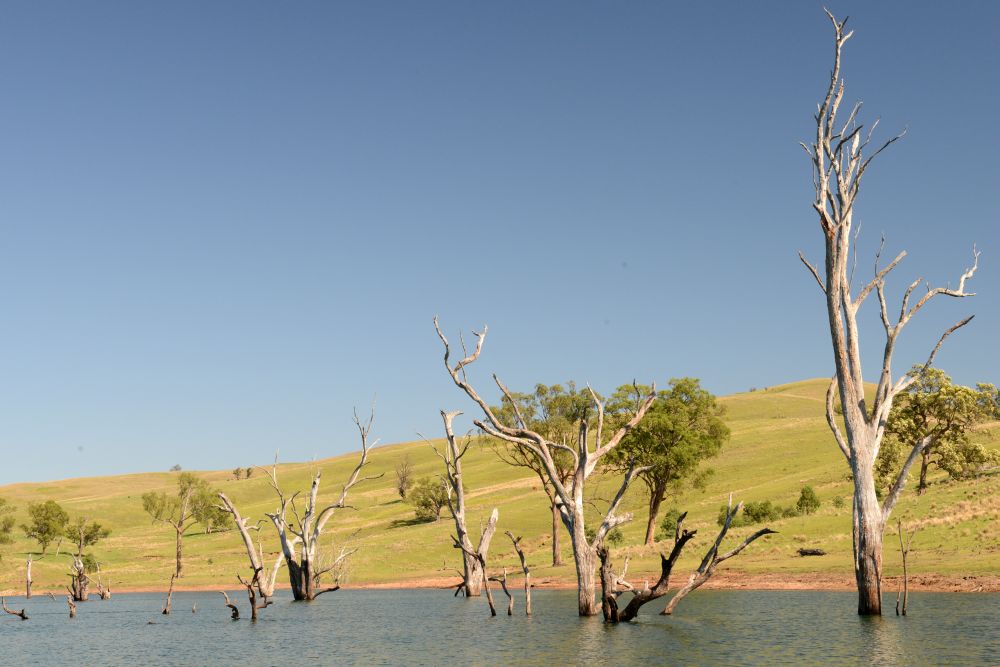 Timbered water
Sunken timber forests typify impoundment bass fishing and can be a great location to find a few natives lurking in the shadows. Waterlogged timber is soft and needle sharp hooks only need to brush past them to become solidly imbedded. Remember this when throwing your expensive lures into the timber! Spinnerbaits are an obvious choice due to their snag resistance. I like to cast the spinnerbait adjacent to a stump, allowing it to flutter down before commencing a slow retrieve which usually bounces the lure over a few branches and hopefully into sight of a territorial or hungry bass. Slow rolling and jigging soft vibes around the trees can also be dynamite; just remember to carry a lure retriever as those little trebles will often find the timber!
Sloping banks
Any bank with a slight gradient will generally feature a shallow periphery that slowly drops away. These shallow banks are a classic low light feeding ground as the bass emerge from their hideouts and roam the shallows to feed. Slow rolling minnows and paddle tail soft plastics can be dynamite on the edges at first light or late in the afternoon. Bass will come into relatively shallow water but are generally quite wary so these spots don't fish too well during the middle of the day unless the water is discoloured or you're fishing a windward shoreline with waves lapping the bank, agitating the bottom. Light line and long casts are ideal in this situation as they allow you to cover more ground, increasing the chances of a fish sensing your lure.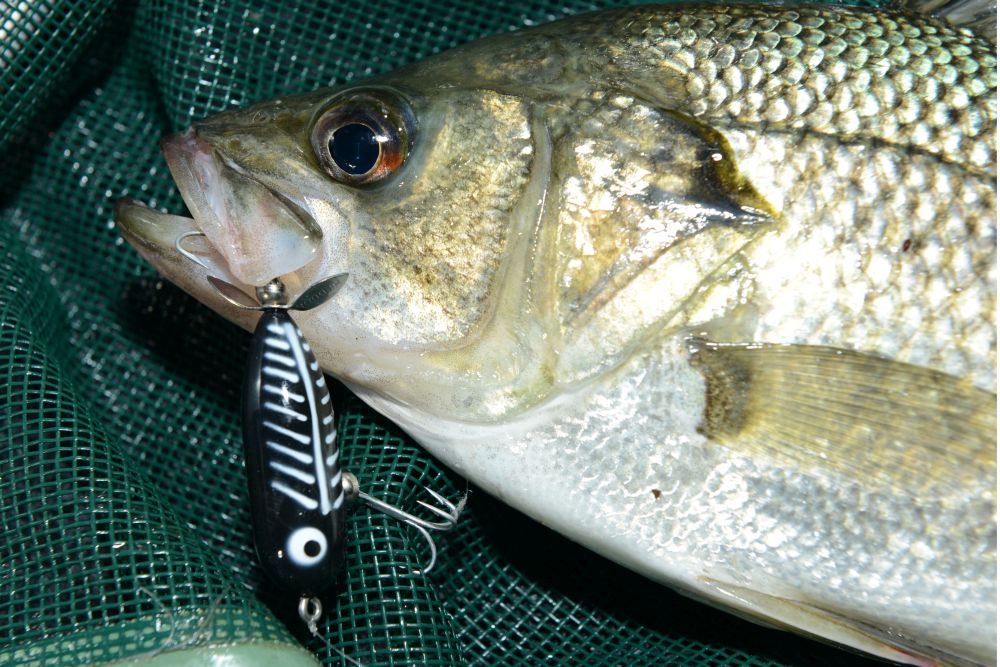 Deep water jigging
The Hunter Valley impoundments feature deep stretches of undulating bottom interspersed with sections of consistent depth. Schooling fish can aggregate in the depths at most times of the year with water levels, temperatures and baitfish influencing their movements. Having a decent sounder – and knowing how to use it – is an asset in the deeper water. If your sounder is tuned correctly, you'll find bass mark exceptionally well.
Once you start marking fish, take note of the depth at which bait and schools of bass are aggregating as the oxygen and nutrient levels may be keeping the fish there for a reason. Heavily weighted soft plastics, metal blades, ice jigs and even micro jigs are worthwhile lure candidates for deep schools of bass. Drop the lure into the school and vary your retrieve to determine what will trigger a feeding or reaction bite. I start out with a gentle yo-yo action and move to hopping the lure through the schools then adding a little more action to determine how best to elicit a strike.
The Hunter Valley impoundments might seem intimidating to the uninitiated, however targeting the above mentioned areas based on the prevailing conditions should dramatically improve your chance of success. Not only is the scenery spectacular but there's no closed season for impoundment bass so you can enjoy bass fishing the Hunter at any time of the year!