TROUT were introduced to Australia in 1864 and have thrived in our streams and dams. There are divided opinions on the release of trout, but one thing is certain; they provide a source of recreational fishing and take angling pressure off native species. They're great to eat if prepared correctly, and importantly, are a big money earner for the tackle industries and provide a massive amount of tourism dollars, especially in regional areas.
Trout tend to prefer the cooler climates and are found around higher country areas from northern NSW down to Victoria, as well as Tasmania. They're also found in some small streams and lakes in South Australia and Western Australia.
They are relatively sensitive to water temperature, preferring temperatures between 6C and 20C, depending on species. For example, brown trout will tolerate higher temperatures. This temperature range typically means they live well above sea level. For example in NSW trout mostly live above 600m altitude. However, the southern states of Victoria and Tasmania often have trout down to sea level. There are also sea run trout in these states.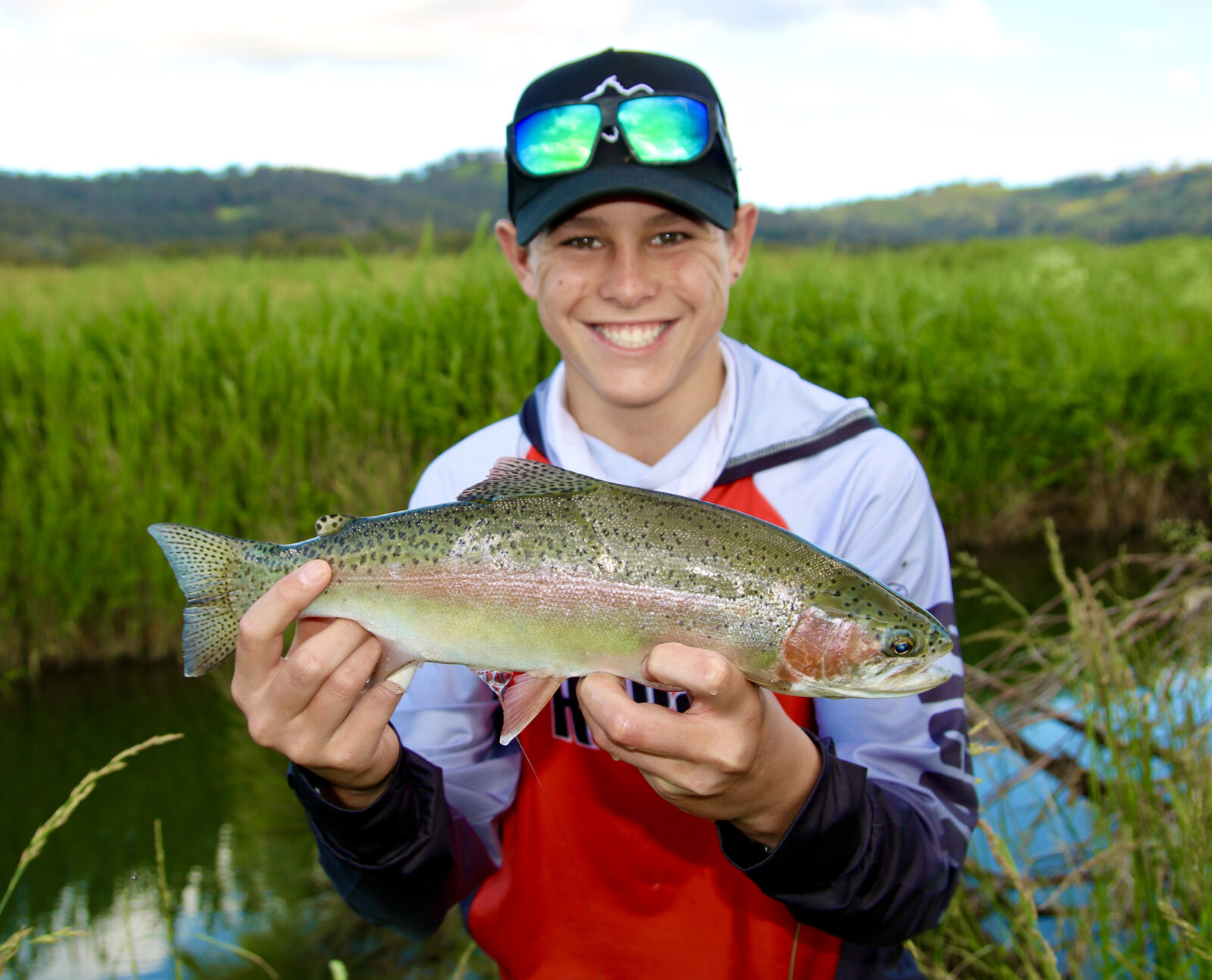 Where to start?
So where do you start your venture into catching one? There are many options but the one that springs to mind in NSW is a website known as Angler Access. If you're based in other states, it's worthwhile checking for similar access websites. My understanding is Victoria also provides a good website for planning your trout fishing adventures.
The Angler Access website in NSW is free to use and was created by the DPI Fisheries. The site is a wonderful tool which gives uses access to waters and also lists information like other species you are likely to catch but most importantly allows you legal public access to fishable areas go on to the https://www.dpi.nsw.gov.au/contact-us to fine out more information.
The other option to gain access to fishable water in your chosen area is door knocking. If you present yourself well and follow the landholder's instructions and treat the place like it's yours, you are normally welcome. We have a policy we always mention and follow, "We take photos and only leave footprints".
Unfortunately, as a result of others wrong doing trust needs to be gained, but it is definitely achievable in a lot of cases. We have heard confusion on several occasions from property owners on your right of access, so please remember make sure you are not trespassing.
Trout lend themselves to a variety of techniques which include lure and fly fishing. These are the most popular. Bait fishing is also a popular method, but for the purpose of this article, let's focus on lure and fly.
Seasonal changes, water temp, water clarity, flow rate, and food supply, are all very important factors that will assist you in a successful trip out. So be prepared to do your homework, plan ahead, and in some cases as my Dad explains, "think like a fish".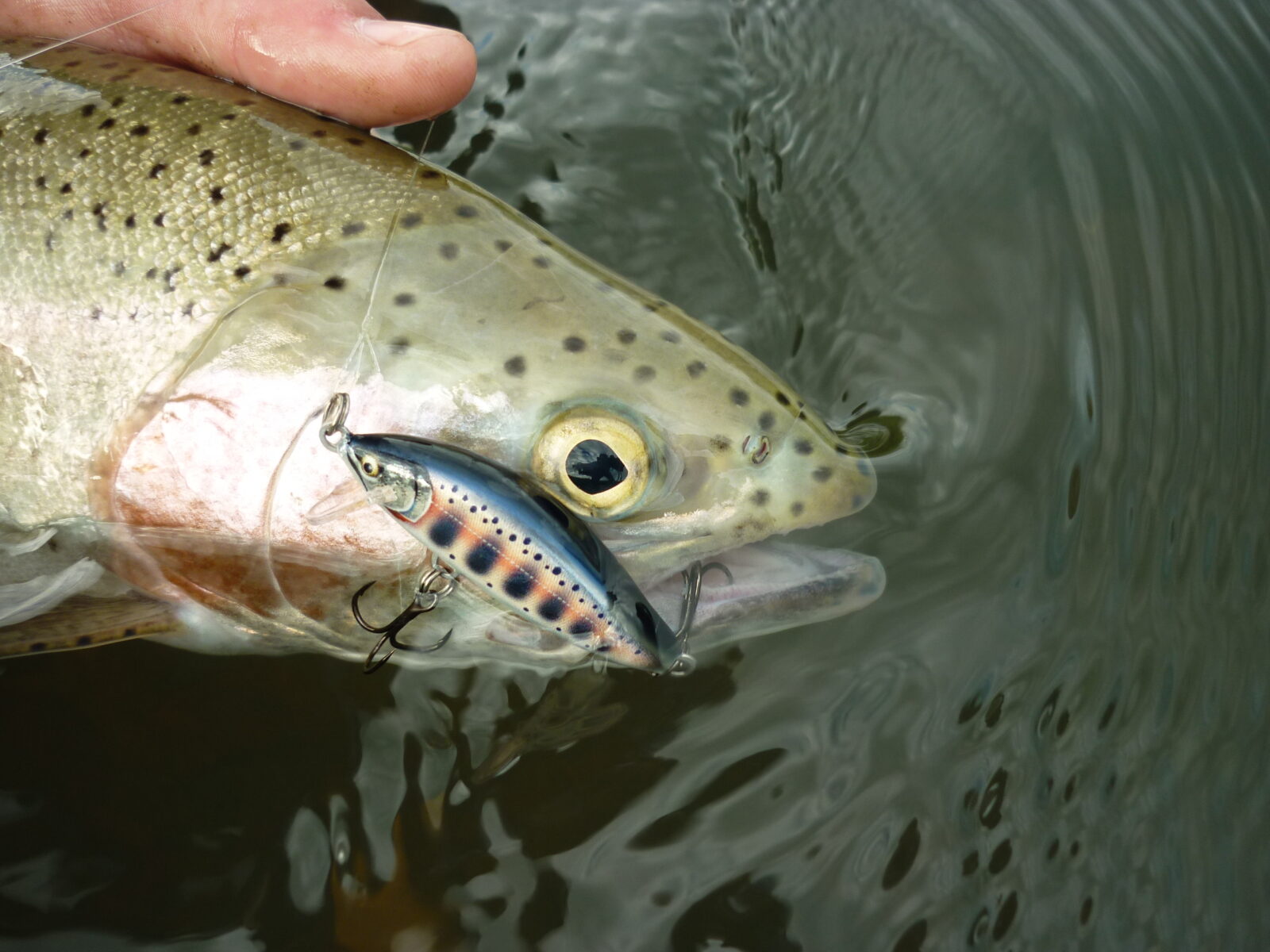 Gear
Tackle can be divided into two categories – spin and fly. Let's run through our spin tackle first.
A light rod in the 2-4kg range is all you need. Ensure it has a light tip and it is always good to balance it nicely with the correct size reel. We use a 1000 size but this is just our preference. We use a good quality braid like the Suffix 832 in 6-8lb and a mono or fluorocarbon leader of similar breaking strain.
Lures range from the smallest blade style beetle wing to small hardbodies which we generally use. We try to stick with natural colours but every now and then throw in something a bit different when the bite is slow. Probably our most favourite lure would be a small hardbody in a 50mm version in various colour patterns, this has provided us with spectacular results.
We have only started to recently venture into fly fishing for trout, and wherever the background permits, it can be awesome fun. A fly rod in 5 weight seems to be a good all-round option and covers most common sized fish in our regular waterways, a floating fly line is the most versatile allowing you to fish dries or tandem rig and even streamer flies, 6lb leader is a safe size. Yes, you can go lighter but you run the risk of being left disappointed if you hook a big, lively fish.
All the regular fly patterns seem to work, flies like caddis imitations, humpy peacock flies and of course hopper patterns. Early in the season fish tend to hang deep chasing shrimp and yabby and searching for nymphs. Dedicated fly fishos excel under these tougher conditions so we tend to leave the fly rod at home until we see an increase in insect activity, as this seems to provide us the best entertainment watching as your fly gets taken off the surface.
Other gear we recommend is a good pair of boots or waders. It's very easy to clock up some miles when going from pool to pool. Polarised sunglasses are a must have, helping you not only locate fish but clearly see areas to put your lure or fly. A landing net is a great advantage as trout are slippery suckers and a net also helps you keep your fish happy and healthy while you get some camera gear sorted, on the subject of nets we recommend the silicon net material especially with spin gear and treble hooks the silicon is much more user friendly.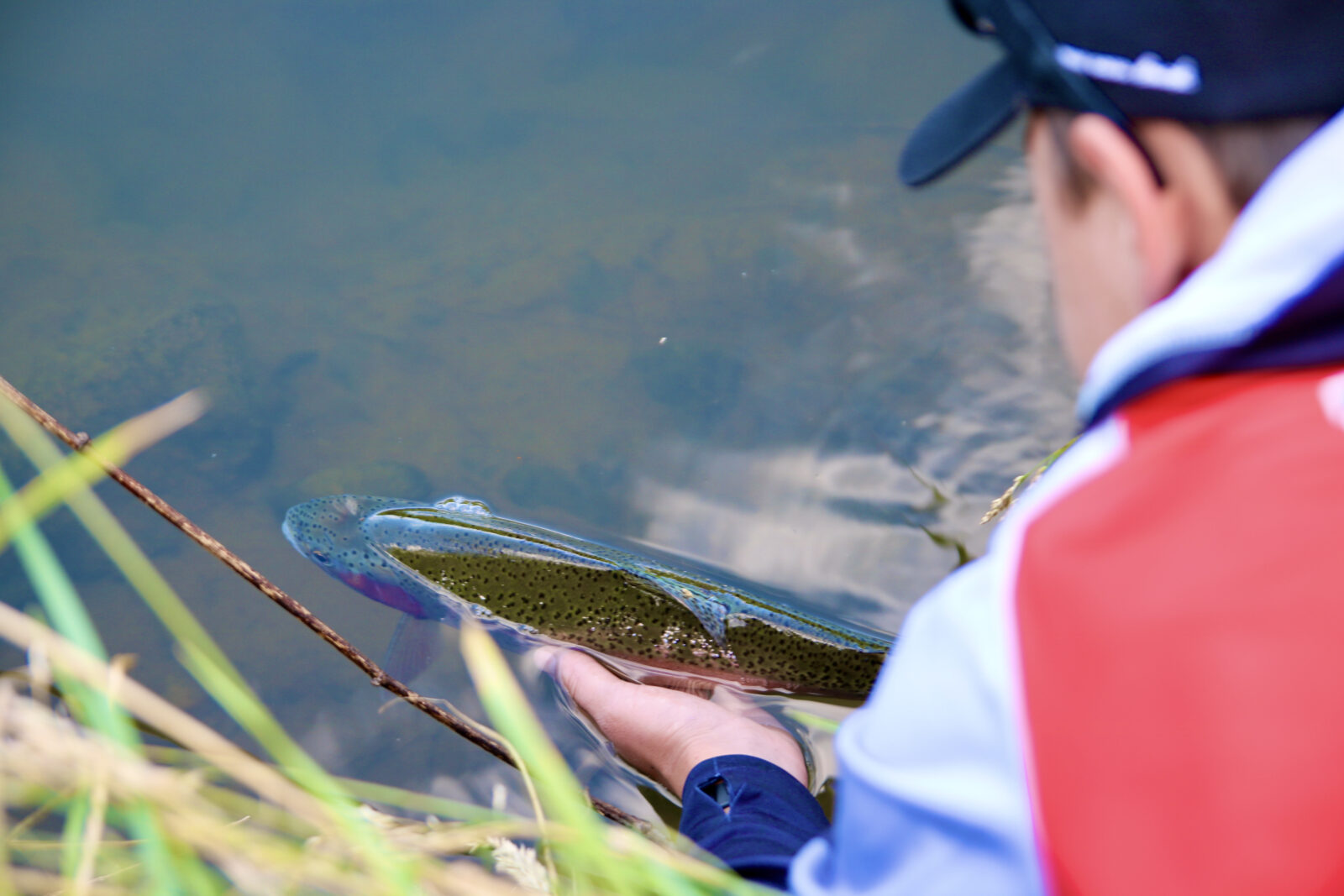 Techniques
An important factor, whether fly or lure fishing, is your approach towards the water. Being stealthy can make a huge difference to your end result. Trout have terrific eyesight so take your time and plan your attack.
Also, it pays to think about wind direction and strength, water flow, and current breaks, leave nothing to chance and you will be rewarded by that extra effort.
Learn how to "read the water". This means identifying likely areas where fish hold. Trout have habits and understanding these habits goes a log way towards learning how to catch them. In a stream, for example, trout will often sit in the flow or take shelter behind a rock waiting for food to flow down river in their path. The food could be small nymphs or insects floating on the surface. Trout have great eyesight and will notice the food coming their way. It pays to throw your lure or fly at the same depth as the fish. They will often ignore anything that isn't coming at the right depth.
In lakes and slower moving streams trout won't sit in one place, but rather cruise around on a "beat". In this scenario, find the fish and wait until it returns on the same beat. It may be 5 or 10 minutes, but it will return. You can leave your fly or lure in the water waiting for it to return so you don't spook it while casting.
When retrieving lures, more often we use a slow roll. We find this to get the best results in most cases although it pays to throw in a pause every now and then as well.
Depending on the terrain you fish try focusing on areas at the start of pools where the water deposits a clean flow of water and therefore increasing the chance a of a fish to get an easy feed, other areas to target are current breaks behind rocks and bank undercuts.
As the season gets into the warmer months fish will seek shelter and a steady flow of cool water which, is a point worth remembering.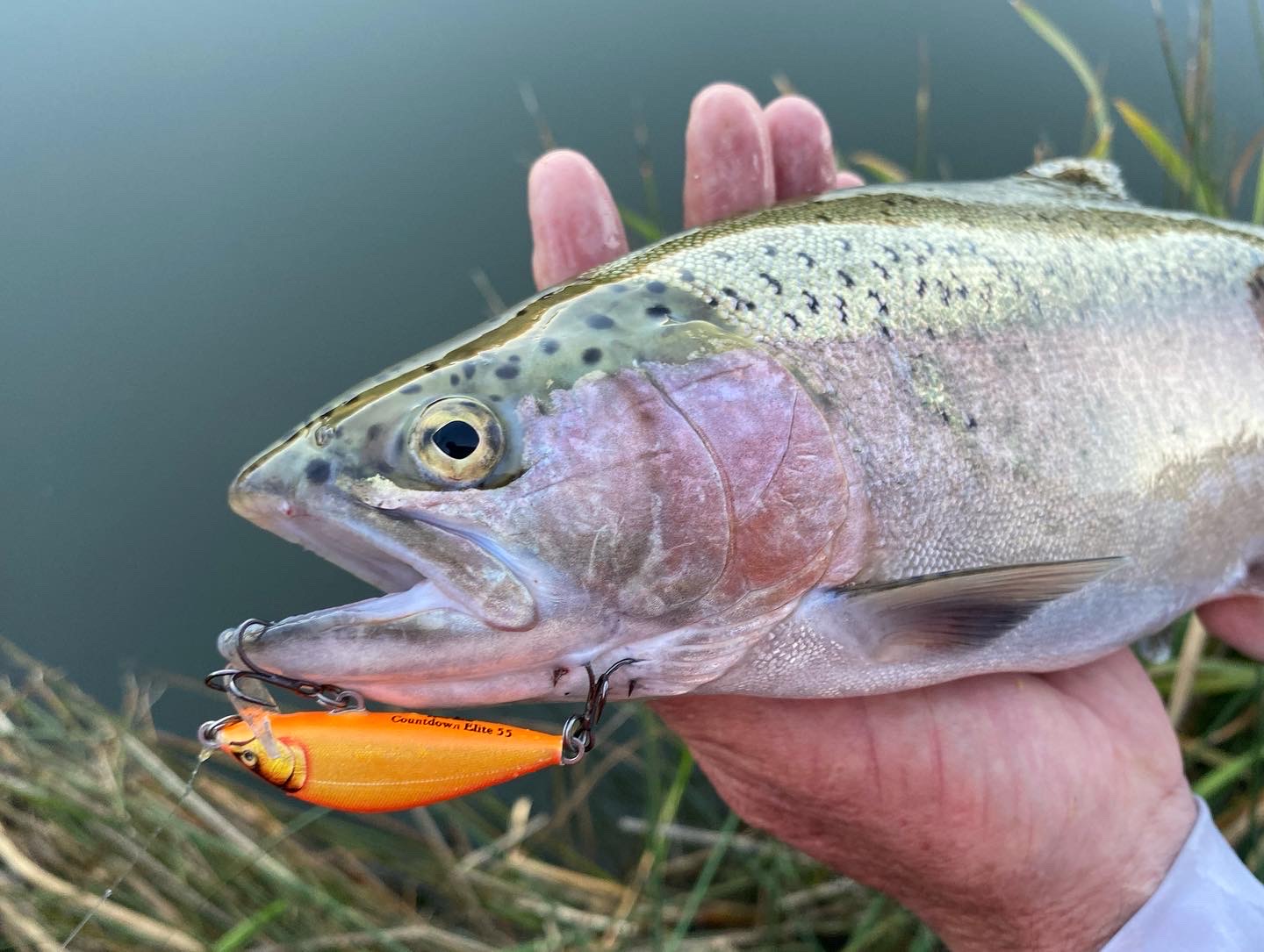 Handling fish
One key point to remember is that unlike a lot of other species trout need to be handled carefully to ensure a heathy release and the chance other crossing paths again further down the track. I mentioned earlier about the use of a net which allows you to keep your fish healthy until you get a photo. Let the fish have a rest in clean water while still in the net making sure he is kicking and in feisty shape at the time of release. It's a very satisfying feeling watching a fish swim away ready to play again another day.
Many of the areas which provide excellent fishing are normally small little places and do rely in fishers passing through and spending a little as they do. We always try to buy fuel or a drink it all helps in the long run, it may only seem a small item but every little helps.
As mentioned earlier in the article the importance of taking the to remember your legal obligations as a fisherman remembering walking in along a creek unless verified public access point you are most likely on somebody's property. Access permits you to only be within the confirms of the natural flow of the riverbed so please be respectful of landholders and their rights and privacy.
In NSW alone almost 500,000 trout were released during the past 12 months. That is potentially a lot of enjoyment for anglers. Although not everyone's most favoured species, trout in any form provide excellent angling possibilities. They are aggressive feeders at times and give a great account of themselves. They can be caught in some beautiful areas throughout this wonderful country and are not too bad on the table. Aside from the fish themselves, as with most things, fishing you have the chance to meet some interesting people in your ventures share some stories, or as we do, absorb their knowledge.