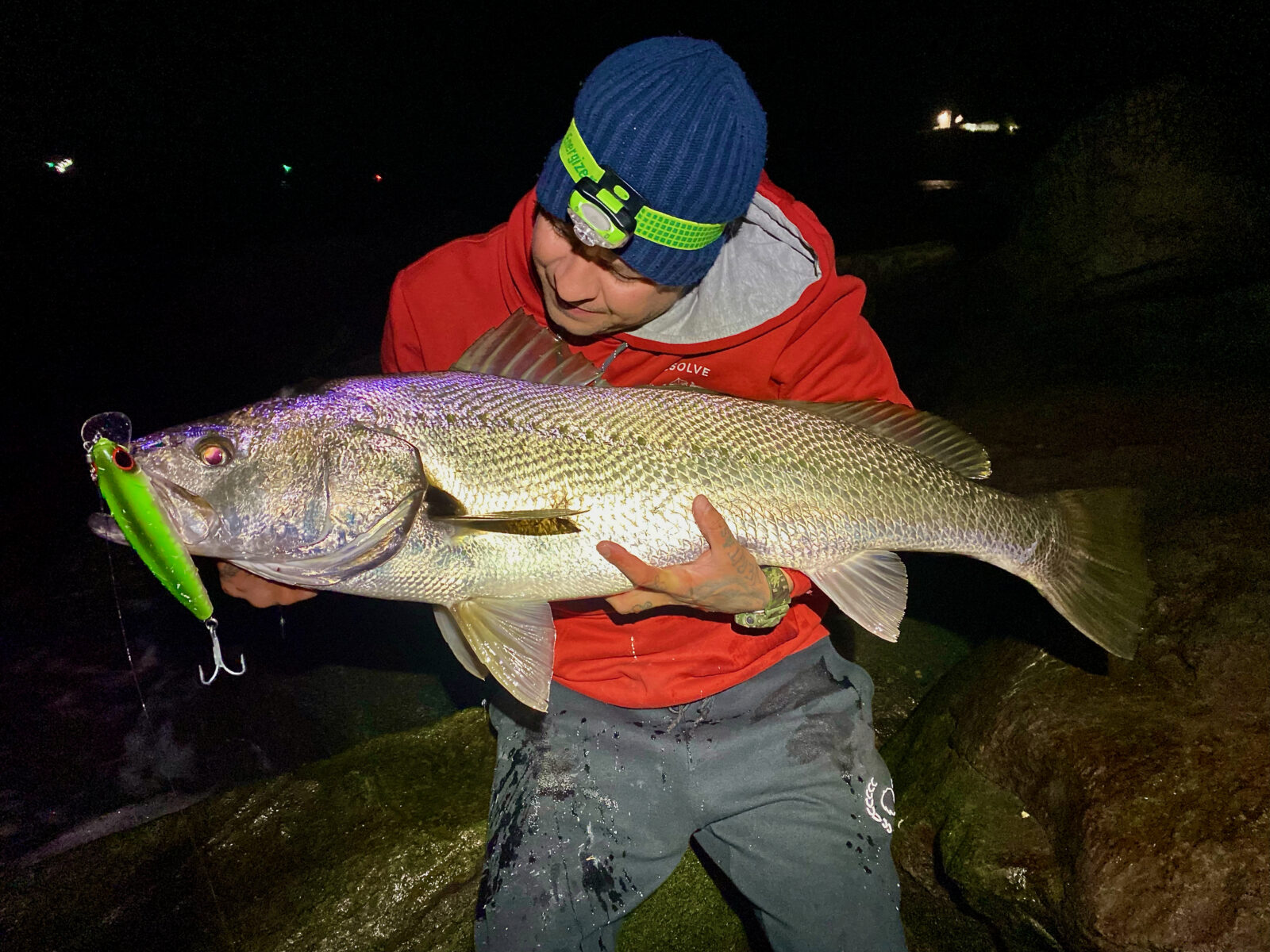 I'VE been a land based lure fisherman for as long as I can remember. Some of my earliest childhood fishing memories involve tossing small Wonder Wobblers at Lake Tabourie tailor from the bank back in the early '70s. Ten years later I was a mad keen land based game spin man. We cast small metal slugs and white barrel sinkers at bonito and frigate mackerel using 2 kilo mono on ABU baitcasters. I also spent a lot of time casting chrome half by quarter lures and Irons off a 621 Seascape for tuna and kingfish. Back then I had no option but to be land based. I couldn't afford a boat and all my gear was built for land based fishing.
When I finally could afford a boat I still dabbled in some land based luring. I chased mulloway from a few Shoalhaven River locations and the Comerong Island breakwall, did a bit of kingfish work with metal lures and spun the local beaches in winter for salmon. I guess once land based luring is in your blood it's a lifelong affliction. I'm probably doing more land based luring these days than I have in years and I still find it great fun and an easy option that gets me back closer to nature than boat fishing. Some of my favourite land based fishing includes wading the local flats chasing flathead, bream and whiting with stickbaits, cranks, plastics and bent minnows over summer and tossing metal and slow blatt jigs at salmon during winter. I also chase blackfish from the local rocks and estuaries on fly. I don't chase mulloway from the land much these days but my son is a mad keen jew on lures fisherman who works the mid north coast breakwall and beaches.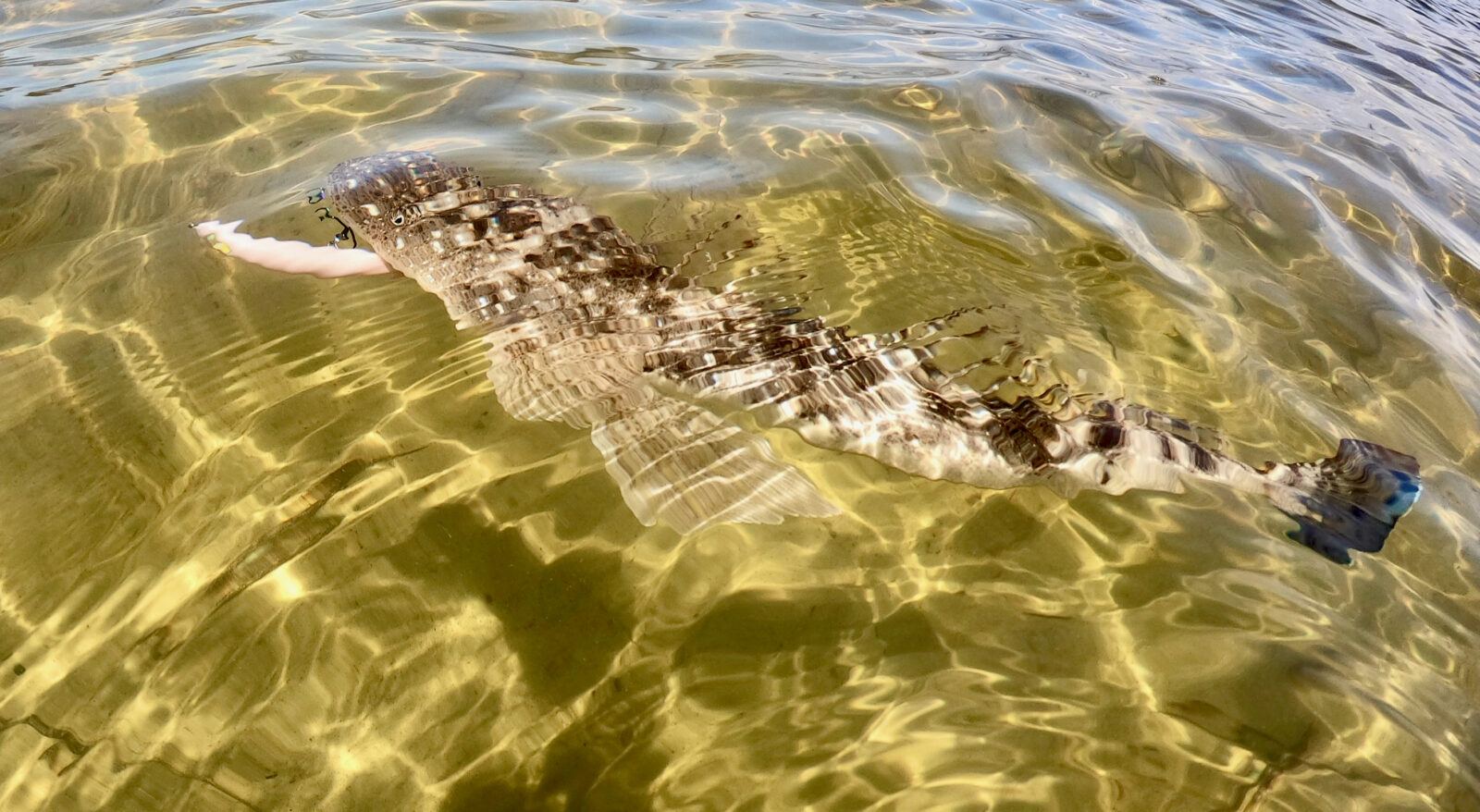 Wading the Flats
I've been wading flats and casting lures nearly all of my life. I walk several local flats every summer when the estuary waters warm and baitfish and prawns inhabit the shallower waters. I did the same up at Hervey Bay and caught some very nice bream and flathead on lures and fly by simply walking the flats adjacent to the main street. My southern NSW flats targets include flathead, bream and whiting over the warmer months. I usually fish lures but now and then I'll drag the fly rod out and have a crack. This is simple and easy fishing that is easily accessible to every coastal based angler. I love it because it's only a 10 minute drive for me and I'm fishing on any high tide. I only need a rod and my Patagonia Storm Front waist pack filled with lures and leader.
I fish a couple of different outfits on the local flats depending on my target. I fish a 7'6" Shimano Mebaru rod with a Daiwa Kix 2500 and 4 pound fluorocarbon for bream and whiting. I'll fish floating stickbaits, MMD Splash Prawns, 65mm Clone Prawns and cranks on this outfit. The trick is to target the bream and whiting over sand and around weed while avoiding a flathead scoffing the lure with 4 pound leader. All of the above lures need to be worked differently depending on conditions and water depth, etc. I like the minimal approach with short twitches and long pauses although I'll fish a constant medium retrieve with stickbaits and Splash Prawns for whiting. The 7'6" rod and light fluoro casts long with some breeze behind which is a big bonus.
If I'm specifically targeting flathead I'll fish a 7'6" Shimano Anarchy Ultra Light Flats rod with a Daiwa Caldia 2000 and 6 pound braid with an 8 or 10 pound leader. My preferred lizard lures include Crossfire and OSP bent minnows, 70-80mm cranks and Pro Lure 92mm Clone Prawns. All of these are proven flathead catchers that cover all the water layers on flats up to a metre deep. I fish the bent minnows with short and sharp twitches in shallow water or a medium retrieve to get them down over deeper flats. I fish the larger Clone Prawns with minimum weight and even weedless if necessary for flathead. Once again, a nice and slow retrieve with the odd twitch and heaps of pauses. If I think a big flathead is on the cards I'll often fish a heavier outfit and work a swim bait like the MMD Whiting.
You have to keep moving and fishing new water when walking the flats but always keep polaroiding in front of your path. You'll spook the odd fish and that in turn will scare other fish as it swims away. This causes a "dead zone" around the wading angler which is an area that won't produce bites. Reduce that zone by walking gently and casting with any wind behind you to maximise distance. Landing and releasing fish while wading the flats is a simple process but a few tips for the beginners. Keep your reel out of the water while releasing the fish. I've dunked a few threadlines while getting hooks out and releasing fish. Flathead while wading can be dangerous! I prefer not to carry a net because they just get in the way and trying to get trebles and a fish out of a net is usually more trouble than it's worth. I usually just grab bream and whiting and remove the hooks by hand or with a pair of forceps or pliers on a lanyard. Flathead are a bit different because of their spikes and they are difficult to hold safely. I use a small towel or a glove to hold flathead but just be careful of the spikes and lure hooks. Getting hooked up to a fish a hundred metres from land isn't a lot of fun.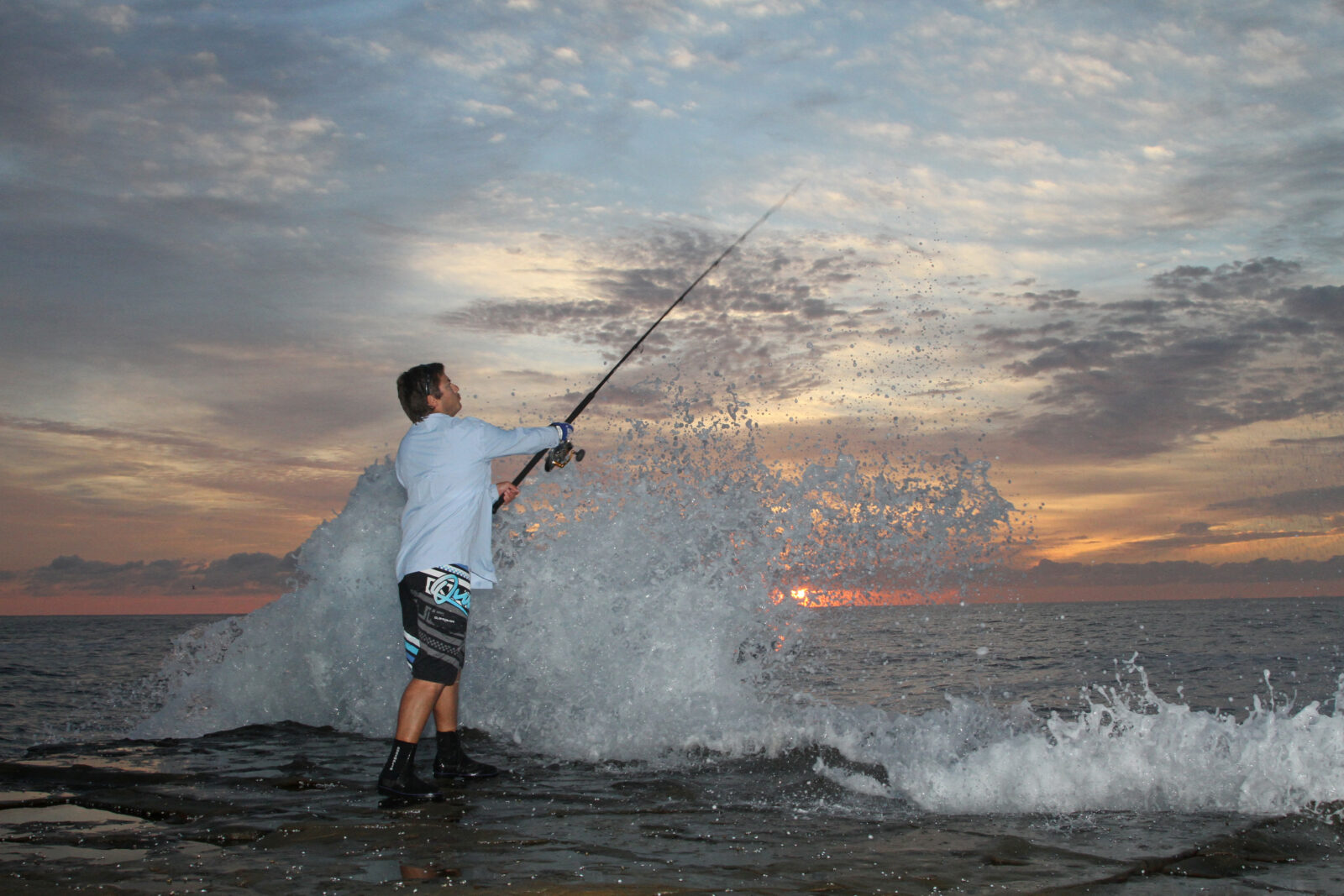 Metals from the Beaches
One of my favourite winter fishing styles is casting metal at salmon from the local beaches. I've been doing this for years and, despite the cold, it's always fun. The trick here is to be warm, dry and totally mobile. That means waders with warm pants and Merino socks underneath and a shoulder bag with everything you need at hand. I wear an old pair of stocking foot waders with Croc's and I bought a Tru Turn shoulder bag that's perfect for the job. In that I carry a tackle box with 20-40 gram lures, 20 pound leader, scissors and pliers to remove hooks. I don't take a bucket or rod holder so once I get to the beach I'm totally mobile to walk where I want in search of baitfish or salmon schools. My rod of choice is an NS Blackhole Sea Bass rod that's 2.7 metres long and casts 20 to 40 gram metals out of sight if necessary. I run a Shimano Sustain 4000 on this with 20 pound braid.
Most of the fish you'll hook will be in gutters which are easy to see by the lack of waves and white water. These will often hold baitfish and in turn hungry salmon and the odd tailor. Don't fall for the trap of casting as far as you can because the fish will very often be right in the shore break at your feet. In years past I used to fish slender fish profile lures with a single hook on the back but recently I've been using slow blatt metal jigs that are more at home chasing snapper. These have assist hooks on the back and even the front and working them slower and on the bottom with short rod tip lifts is a very effective technique on salmon. Another very effective beach luring technique is casting small soft vibes and plastics on lighter tackle into the same gutters for big winter bream. I know a few guys who do this locally and it is very productive.
Just about any beach will produce salmon on lures over winter. You just need to put the time in and be prepared to walk. Just walking the beach early morning or late afternoon can be great for your physical and mental health but catching and releasing a few salmon makes it even more special. Don't think this is all about beach fishing either. You'll catch a heap of salmon and tailor, along with bonito, castings metals from the ocean rocks. Casting those slow blatt jigs and soft plastics around washes and white water will also catch you snapper.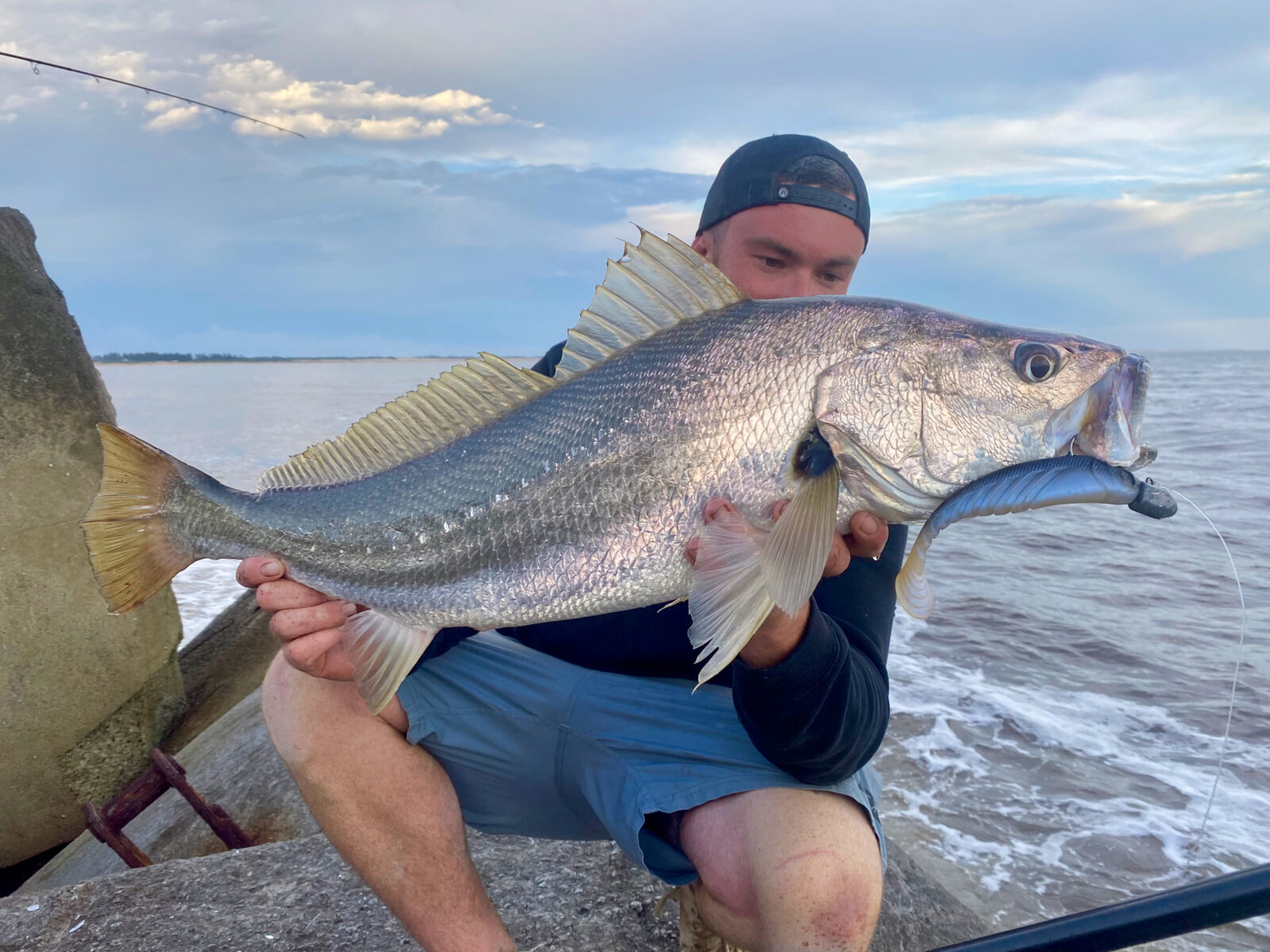 Breakwall and Beach Mulloway
One of the most exciting forms of land based luring would have to be casting diving minnows or soft plastics at jewies from breakwalls at river mouths or from the beach. I used to do a bit of this along the Shoalhaven River but most of my mulloway on lures fishing is from the boat these days. My young bloke Andrew is right into it at the moment and being based in Newcastle puts him in the thick of some great breakwall and beach luring options. It's nothing for him to head out at midnight and fish for an hour or two during the week when the tides and moon are good. He prefers smaller neap tides that greatly reduce the tidal flow. Having a bit of moon in the sky when fishing at night is a big help.
Tackle for this caper needs to be serious. You'll struggle stopping a 20 kilo jewie from a breakwall with a bit of tidal flow on 20 pound braid. Andrew fishes a Daiwa Spartan S100 with a Certate 6000 and PE3 braid. He fishes a rod length of 60 and 80 pound leader in hard mono with an FG Knot connection when breakwall fishing. You can go down to 50 pound leader when casting lures from the beach. His preferred hard bodies are Leavey Lures but a few guys he fishes with like big paddle tail plastics and heads to suit. Hard bodies with trebles offer a better hook up ratio but even so, keep those hooks needle sharp. Jew have notoriously hard and bony mouths that are difficult to get a good hook set in. Don't discount the large soft plastic lure option. I can remember a very memorable night session on the Crookhaven entrance breakwall where four of us caught eight mulloway to 15 kilos on big Storm soft plastics. They came on as soon as the sun went down and the moon came up and it was a very hectic 30 minute bite right at our feet.
Jew on lures are a real challenge but extremely rewarding. Be prepared to fish many nights and put hundreds of casts in to hook one. Some of the best fishing occurs in winter and especially after some rain or even a flood. A lot of the action is surface based and if mulloway are on the chew you'll quite often hear them boofing baitfish off the surface just like barra. Retrieves don't need to be erratic with just a steady, medium retrieve usually producing the goods when a fish is in the area. Landing and releasing mulloway from the beach is easy but from a breakwall it's a lot more challenging. You really need a mate who is prepared to get down at water level, often in the dark, and try to grab the fish if you want to avoid gaffing it. This is fraught with danger unless you can get a gloved hand in the gills and avoid the mouth and lure. Sometimes, gaffing and keeping the fish is the only option.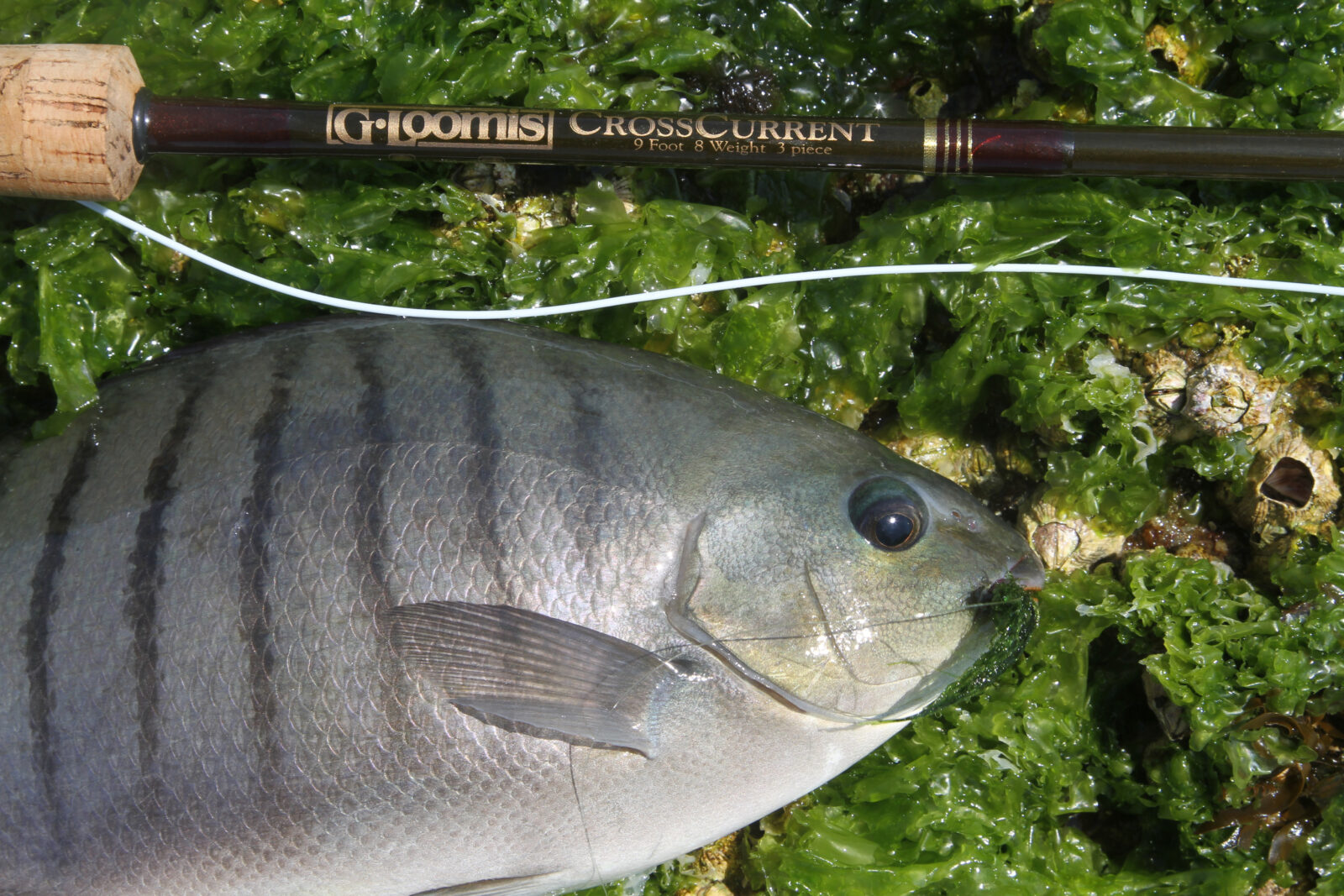 Luderick on Fly
Another land based option I love is tossing weed flies at luderick. I do this from the ocean rocks over summer and in the local estuaries in winter. Annual breeding brings the fish into the estuaries in winter. Basically, the technique is the same whether you fish the rocks or rivers. A 6 to 8 weight outfit with a floating fly line and a small indicator. I fish weighted and unweighted weed flies and long leaders depending on the depth I want to fish and if there is any run in the water. This technique works off the ocean rocks in calm conditions and in any estuary or river. Blackfish congregate and spawn in estuary systems during winter so that can make the fishing easy. A run in tide always seems to produce the best action but they can be tough when they have making baby luderick on their minds.
I fish weed flies similar to how I'd fish a piece or green weed. Under a small strike indicator that acts as a float by keeping the flies at a set depth and going under when the fly is eaten. Simply cast up stream and let the tide bring the fly back along a rock wall or past schooling luderick. Wait for the indicator to move or dip under and lift the rod. If the fish are hungry and on the chew you can do away with the indicator and simply watch the leader. I do this off the rocks most times and simply let a weighted weed fly sink down through the water until the line comes up tight. It's completely different to land based lure fishing but it is very addictive and readily available right along the NSW coast. You'll also catch luderick from small rock outcrops on beaches during winter. Find some rocks in the corner or even the middle of a beach that have some cabbage or green weed growing on them and you might just find blackfish hanging around for an easy feed.
Land based lure fishing options are only limited by your imagination. You can explore coastal or inland creeks for bream, bass, EP's and even Murray Cod. Many coastal rock platforms offer LBG spinning for kingfish, tuna and bonito. You can also explore any amount of trout lakes and streams on foot with a spin rod and lures. Do, however, give some thought to landing your fish before you hook one because being land based makes securing your catch a lot more difficult than being in a boat with a net or gaff. Also, get set up so that you're comfortable and capable of doing a bit of walking. Good footwear and clothing is essential for the land based caper.