AFTER completing some 20 trips to Cape York, both East and West Coasts, I thought it was time I undertake my "trip of a lifetime". The plan was to travel across the West and up into the Top End while towing my Renegade 420 and camping and fishing all the way.
Having been retired for a few years and no longer having any commitments as the tournament director for the Southern Bream Series (SBS), the time was right and I commenced serious planning and preparation. The itinerary was set. The aim was to leave early May and head across to Arno Bay in South Australia to tackle the renowned big reds, then drive to Perth and hook up with good mate Robbie Ritches from Get Fishing Australia and try for samson fish and dhufish. We'll also target reds and the Swan River black bream.
From Perth I'll head up to Exmouth and catch up with long time friends, Mark and Evelyn McKinnery, where we plan to fish for mackerel, tuna, trevally, coral trout, jewfish, and if possible, a Sailfish (which is at the top of my bucket list).
Next stop will be Karatha where I hope to swim with the whale sharks, then up to Broome camping and fishing wherever the opportunity presents itself for both inshore and estuary species. After that it's the Kimberleys into Darwin, at which time I will catch up with Rob Barrett and fish for barra, jacks and saratoga.
Once I leave Darwin I'll head south to Alice Springs and into the centre to Uluru and see the "Rock", then onwards to home, fishing any inland waters that are available with the arrival home due late September to enable me to unpack, get the Ranger serviced and then head up to the Gold Coast Flathead Classic with Scott Thomas (Fisho editor) and Julian Viselli.
The preparation
So with my itinary set for almost the next five months, I set about getting my Quintrex Renegade 420 and Ford Ranger ready for a very long trip. There was lots to do and think about, keeping in mind I would be camping and therefore I needed good quality gear that would last and stand up to daily use over an extended period. And driving through some remote areas I needed to be self sufficient some of the time.
Camping gear
I already owned an OzTent RV4 decked out with sidewalls, front and fly, but I purchased the Oz Trail stretcher with built in air mattress to make sleeping more comfortable and enjoyable. I also purchased a couple of Coleman folding tables and chairs, two butane gas cookers with extra supply of butane gas bottles, camp oven and BBQ plate for the times that an open fire was permitted. Other additions were a 12V camp shower and ensuite tent with a bush dunny, plus five 20 litre H/D water containers for times when I would be in those remote areas along with two 20 litre diesel jerry cans with extra fuel for the Ranger.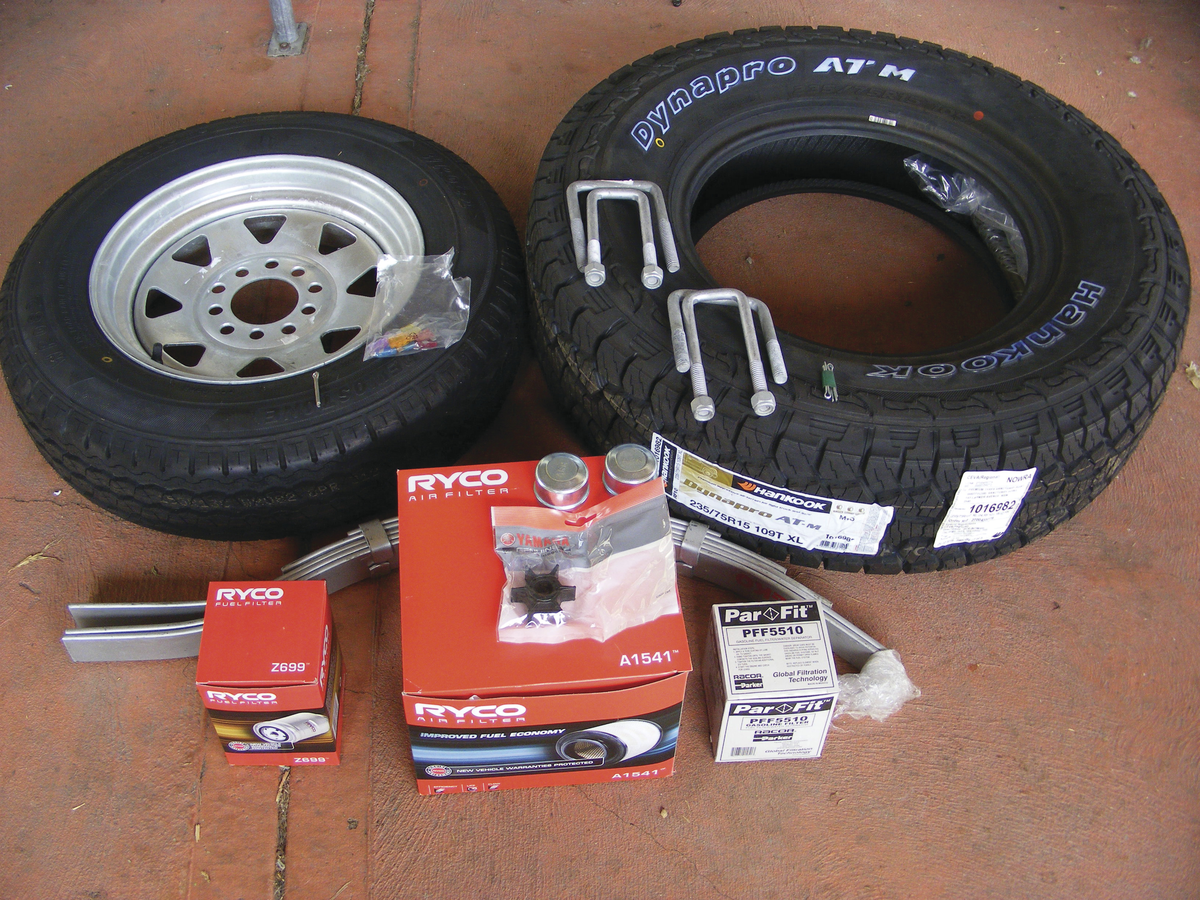 The 4WD
In the Ranger I had a CTEK D250s duel DC charger installed along with two 120A AGS deep cycle batteries to provide all the power I'd need, as well as a 120W folding solar panel. These would run my 42 litre fridge/freezer, which I plan to use as a freezer only as I'll be taking my 87 litre Waeco Icebox for day-to-day use. I've removed the back seat from the Ranger and installed a waterproof piece of ply where my freezer and icebox will remain for the entire trip.
In the rear tub of the Ranger I have a dual sliding draw unit, my toolbox, and both 120A deep cycle batteries. I'll also have four fish boxes with cooking utensils, bedding and clothes, which all fit on top of the sliding draw unit under the Tourneau cover along with the two diesel jerry cans.
I've built purpose made racks on the back of the Ranger to keep the luggage tray lower than the roof to eliminate wind resistance and keep the centre of gravity low. The extra spare boat wheel, Ranger spare tyre & tube, spare trailer springs, hubs & bearings, air filters, fuel filters for both boat and car and other numerous spares, crab traps, camp oven, BBQ plate and big cooking pot for crabs will all be carried up in the luggage tray and covered with a tarp.
With all that weight I'll be carrying I thought it's best to have heavy duty air bags installed into the rear of the Ranger to enable me to adjust the height as required. Having the D250S dual CTEK charger also enables me to run a lead from the charger unit to my 120amp deep cycle electric motor battery in the boat and charge it as I drive.
Undercover
A custom made boat cover was another great addition that adds both security and peace of mind that everything will be in the boat whenever I stop. It has a full length drawstring which pulls it tight under the chines. I've also made a stone stomper to eliminate as many stones and rocks blasting the boat and cover as possible. These can be purchased and aren't cheap, but I made my own at a cost of $100.
After all of this preparation I'm feeling confident that I've covered everything for the boat, car and camping. Now it's time to put together my fishing gear for the trip to cover many different species and styles of fishing, ranging from light, medium and heavy in both estuary and inshore, as well as fly fishing, but I think I'll cover those in my next instalment after my trip kicks off.
Click here to read Part 2: Completing "the lap" around Australia.