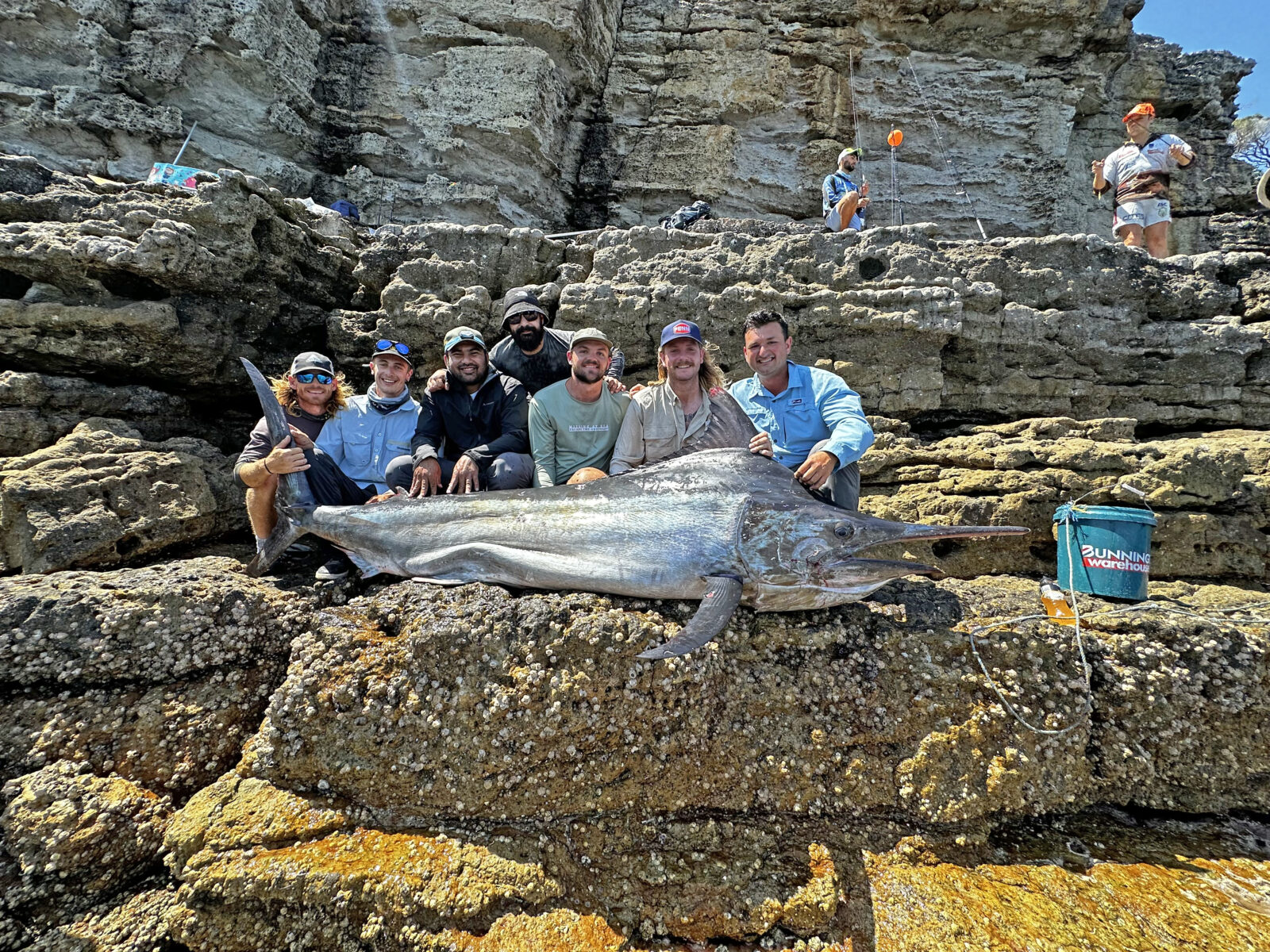 LAND based gamefishing (LBG) is within reach of the average person. It's always challenging, but the possibility of not knowing what you're going to hook next is what keeps us coming back.
What comes to mind for me – and many other anglers – is catching a land-based black marlin (Istiompax Indica). It's the holy grail, a crowning achievement of fishing and there are few ledges that can still be fished for marlin within Australia and the world. That make this even more challenging! When the tropical currents push down the Australian East Coast there is nowhere more productive than the sandstone ledges of point perpendicular, Jervis Bay.
There have been plenty of articles on land based gamefishing already and I could take a trip down memory lane and go back to the thick of it, where it all began, and throw in some of the most iconic names of LBG history and its progression in Australia from the 1950s. However, let's focus on what LBG is now; the next generation of fisherman and woman.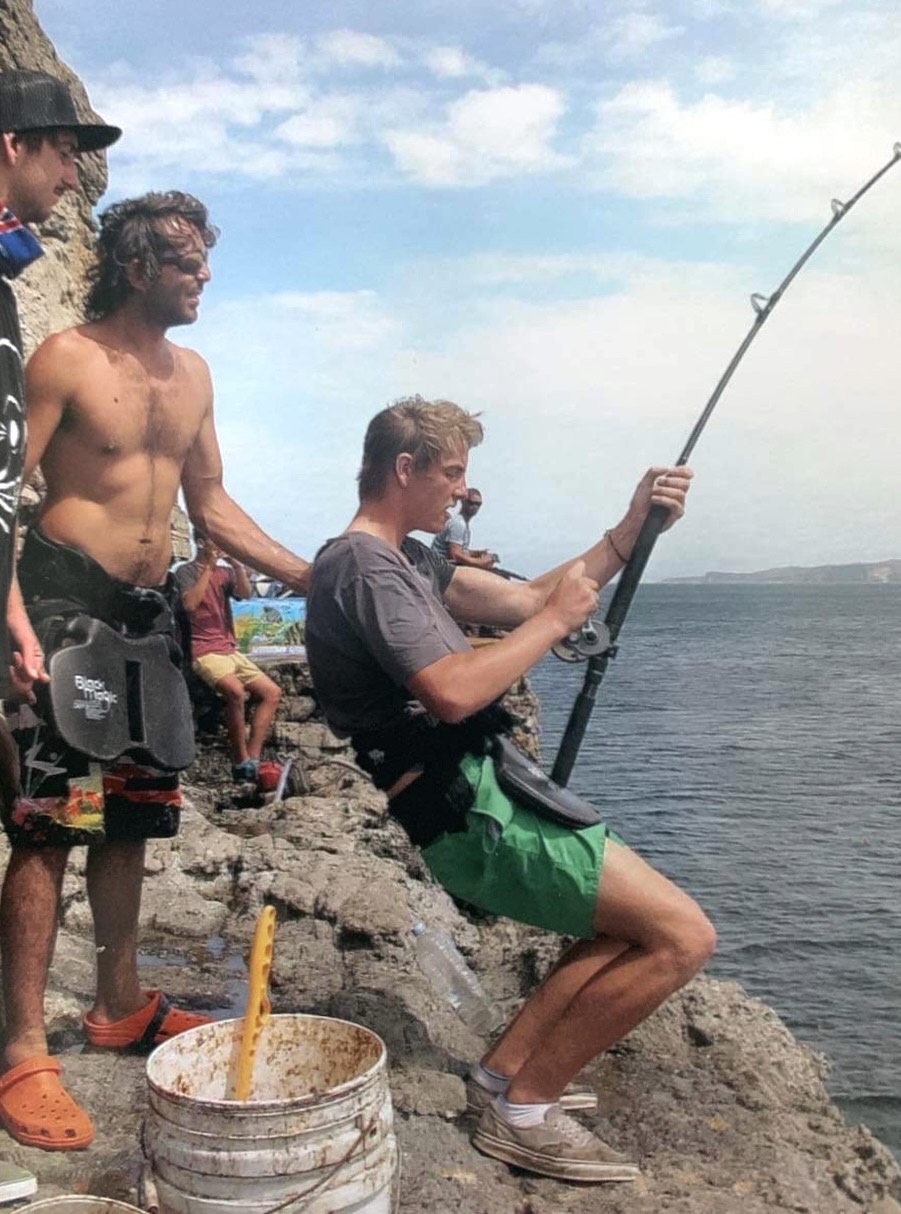 The process
Waking up at midnight and lining up at the Beecroft weapons range boom gates to access the outer tubes – the rat race begins. To hike through the bush track and down the galvanised stairs with your heavy-duty gear, kiddie pools, four-stroke pump, and for the less fortunate – buckets – and to be ready to catch bait before sun up. Long hours spent on the water's edge with a live bait out 'til dark all to carry everything back out again and maybe a bit extra if you're lucky enough. And you repeat this process; you can put in the hard yards for weeks, months and even years and still be chasing that fish. It's hard work and there are no sounders here.
On the south coast, some took advantage of these ledges like these groms: Brett Rushton, Will Scheibe, Kyle Lack and his brother Jamie Lack. They are no strangers to the world of land-based fishing, being exposed to the sport at an early age. These boys were holding a rod before they could walk, pursuing various pelagic species before the age of 13.
Growing up on the South Coast they were given the advantage; they'd be making their way down to fish Mermaid's Inlet, The Eves, and Outer Tubes – some of the last accessible ledges. Any chance they could get they would go and learn the rules of land-based game fishing, eagerly waiting to connect with a black marlin off the rocks. It started as a dream for these South Coast boys, but years later with time, persistence and countless lost fish, it became a reality.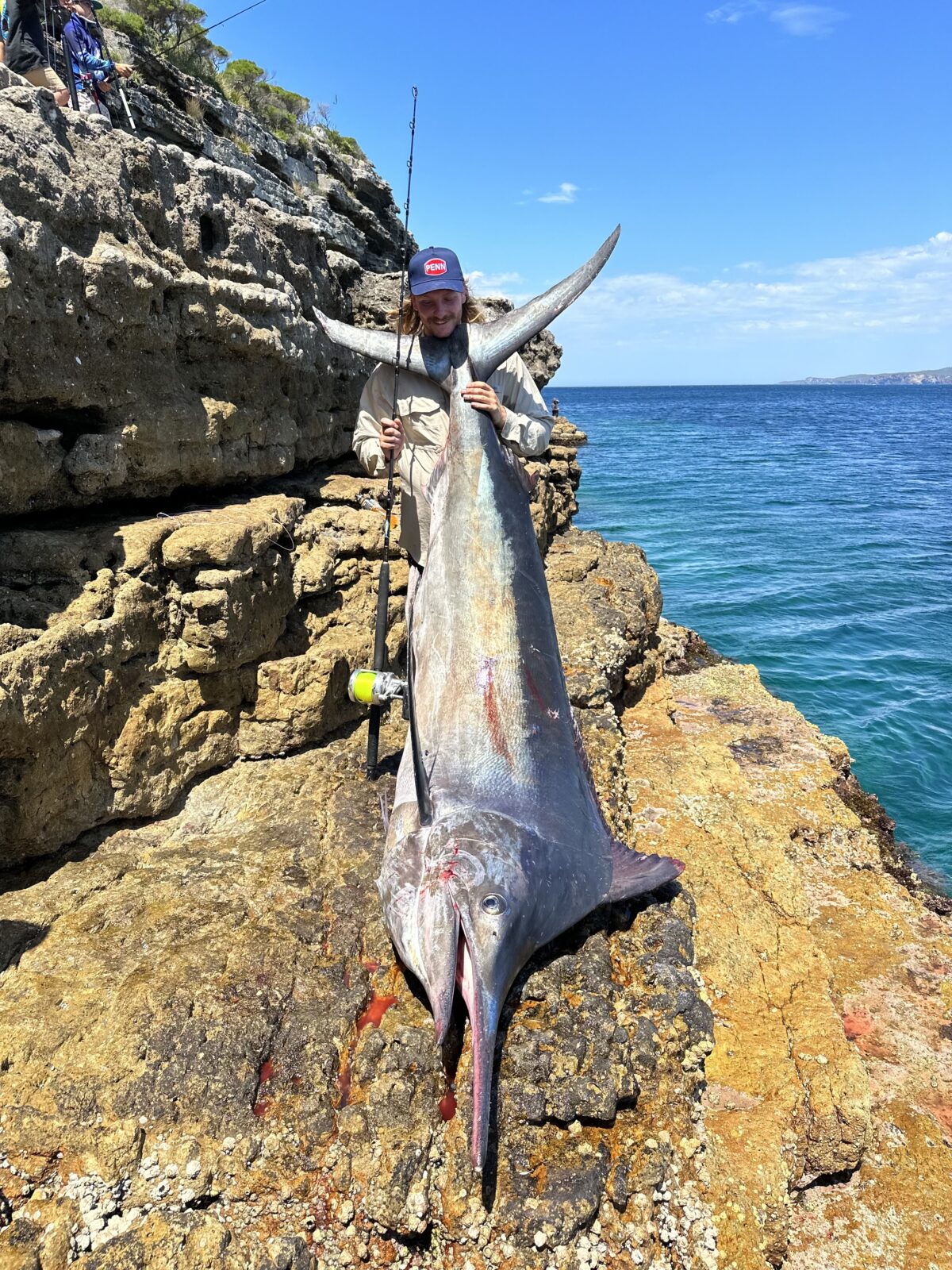 There are no shortcuts when it comes to fishing for black marlin. In early December we started getting together our heavy leader, large off-set stainless steel hooks, and re-spooling our heavy tackle reels. Braid backing has become more popular in the past 10 years to help assist anglers with a few more meters on landing those larger fish.
Then the hard work of bait gathering. It's usually a midnight wake-up call to catch slimy mackerel and they aren't always there to be caught.
Frigate mackerel, yellowtail scad, kingfish, trevally, salmon, or bonito are most generally used but anglers will use anything readily available within the legal size limit. I've even seen a pan-sized snapper out there. The method is to keep them alive in a bait pool with an aerator and to ensure the water is changed with a bucket or the modern way with a four-stroke pump, hooking your bait in the back or head is an anglers go-to, pinning your bait correctly can make a big difference in the number of fish you hook.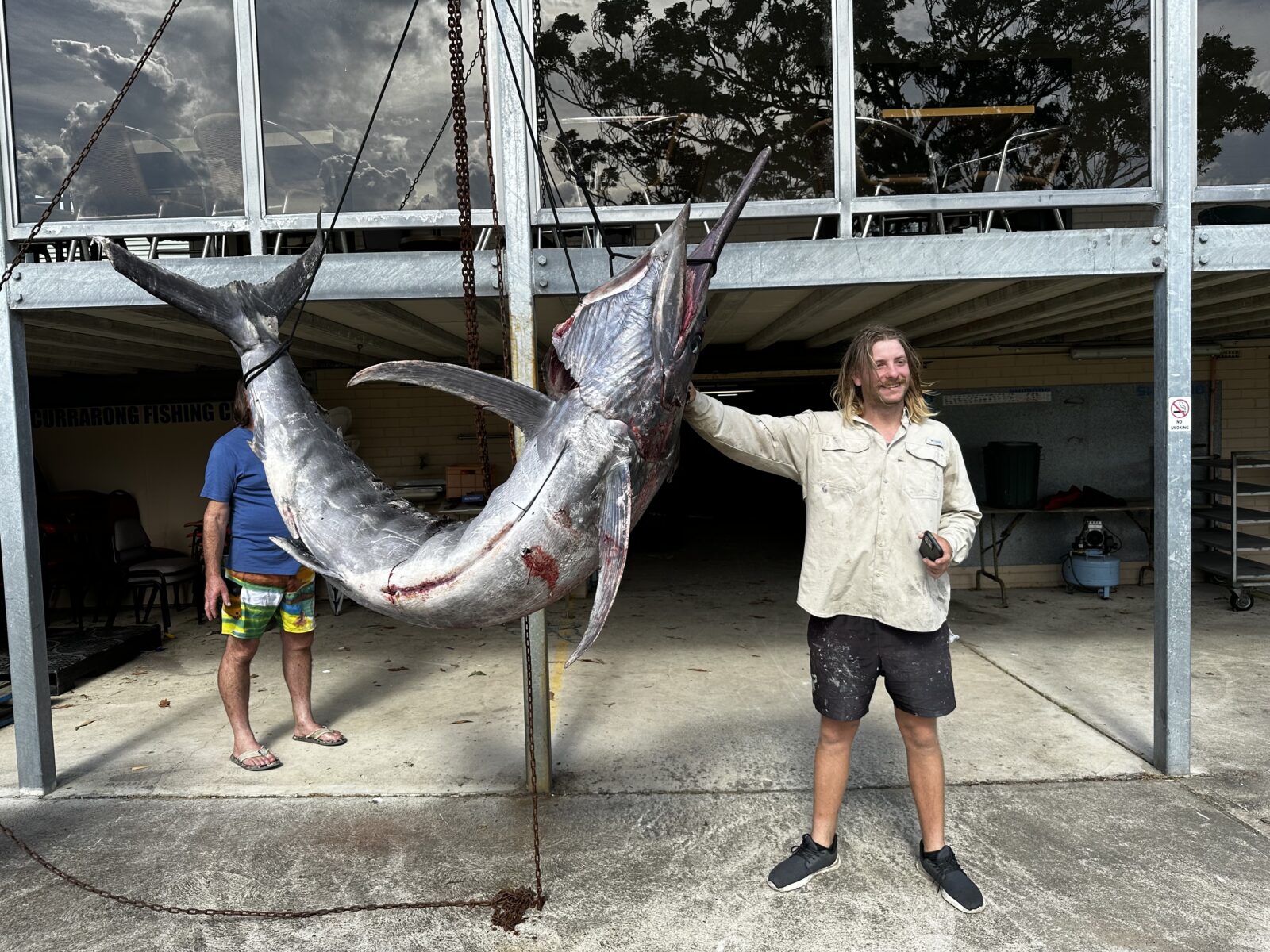 How it happened
The military range – giving access to the Tubes – was accessible and we would take any chance we would get to fish. Kyle is a dedicated land-based angler from the South Coast and has spent the past 16 years of his life on the sandstone ledges of Jervis Bay learning the ropes to make a dream into a reality of catching a black marlin.
On February 18th we knew there wasn't much bait being caught before dawn so we decided that we would sleep in and go down and spin up what we could. The first couple of casts in, Kyle was already hooked onto a large bonito. He grabbed his game rod and hooked it in the head suspended under a balloon with a 7/0 galvanised hook. He had his bait out the back within minutes his balloon deflated so he had to bring it back in to make a change. He sent the bonito on its way again about 15 meters off the ledge. His balloon started to move across the surface and Kyle made his way up to the top near the bait block and waited. I walked over to see what the commotion was "what do you reckon it is?" He whispered to me "it's a marlin" with a look of shock & disbelief on his face. This wasn't Kyle's first rodeo with a marlin.
As soon as he put his reel in strike a steady amount of mono started leaving the spool and the marlin was throwing itself through the air like a torpedo. Within minutes, 500m of line was stripped and the marlin was doing cartwheels and ripping up the surface. Many marlin are lost to passing boats. And this is exactly what we thought was going to unfold for Kyle's fish as a boat started heading straight for the direction of Kyle's line. With every voice from the ledge yelling to turn around, the boat was careless and oblivious to what they were about to do. The marlin started to cut up the surface and to our relief, the boat realised and turned around. If that wasn't enough, it changed direction and went around the point. Other anglers had to run over and hold the line off the rocks until the fish turned as it came close to the ledge it started going deep behind the boulders having to free spool a dozen times and let the fish go back out to rise back to the top. This was 59 minutes of arm-wrenching, acrobatic and full-on stamina that would be fixed in his mind forever.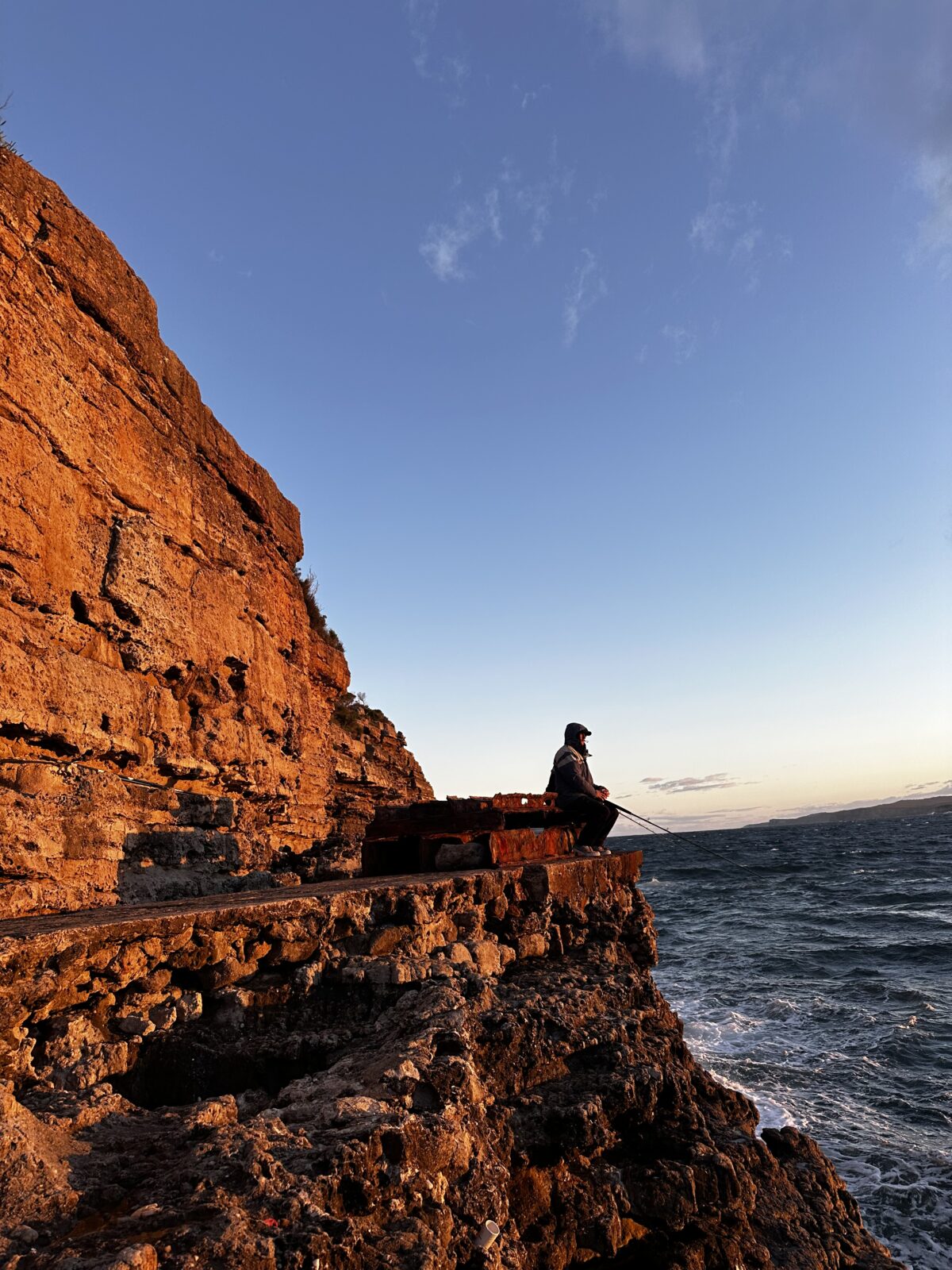 In the end, Kyle lack made history, landing the unofficial world's largest-weighed black marlin ever to be caught land based. It was 2565cm in short length and weighed 176kg. It was caught on his Penn International 50, custom TBC 24kg 7ft rod and 24kg Moimoi line.
A lot of land-based fishing comes down to being in the right place at the right time, but with black marlin there's more. Do you have the acquainted skill set, knowledge, element of luck and patience?
It's a day we will never forget!