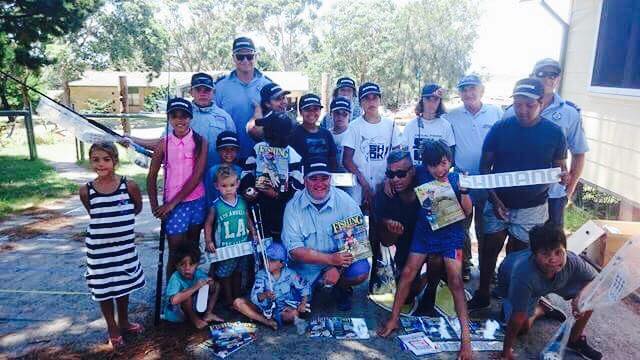 NOW in its six year the Fishing for the Future Program continues to grow, with this year's one day Cops and Koori Kids Fishing Workshop on 23rd January hailed as the most successful yet.
Children from the Jerrinja Aboriginal Community had the chance to wet a line during the school holidays at the special Department of Primary Industries (DPI) fishing workshop at Orient Point run in partnership with the Shoalhaven Local Area Command.
Shoalhaven LAC Aboriginal Issues Officer, Chief Inspector Steve Johnson said this year's event was the best of all the local workshops and the first time it has been held directly on community land.
"The kids were awesome and they caught lots of fish," Johnson said.
"We had around 25 participants and they scored some good catches. They landed flathead, flounder, whiting, trevally and tarwhine, he said.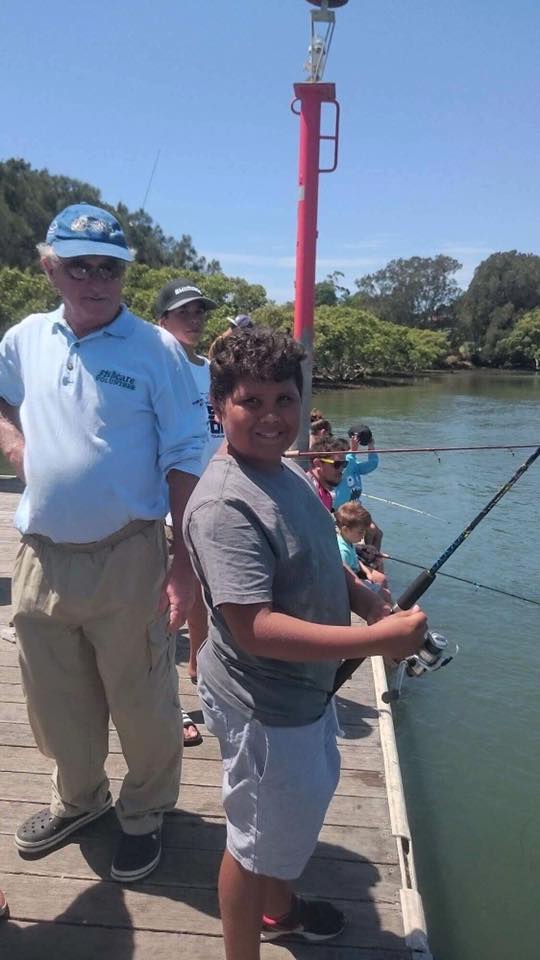 The annual fishing workshop for children aged eight to 14 years lasted five hours.
"Funding from the NSW Recreational Fishing Trust is contributed to run this fishing workshop, so there is no cost for the kids to get involved in this fun day of activities," Johnson said.
"The program is also proudly supported by Fishing World, Shimano Fishing Australia, BCF South Nowra, SHOK Virtual Fishing Tournaments, Compleat Angler South Nowra and C-B Tackle store, Culburra Beach," he said.
"I really want to acknowledge the long term support that the team at Fishing World magazine has provided to the program since it's commencement in the Illawarra and Shoalhaven areas in 2011. Fishing World Magazine has been one of the major sponsors of the program, along with Shimano Fishing Australia and it's great to see this kind of support when it comes to getting the little tackers involved in fishing.
"These workshops not only offer Aboriginal children fishing skills, they also teach them social interaction skills and provide a great opportunity for the parents, grandparents, aunties and uncles to share their knowledge.
During the workshop the kids engaged with Fishcare Program Volunteers and DPI staff to learn about safe, sustainable and responsible fishing and they also received some master classes on lure fishing, casting and fishing the Crookhaven River.
"Research shows there are several social, physical, mental health and well-being benefits to be gained from recreational fishing, with a particular emphasis on relaxation," Johnson said.
"Getting kids actively involved in a pastime such as fishing can also divert them away from risk taking behaviours.
"This dedicated fishing workshop is a fantastic opportunity for them to enjoy a day of organised activities, learn a few new skills, take away a greater understanding of fishing and the management of our fisheries resources – and most of all have fun.
Now in its sixth year this program has gone a long way in breaking down barriers and enhancing the relationship between police and the local Aboriginal community.
The first legal flathead was caught by EJ Stewart-Reid, while the first bream went to Elle Stewart-Reid. Jakai Thuaux got the first flounder and the largest fish of the workshop was caught by Jordain Lightowlers. A special encouragement award was presented to Ariyah Farrell.
Each of the participants received a fishing rod, associated tackle and recent copies of Fishing World Magazine to further their fishing adventures.
More information and images from the workshop can be found on the Facebook page.