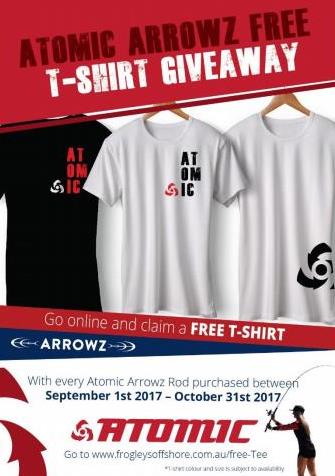 FROGLEY'S Offshore are giving customers the opportunity to claim a free Atomic T-shirt, simply by purchasing an Atomic Arrowz fishing rod between September 1 and October 31, 2017.
Perfect for the upcoming summer, Atomic's tees are 100% cotton, soft and sturdy for all fishing trips or for a beach day off. Grab one in black or white, printed with the arrowed Atomic logo front and back.
Wear it on your next fishing trip and pair it with your new Arrowz Rod. Designed in early 2017, these rods have been designed in Australia for Australian species. According to the manufacturers they integrate advanced designs with the finest materials, including Fuji components and performance-focused, full-graphite blanks. The Arrowz series has been designed for both bait and lure angling, and features four ranges: estuary, offshore, barramundi and bream.
For further information click HERE.