The embattled native fish of the Barwon-Darling River are about to receive a massive boost with a fishway to be constructed at Brewarrina Weir, which will allow fish uninterrupted access to the entire river system.
Now, iconic native fish such as Murray cod and golden perch, are set to benefit from an increased opportunity to migrate and spawn successfully throughout the river without being impeded by the weir.
David Cordina, Conservation Manager for Industry & Investment NSW said the reverse rock-ramp fishway design will be built entirely within the existing weir pool and is the first of its kind in Australia."
"This represents a big win for the native fish of the Barwon River and the integrity of the Ngunnhu, or Aboriginal Fishtraps, adjacent the weir," Mr Cordina said.
"The Ngunnhu located immediately downstream of the weir is regarded as one of the most important cultural heritage sites in NSW, and as such every effort was taken to ensure the proposed fishway would only enhance their value,"
The green light to build the fishway was finally given after extensive talks.
The NSW Heritage Council granted conditional approval for Industry & Investment NSW to construct the fishway after the revision of a previous design to address heritage concerns, as well as successful consultation with a wide range of stakeholders from the Brewarrina community and State and Commonwealth Government agencies.
"Native fish need to migrate short and large distances upstream to spawn, find food sources and redistribute," Cordina said.
"Barriers to fish passage, such as the Brewarrina weir, prevent this migration and as such, weirs are listed as one of the main factors that have contributed to the decline in native fish numbers in the Murray-Darling Basin. Native fish numbers are now estimated to be at just 10 per cent of pre-European settlement."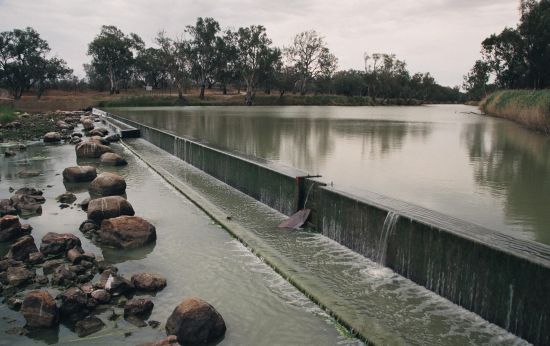 The design and construction of the fishway is being funded by the Western Catchment Management Authority, NSW Environmental Trust, Murray Darling Basin Authority and NSW Recreational Fishing Trusts as part of the Brewarrina to Bourke Demonstration Reach Project.