LAST weekend saw the postponed Round 7 of the Squidgie Southern Bream Series head to St Georges Basin on the NSW south coast for the last qualifying round for 2012.
16 kayaks took to the water in chilly but calm conditions hoping to secure the winners cheque and prizes. Shane Taylor weighed in the only full bag at 1.69kg to take home the round. Jonathan Chen from team Damiki/Pontoon 21 weighed a Basin bruiser of 1.32kg which was enough for him to take home second place and the Basin Lure and Fly Anglers Kayak Big Bream. Third place on the podium belonged to Pontoon 21/Wizardry Signs Jason Lambert with a 1/3 0.695kg bag.
The boat section saw 55 teams take to the water with Jason Mayberry and Craig Johnson from team Compleat Angler Batemans Bay/Squidgies Pro Range taking out 1st place with a very nice 5/5 3.825kg bag. They also took home the Damiki Boating Big Bream with a healthy 1.245kg basin bream. A 5/5 3.225kg bad helped team No Hope, Jay Rook and Brendan McNeil, secure 2nd place in the boating section. A first time podium finish went to 3rd place getters Horny Hornet – Brad Williams and Ryan Jamieson – with a 5/5 2.885 kg bag.
This round was the last qualifying round for the 2012 series – a big congratulations to Team Fishing World/Shimano (Wal Balzan/Guy Jamieson) and Jason Reid for taking out the angler of the year in boating and kayak respectively.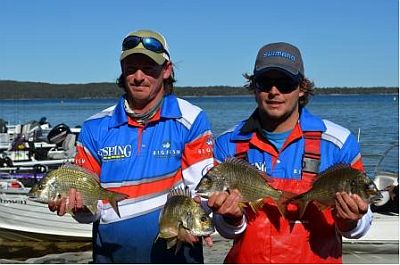 The series now heads to St Georges Basin/Shoalhaven River for the two day grand final on Saturday and Sunday, 20th and 21st October.