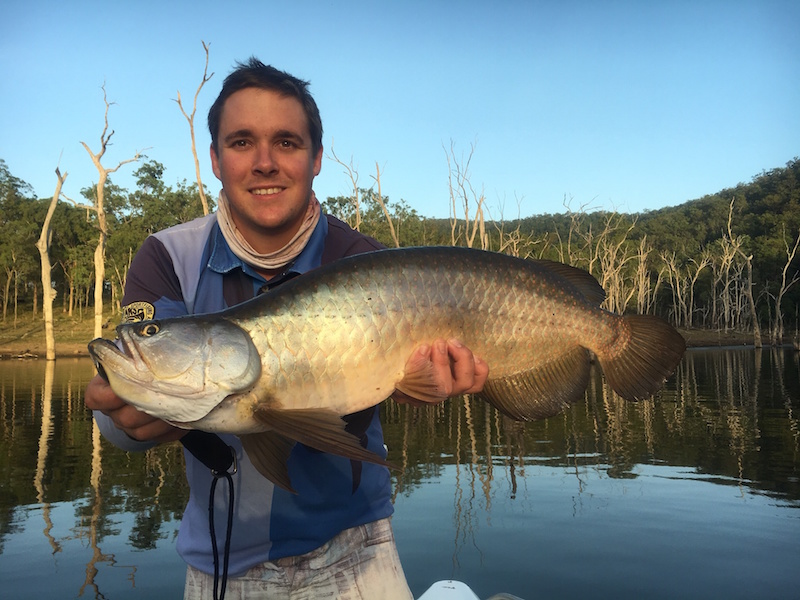 OVER 40 anglers converged on Lake Borumba near Imbil for the second annual TAG-A-TOGA event on 11th – 12th March for fun, fellowship and to gain a better understanding of the resident saratoga population.
Although they possess very poor eating qualities, saratoga are renowned for their willingness to take both lures and flies and their acrobatic performances once hooked have made them a premier freshwater sports fish.
The event focuses on capture, tagging, data collection, safe handling and release of the saratoga. Before the event a briefing is held to ensure anglers are up to date with correct handling and recording procedures. A non-intrusive tag is attached to the fish with a unique identifying number to record movement and growth between captures.
President of Kingaroy Sportfishing Club Shaun Manthey explained the Tag-A-Toga event is part of a long term citizen science plan with an aim of collecting population, movement dynamics and growth rate data for saratoga in Lake Borumba,
"Events like these offer an opportunity to enjoy a social atmosphere while also contributing to a greater understanding of these important fish in Qld impoundments" Manthey said.
Throughout the weekend, anglers try to tag as many saratoga over a two day period using lures or bait. The team that captures and records the most saratoga are awarded the Alex "Flick" Robertson memorial shield, named after one of the founding fathers of the Kingaroy Club who passed away last year.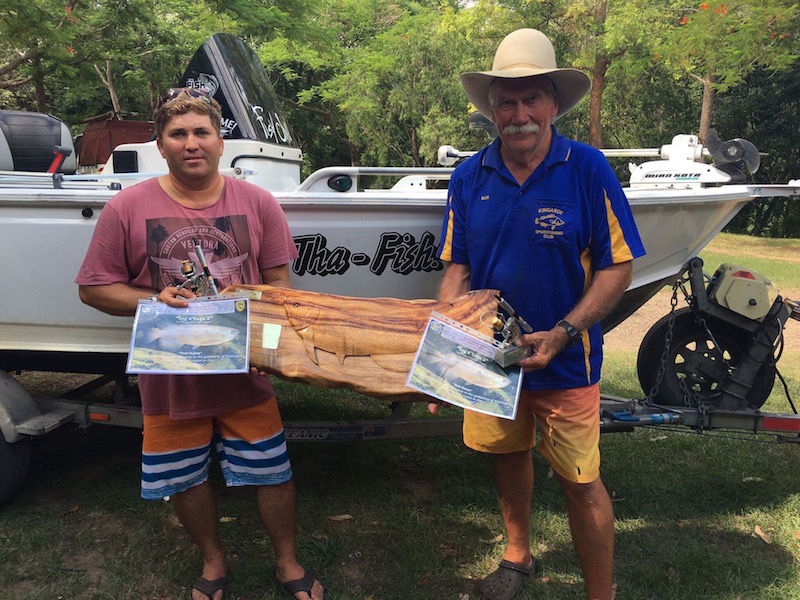 The shield was won by defending champions Bob Dover and Paul Hulme who tagged twelve saratoga over three sessions with a credible 6.7m combined length of 'toga.
The weekend was dubbed a huge success with clubs from all over southern Queensland attending. Nearly 45 anglers tested their skills in the two person team event.
The fishing was also successful with 29 saratoga landed, 26 of these now sporting a new ANSA pink fish tag, allowing us to learn more about these ancient looking creatures.
Kingaroy SFC is affiliated with a cohort of like-minded clubs through the Australian National Sportfishing Association (ANSA).
"Kingaroy Sportfishing Club is one of a number of our affiliated clubs who have developed a club specific Recreational Fishery Monitoring Plan and are now implementing fishery data collection and tagging to achieve their monitoring goals," said Nathan Johnston, president of the ANSA Queensland branch.
To learn more about fishing in the South Burnett or to get involved, contact the Kingaroy Sportfishing Club via their Facebook page.