I AM about 20 minutes' drive out of Canberra on the Murrumbidgee River with my big brother Richie and my Dad. We have walked about a kilometre from our car along the river to this spot. On the way we saw wombats and roos. I am here to try to catch a Murray cod.
There are casuarinas and snags around the rocky outcrop we're on. The river is a large, slow flowing, brown body of water. A good cast would hit the sandy beach on the other side. I have a telescopic rod and my great Daiwa reel with 9lb line. The tackle is probably too light for Murray cod, but it fits easily into my bag and is easy to carry through the bush.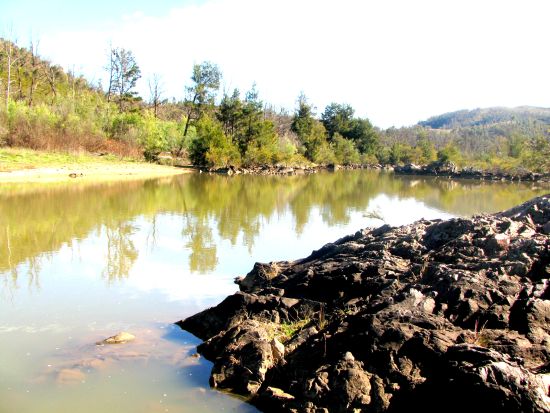 I rig up with a sinking Trollcraft golden lure that I bought because it looks to me like a carp. I am the first one rigged up, so I go to a rocky point and cast, retrieving slowly with a jerk of the rod every few turns of the reel to give the lure some action. I want it to look like an injured carp.
After only five casts I hook up hard. I yell at my dad "I'm on!" He says it's just a snag. Then it starts moving. At first I think it is quite small, but then it starts taking line and there is no stopping it. Right now, I am thrilled just by the fact that I have hooked up to my first Murray cod. I have seen my dad catch a two kilogram Murray cod but I have never caught one myself.
My dad has now seen it moving. Thinking it is a fish after all, he comes over to get a better look while Richie gets our little folding net. After about five minutes of fighting, it surfaces ten metres away, right in front of us. It is humongous. I am stunned by its size and my dad gasps. Then he races off to get his camera, thinking we won't see this fish on land. My brother comes over to watch me fight the cod. When my dad gets back, the fish has gone around a rocky point into a small shallow bay. I keep on fighting it, keeping my arms stretched so that the line doesn't scrape and snap on any of the rocks. (A big Murray cod is a slow fighter, but with so much power you can't stop them after they get moving). After a while the fish starts to tire, so I pull it out of the shallow bay. Because the net is so small my dad says to my brother he will have to put the fish's head in the net and pick up its tail.
When the Murray cod gets close, my brother tries to do that but the fish gets frightened and swims away, taking line again and heading for deeper water. After about another five minutes of fighting I get it close for the second time. Richie tries again and does exactly what dad told him to and gets the fish's head in the net and puts his hand around the fish's tail and hauls it ashore onto the sand. We cut the line and get the lure out of the fish's mouth.
We can't believe our eyes – or my luck landing it on such light gear! We quickly take some photos and estimate its weight. We reckon it weighs about 20kg and is around 90cm in length. I try to let the fish go, but it's too heavy and from recent experiences where I have been splashed I know it's something I don't want to repeat with freezing water, so I give my brother the pleasure. He lets it go, getting splashed in the process and the cod swims slowly away into deep water. We watch it closely to see where it goes. We hoot and shout. I am in shock!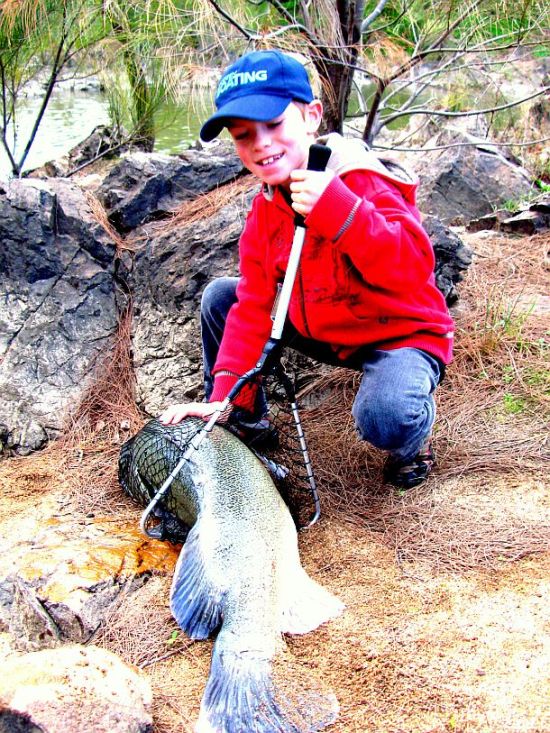 My dad and my brother congratulate me with big handshakes and we keep on fishing and talking about what a day it has been. What an experience catching a Murray cod as big as myself! It was so exciting and might be a once in a lifetime experience.
Murray cod are the biggest freshwater fish in Australia. They are true giants and you will love catching one. Look for a large body of water, with logs for cover and drop-offs. Use a largish deep diving lure or minnow. I would suggest taking heavier tackle because I was pushing my gear right to breaking point. When you catch a Murray cod let it go – especially the big breeders. It's a great feeling.