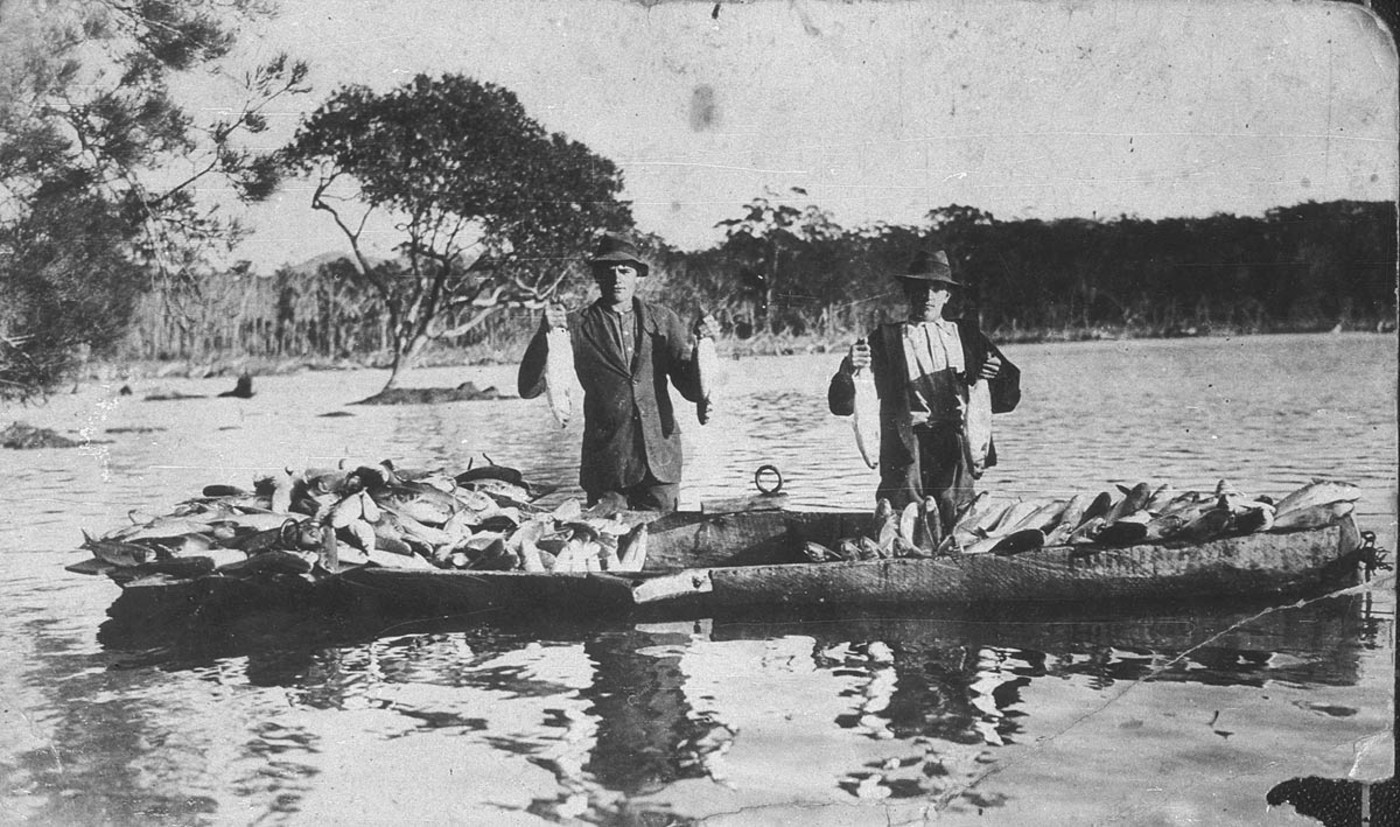 AS a child I remember staring mesmerized at the inky black ocean seemingly darkened by the shadow of a cloud, only it couldn't be a cloud because there wasn't one in sight on a clear blue day. The dark water would shudder as breaching shoals of spawning sea mullet curled around and around each other endlessly. I felt the immensity of nature as I witnessed a significant natural event. As a kid I idly assumed this would continue forever. How wrong I was.
Are we losing our sea mullet? What happens if we do lose these fish? How important is the sea mullet to the ecosystem and our fisheries? These are the questions I have after seeing smaller and smaller sea mullet schools every year during the seasonal mullet run.
As a kid growing up in the 1970s and 80s I witnessed acres of mullet off my local beach in April and May as the fish slowly made their spawning run out of Broken Bay and along the Central Coast of New South Wales. Over the years these once enormous schools have shrunk. Yet the fishing effort of the commercial mullet fishers hasn't shrunk. The spawning aggregations these days are only a few metres across and I see less and less of them. I love fishing, I love the natural world and as a scientist I'm keen for some answers to my questions. So I did a bit of research and uncovered some unexpected findings.
Surprisingly, sea mullet (Mugil cephalus) comprise the very largest catch by weight of all the fish species caught by commercial fisheries in NSW. Sea mullet make up 40 per cent of the NSW Department of Primary Industry's (DPI) category of Estuary General Fishery – Landings By Weight. Between 3500 and 5000 tonnes is caught by commercial fishers each year to provide bait to other commercial fishers. Aside from bait for commercial fishing, the mullet are also targeted for their roe.
Roughly half of the sea mullet are caught by beach hauling, and the other half by targeted ocean hauling. Not surprisingly, only a tiny proportion of the mullet captured are caught by recreational fishers. Historical data published in the Status of Fisheries Resources in NSW, 2008/09 shows an overall steady increase in tonnes of sea mullet caught from around 2000 tonnes in 1944 – 1945 to 4000 tonnes in 2008 to 4500 tonnes presently. Now remember, this does not necessarily reflect the population size available over time, it just means more fish are caught over time.
Sea mullet are a relatively fast growing species reaching 45cm in about four years. They eat algae, diatoms and sea lettuce while in estuaries and are low down on the trophic or ecological pyramid. The most limiting factor (defined as the environmental factor that is of predominant importance in restricting the size of a population) of an entire food chain is the erosion of the base layers of the trophic pyramid. The pyramid's base is the largest by volume and erosion of the base level means less fish at the next trophic level above and the consequences of that is less food available to the level above that and so on.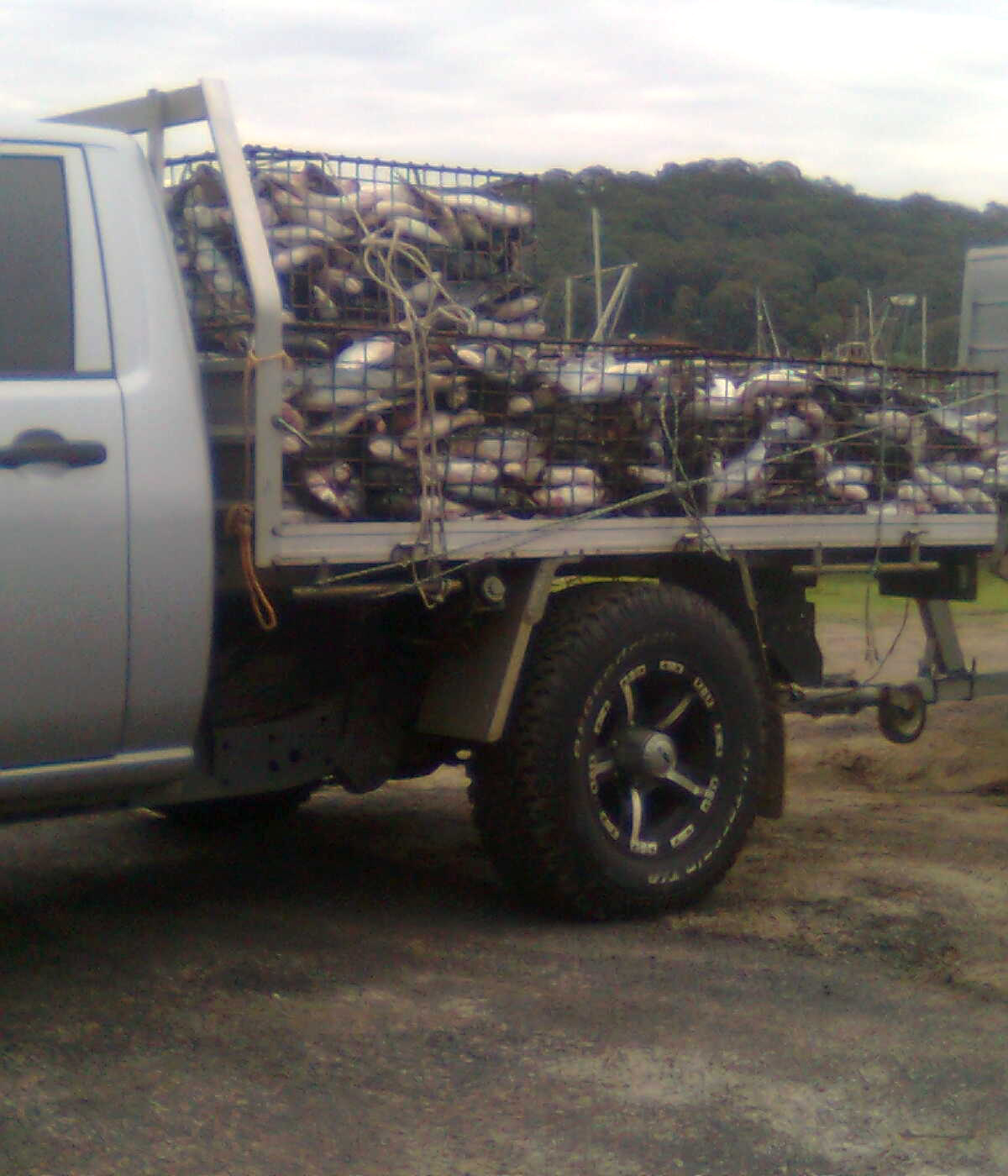 The caviar market sustains the mullet fishery. The reproductive eggs or roe is exported as fake caviar at $30 per kilo to America, and France, the Middle East, Japan and South East Asia. So any fish not used for their roe are the ones sold as bait. (See photos of sea mullet transported from the boat to vehicle in open, unrefrigerated cages). The roe is the mass of small eggs in the female fish. This is the reproductive gold of the species and is literally its lifeline. The fish are captured when they are chock full of eggs and spawning. They are easily netted when they are in tight spawning schools, as they are concentrated in discrete slow moving balls close to shore.
Out of spawning season, mullet school and behave like ordinary fish. They don't swim in tight masses but are more spaced out, are more vigilant to predation and thus harder to catch. The problem here is that when the fish are in their reproductive phase they are in a behavioural state that makes them vulnerable to predation by larger fish, seals and dolphins and, more dramatically, they are sitting ducks for the licensed netters who can position nets around, and drag, the entire school to shore. The conflict here is this schooling behaviour during spawning puts sea mullet at a survival disadvantage from human predation as the mullet's reproductive state of spawning is a fundamental natural process required to continue the existence of the species.
Spawning is a crucial window of time and happens once a year for several weeks. Spawning fish are like an orgy of cows and bulls let loose together in a paddock. Without cows in season and bulls present there will be no calves in the spring. During the spawning process, female mullet are fertilized. These are the pregnant cows. To slaughter the pregnant cow, you lose not only the means to make another cow but you also lose the calf due next season.
To take the mating male and female sea mullet out of the system, you are removing the necessary breeding adults required to produce the next year's generation of fish. This species of fish cannot be farmed artificially and its presence on this planet completely relies on natural processes. Most fisheries do not exploit the reproductive behaviour of a target fish like sea mullet but there are some that have, such as the coral trout fisheries in Queensland, and the results have been devastating.
In fact there are many wild caught fish and other animals that are protected during the crucial reproductive season. Hunting some species of native duck and quail is allowed between March and June in some states of Australia. Their breeding seasons are late winter to early spring so the hunting is permitted at a time outside of their reproductive window thus protecting the reproductive process and hence the continuation of the species.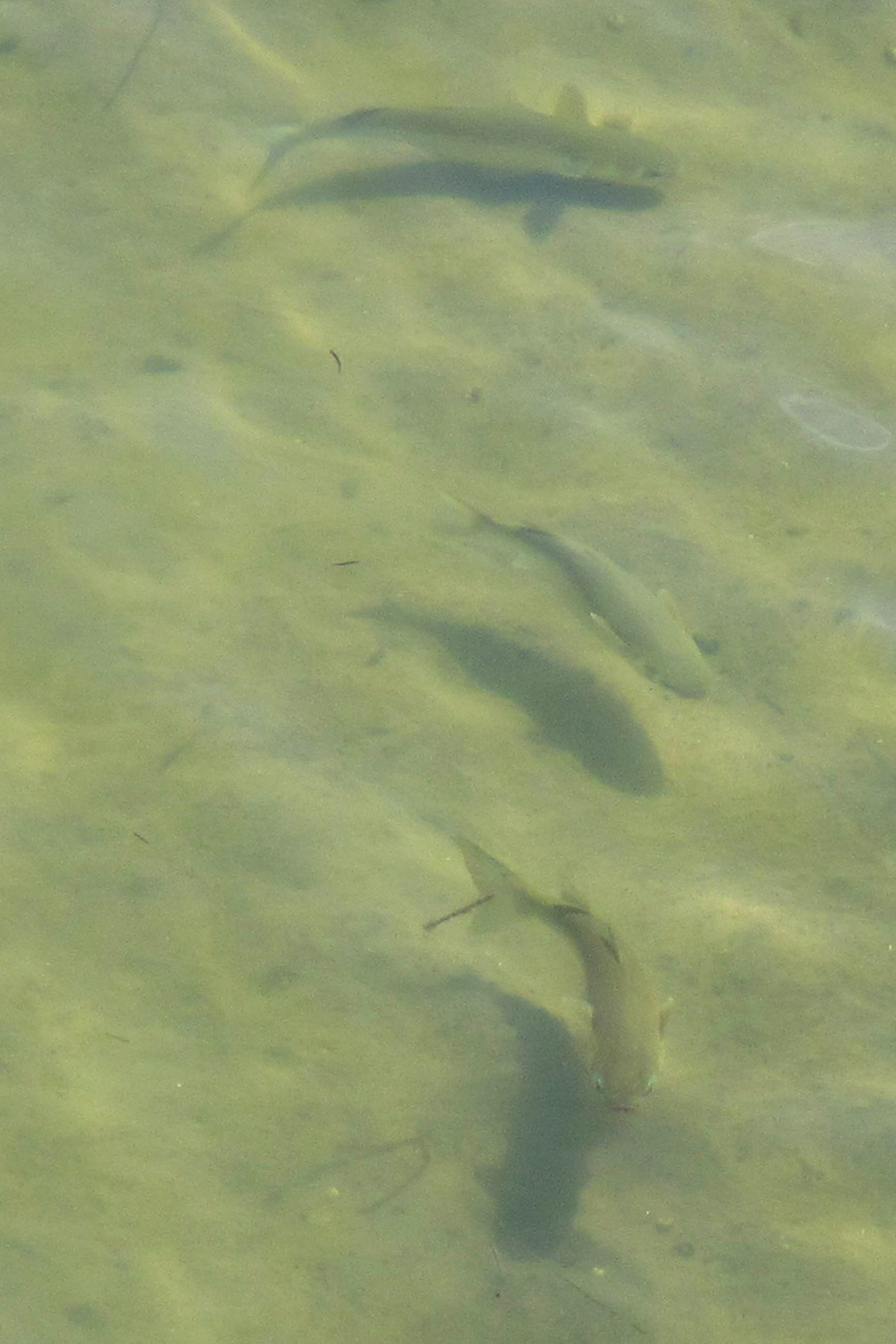 This year, the South Australian Department of Environment, Water and Natural Resources has reduced the hunting pressures of some species of ducks due to poor environmental conditions last year in 2015. The sea mullet also experienced poor conditions in 2015 with much of the east coast under heavy rainfall and flood during the mullet run northwards along the coast. It is thought these estuarine flood waters pushed the Sea Mullet further out to sea than usual causing them to strenuously swim against ocean currents during their migration resulting in low body mass and less reproductive roe.
Without the mullet the trophic levels above that depend on them are directly influenced as there is less food to keep them alive. No one can really predict accurately how badly our ecosystem needs the sea mullet for its sustainability but I don't believe it is worth the risk of us finding out the hard way. The sardine crash of 90 per cent in the US has been blamed for starving sea lions and pelicans. The marine inhabitants are all connected to each other at some level.
Beach netting targeting sea mullet also results in many tonnes of by-catch caught up in the hauling nets. This is another element of the practice that is detrimental to our fisheries. Undersized bream, jewfish, whiting, tailor, flathead and other marine organisms are caught and die for no gain to anyone but the seagulls. Mullet to be kept for bait left for hours on the beach I doubt would make good bait. There has been uproar in the past about decaying fish during the mullet run.
If DPI changed the Exploitation status of the sea mullet from "Fully-Fished" to "No-Take", at least via beach hauling during spawning, then everyone but the licensed mullet beach netters and those involved in roe export would benefit. Of course this would be a significant blow to the hardworking beach netters who I would expect adore their outdoor lifestyle and love fishing but there won't be any jobs for fishermen and women if the numbers dwindle to the point where there are no fish (sea mullet or species further up the tropic levels) left to net, trawl or catch using line. Maybe the commercial bait usage at the other end could be more innovative and efficiently managed somehow so less mullet are required for conversion into more desirable fish species or mud crabs.
Are we losing our sea mullet? Fisheries are limited in ways to estimate fish population sizes. They like to use commercial catch rate as an indicator of stock status. They also explain that data collection of fishers is highly inaccurate and inconsistent. Catch is only what is caught. It doesn't tell us anything about what is left.
On May 7th 2016, the Daily Telegraph published an article on the mullet run. Keely McDonough reports that one commercial operator from Nelson Bay on the mid-north coast has been ­involved for 33 years and his family is currently based at Stockton beach in Newcastle. "In six weeks we have caught 200 tonne of mullet and in one day we could catch 65 tonne. We are hoping for another 200 before the season is over," the operator said.
The catch rate data from NSW Fisheries suggests an overall steady state of sea mullet caught. My problem with this is although their catch rate data doesn't show a steady decrease in volume, the bait balls of spawning sea mullet I have witnessed over the years are definitely significantly smaller in volume than they were a decade or so ago. If commercial catch data is incorrect then it shouldn't be relied upon as a measure of stock status or to base management decisions on and this could well be risking the health of our marine ecosystem.
The official status of the sea mullet around the world could be misleading. According to the International Union for Conservation of Nature and Natural Resources' (IUCN) Red List, the worldwide conservation status for mugil cephalus is at, "Least Concern" (Kottelat, M. & Freyhof, J. 2012). However, it has been suggested that these lists are prone to misuse by governments and other groups that draw possibly inappropriate conclusions on the state of the environment or to effect exploitation of natural resources (Possingham et al 2002).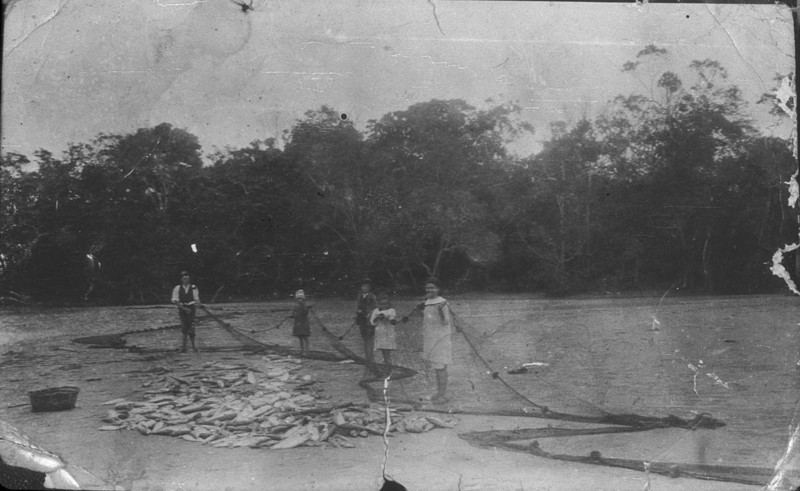 The good news
Fish stocks prior to colonization were far from being consistently abundant. At the time of colonization, both indigenous and colonials found their fish catches to be highly unpredictable and unreliable. Bad practices of taking undersized fish in very large numbers via nets, seems to be the cause of a dramatic drop in fish population sizes during the first 100 years of colonization.
Sea mullet are vulnerable for multiple reasons; a low base line population most likely below full potential since at least 1880, reproductive roe targeted during acute balling up spawning phase, dominant role in commercial bait market, susceptibility to low body condition and death during extreme weather events which may increase in intensity if climate changes escalate and no significant changes in commercial fisheries management of the sea mullet in NSW and QLD.
The significance here is if the population is actually in trouble and not heading in the direction of potential numbers seen prior to colonization then the whole marine ecosystem is at risk. The good thing is with some changes from fisheries, and in an ideal world with a no take at all on sea mullet commercially, it might be possible to witness maximum potential densities as high as they were prior to colonization, not just densities a bit better than after the diminished 1880s levels. That would provide a huge platform base for the marine trophic levels above and the flow on effects should be huge.
The bad news
NSW DPI insists the sea mullet populations are sustainable and are presumably not planning to implement any management or conservation strategies. I still favour my personal methodology to measure fish densities of sea mullet rather than what fisheries currently use. My measure will continue to be what I can see when I look seawards from my favourite local beaches around the months of April and May. I'm hoping that one day I'll again become lost and mesmerized at the sight of a black sea on a cloudless day.
References
Fairholme, J.K.E., (1856) The Blacks of Moreton Bay and the Porpoises, Proceedings of the Zoological Society of London, 11 November, p. 354.
Peperrell, J.G. (201?) The Good Old Days? Historical insights into New South Wales Coastal Fish Populations and their Fisheries. Report to The NSW Recreational Fishing Trusts Expenditure Committee By Pepperell Research & Consulting Pty Ltd.
Possingham, H.P. et al (2002). Limits to the use of threatened species lists. Trends in Ecology & Evolution 17 (11): 503–507.
Report of the Royal Commission appointed on the 8th January, (1880), to Inquire Into and Report Upon the Actual State and Prospect of the Fisheries of this Colony : together with the minutes of evidence and appendices. New South Wales. Royal Commission Appointed to Inquire Into and Report Upon the Actual State and Prospect of the Fisheries of This Colony. Published Sydney : Government Printer, 1880.
Tench, W. (1788). A narrative of the expedition to Botany Bay. London: Printed for J. Debrett.
Tench, W. ( 1793) A complete account of the settlement at Port Jackson (1759-1833). Published by G.Nicol and J. Sewell, London.
Thompson, L.G. (1893). History of the fisheries of New South Wales; with a sketch of the laws by which they have been regulated. Sydney: Charles Potter, Government Printer.
Walters, I. (1992) Seasonality of Fishing in South-east Queensland, in Queensland Archaeological Reports, vol.9, 29-34 Thomas Welsby, Sport and pastime in Moreton Bay (1931).