AUSTRALIAN ex-soldier James Prascevic has taken on the treacherous Bass Strait twice solo in his small 4.55m aluminium runabout to raise funds for the Black Dog Institute. He travelled between Lorne, Victoria to Smithton, Tasmania on the 29th of Oct 12 and returned to Lorne on the 3rd of Nov 12 without stopping or assistance.
During his crossings Prascevic consulted with The Victorian Volunteer Coast Guard, Bureau of Meteorology and the Water Police.
After serving nine and a half years in the Australian Army, The Royal Australian Infantry Corps, Prascevic was medically discharged last September due to post traumatic stress disorder, major depression, anxiety and alcohol dependence. This included severe arthritis in his left ankle, after breaking his leg in a training parachuting accident which has led to permanent ankle fusing in march 2012.
Whilst in the Army Prascevic completed six-month tours of Timor, Iraq and Afghanistan. He almost completed all of the Commando/Special Forces selection and training courses, however, due to breaking his leg he fell four weeks short of becoming a fully qualified Commando.
So why this exercise to raise awareness? Prascevic says, "Since my discharge I love the freedom of being on the open water. When I am fishing and in my boat the only thing that I worry about is the end of the rod tip. I feel I can do anything and that I have nothing wrong with me mentally or physically. I am 110%!"
Around one in five Australians will suffer from a mood disorder in their lifetime. For some people it will be an isolated occurrence. However, the reality is that for many people, it will be an ongoing challenge throughout their lives that will also impact loved ones around them.
The Black Dog Institute is a not-for-profit organisation helping people with mood disorders to enjoy a normal life. The Institute has an international reputation for its outstanding research while at the same time operating a clinic for people with mood disorders and extensive community programs and education and training for health professionals, including GPs.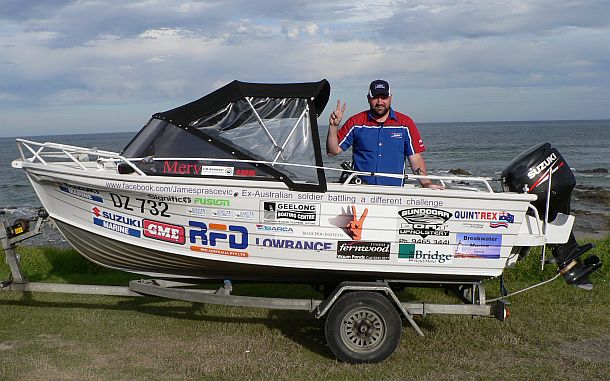 James Prascevic at Lorne after successfully crossing Bass Strait.
James Prascevic's trip will be presented as a documentary to raise further awareness. He is is also working on a book and plans to share his battles both during and post his Army service through public speaking events in the future.
For more information or to make donations go to: http://www.everydayhero.com.au/james_prascevic. Follow James on facebook at: http://www.facebook.com/Jamesprascevic
For information on treating depression: www.blackdoginstitute.org.au