The Industry & Investment (I&I) NSW Fish Aggregating Devices (FAD) program has been in operation since 2002.
As a result of this program there are now 25 I&I NSW FADs along the NSW coast, from Tweed Heads in the north, to Eden in the south.
While this game fishing season seems to be one of the latest in years, there have nevertheless been some excellent catches of pelagics along the NSW coast recently. Reports of large dolphinfish off Sydney, Port Stephens and further up the north coast have seen an army of anglers steam out to the FADs in search of these great sport fish.
This season I&I NSW scientists are using advanced video technology to monitor fish behaviour around the FADs. Researchers are using towed video cameras linked to a GPS system to build up a 3-D model of the FAD and the fish that are associated with it.
I&I NSW scientist Dr Michael Lowry said the aim is to investigate how fish are distributed around these devices.
"Information flowing from this study will provide an improved understanding of how FADs act to influence the fish communities associated with them, and provide a more detailed knowledge of how depth, distance and environmental variables such as water temperature and current speed, affect the distribution of species associated with FADs."
Scientists have also been monitoring the FADs using a stereo video system, which uses paired video cameras that allows the sizes of fish to be directly measured. With this data, researchers will have detailed size class information of fish species around FADs without having to hook and measure fish.
The I&I NSW FADs season runs between October and June each year.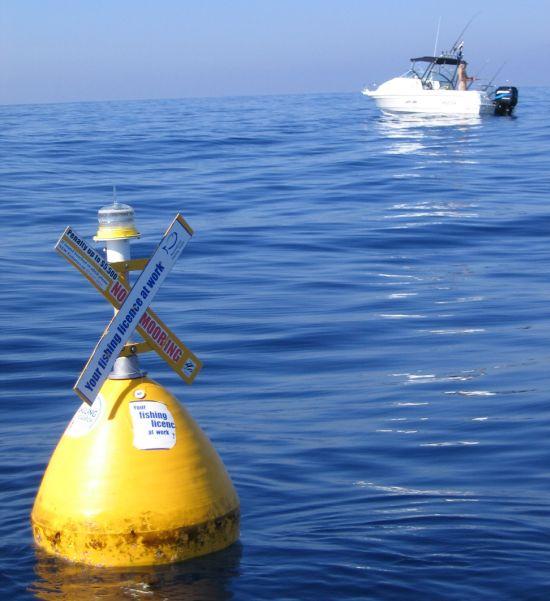 For up-to-date information on FAD locations go to:
http://www.dpi.nsw.gov.au/fisheries/recreational/saltwater/fads/map
Missing FADs can be reported to I&I NSW fisheries at: FADs@dpi.nsw.gov.au