When another birthday rolled around for fanatical Canberra-based fly fisherman Dave Longin, he did what he usually does – he went fishing.
Longin, a longtime quiet achiever of the fly fishing world, has notched up an impressive species capture list on fur & feather over many years. Not one to seek publicity, Longin's fly fishing achievements have only occasionally been featured in Fishing World magazine.
Last weekend for his annual birthday fishing bash Longin told Fisho he'd decided to head to Sydney to chase one of his favourite fly fishing targets, the mighty jewie, a fish he has notched up triple figures on, but hadn't chased for about a year.
Last Friday with wife Janet along for the ride, (Mrs Longin had planned a Saturday shopping spree) Longin made a three hour drive up the highway to Sydney to a secret fishing location he hadn't visited for 12 months (one of many such low-key spots Longin has amassed over the years) to see if his beloved jew were on the bite. Fly fishing for four hours at night in fairly average conditions, including periods of wind and driving rain, he managed to catch and release three school jewies and a solid flathead. All fell to a Longin-tied Gold Bomber fly and a 9/10 weight double-hander fly outfit.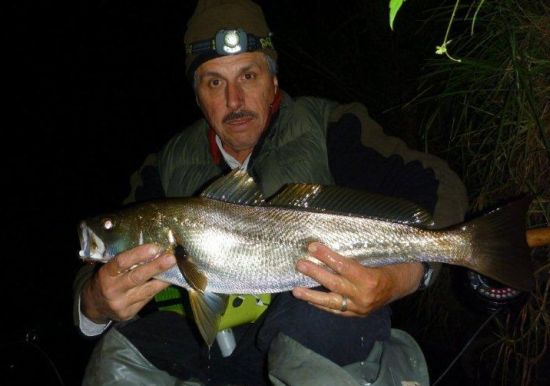 Longin said he was pleased to see one of his old haunts still producing healthy numbers of jewies, despite recent reports of growing fishing pressure in the region.
He now anxiously awaits a trip to Christmas Island in late August where he hopes to realise a longheld ambition of tangling with bonefish on fly.