FOLLOWING on from a recent uproar over photos of a tiger shark caught by champion boxer Danny Green were posted on Facebook, WA's Department of Fisheries has investigated the complaints. See related story HERE.
Regional Manager Metropolitan, Tony Cappelluti, said Fisheries and Marine officers and a shark scientist had assessed the photo that appeared on Green's Facebook site, as part of the follow-up on the complaints.
"Tiger sharks are covered by fishing regulations in the State's West Coast and South Coast bioregions, that impose a maximum size limit for all species of the family of sharks that whaler sharks belong to," Mr Cappelluti said.
"The WA regulation that applies requires the 'inter-dorsal fin' measurement to be no more than 700 mm, measured from the front of the first dorsal fin (its 'origin') to the point where the rear of the second smaller dorsal fin joins the shark's body (its 'insertion').
"It's this measurement, not the length of the shark, which determines legality.
"We have now finalised our enquiry and there will be no action by the Department of Fisheries against Mr Green. We agree that this shark is close to the maximum size, but there is insufficient evidence to conclusively determine its legal size."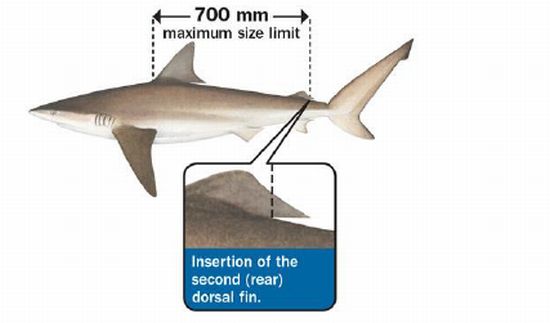 Mr Cappelluti said the general relationship that a 700 mm interdorsal length relates to a shark about 1.8 metres varies between shark species and is not reliable for evidentiary purposes.
"The department's shark scientist has advised that a tiger shark would probably have to be over two metres in total length to have a 700 mm interdorsal measurement," he said.
More information about recreational shark fishing in Western Australia is available on the Department of Fisheries' website at www.fish.wa.gov.au.