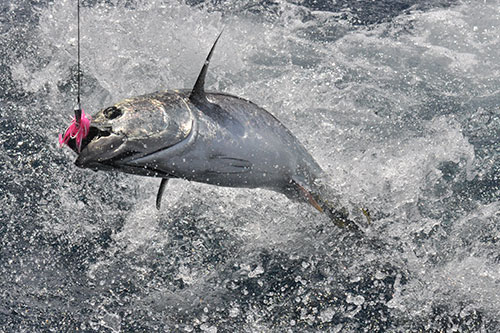 SYDNEY based GPM Fisheries Pty Ltd, operator of the 'Santo Rocco Di Bagnara' has been convicted and fined $8600 for falsifying catch records about their catch of southern bluefin tuna.
The Sydney Magistrates Court found GPM Fisheries guilty of breaching their Commonwealth fishing conditions by failing to accurately complete catch records required to fish in the Commonwealth Eastern Tuna and Billfish Fishery, and Southern Bluefin Tuna Fishery.
The operator was caught out by NSW Department of Primary Industries Fisheries Officers during an inspection in August 2013 on behalf of the Australian Fisheries Management Authority (AFMA). Whilst at port in Coffs Harbour, the officers discovered that 17 kilograms of southern bluefin tuna (SBT) fillets had not been recorded in the vessel's logbooks or other records required by AFMA.
AFMA's General Manager of Fisheries Operations, Peter Venslovas, welcomed the outcome in stating that those doing the wrong thing would be caught and these fines send a clear message to those thinking about stealing even a small amount of fish.
"Failing to report catch is not only illegal, but undermines the very rules and regulations we have in place to ensure healthy fisheries, both now and into the future," Mr Venslovas said.
"AFMA and industry have worked hard in recent years to rebuild the stock of SBT.
"We have strict measures in place, including precautionary catch limits, to help ensure that there is a supply of SBT to both the domestic and international markets to enjoy.
"Operators who deliberately break the rules which are in place to ensure they can continue to sustainably fish, are not only hurting themselves, but robbing their industry in the long-term.
"As this outcome demonstrates, if you fail to report your catch, you will be caught."
Know where your fish comes from. If you suspect illegal fishing or black-market fish supply to be occurring in your area please contact 1800 CRIMFISH (1800 274 634).
More information on how AFMA is working to combat illegal fishing can be found on the AFMA website.