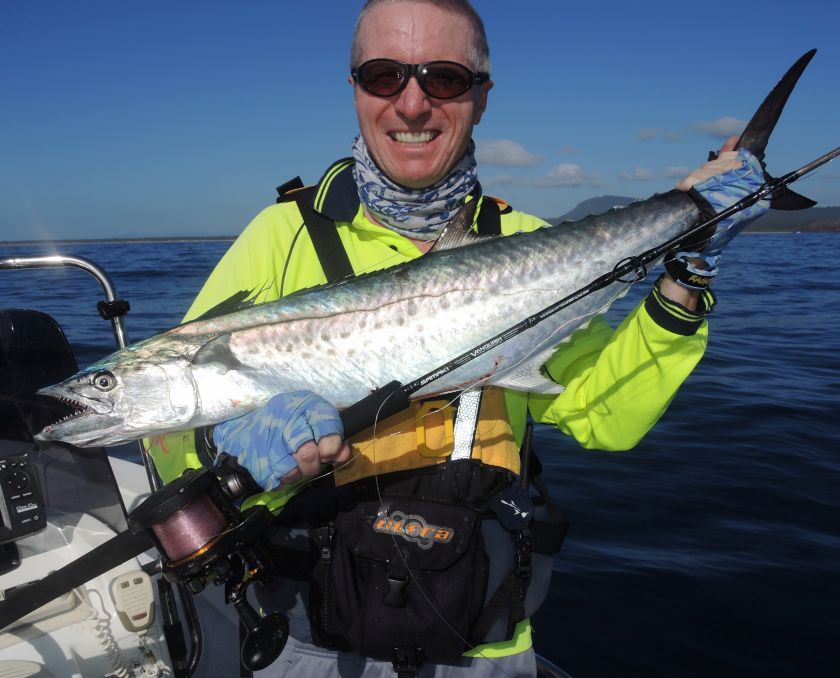 SOME rods feel like winners right from the first moment you grasp them. Over the past season I've had the opportunity to field test just such a rod. The Samaki Vanquish SVQ-521OXH overhead jig rod has quickly become the most important outfit in my blue-water arsenal due primarily to its versatility. It has proven itself to be superb jigging tool on the winter run of kingies off Terrigal, but has performed equally well over the summer months as a troll outfit for mackerel and other inshore gamefish on the NSW Mid-North Coast either from a boat or my Hobie kayak.
The Samaki Vanquish SVQ-521OXH jig rod is rated for 60 to 80lb line and jig weights in the 250 to 400gm range. It features X-Core blank construction, Fuji "K" guides, super hard EVA grips and a Fuji Deluxe Reel Seat. Build quality is again of the superb standard I've come to expect from Samaki rods. Interestingly, I don't think I've ever owned a rod that's evoked such positive feedback from my experienced fishing mates. Everyone seems to pick it up and comment that it's a cracking stick.
Where the Samaki Vanquish SVQ-521OXH really shines is as a potent fish fighting weapon. The combination of a short blank length constructed from 4 Axis Carbon Fibre provides tremendous pulling power that puts extreme pressure on the fish and not the angler. If you're looking for a versatile blue-water jig outfit to pull hard on big fish then I suggest you check out the Samaki Vanquish SVQ-521OXH, it's a beauty!
More info www.samaki.com.au
By Mark Williams