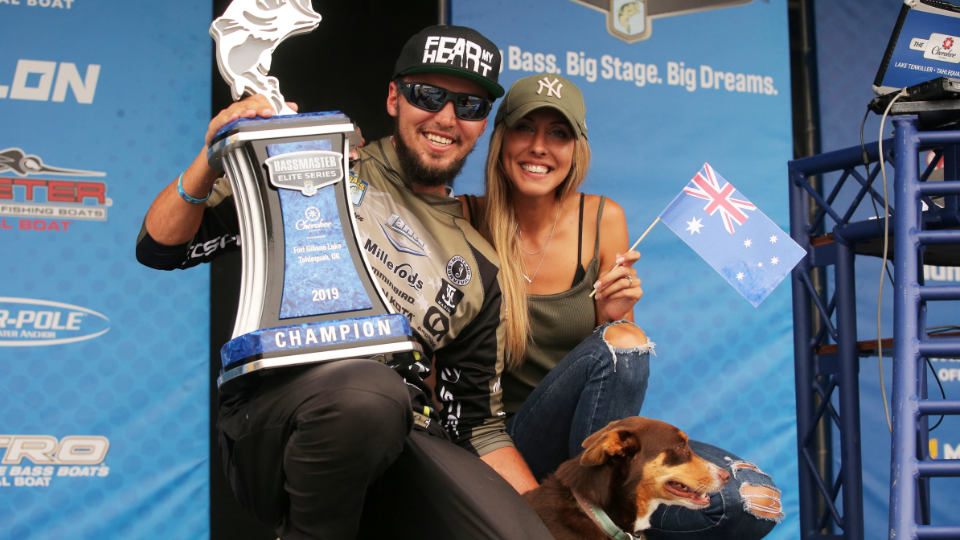 AUSTRALIAN Carl Jocumsen has won the Cherokee Casino Tahlequah Bassmaster Elite at Lake Tenkiller, making history as the first Australian to win an American Bassmaster Elite Series event!
Yesterday, after placing third and trailing leader Kyle Monti, Jocumsen believed he was able to win.
"I used my Humminbird 360, side imaging and mapping to break down this lake in two and a half days. I stayed out here from daylight until dark," Jocumsen said. "Yesterday afternoon, I found this one tree off this island. It was one late in the day, and I caught one keeper. But I said, 'I want to hit this early on the final day to see if they're biting.'"
Jocumsen's winning tactics stood out from much of the field, committing to fish the deeper water around drop-offs. His plan paid off, and Jocumsen caught four largemouth by 8:30am, including three in the space of seven minutes. It was then, after a long dry spell, that Jocumsen filled his five-fish limit, and the smallmouth bass capture that would take him to victory revealed his emotion.
"I've waited my life to catch that fish," Jocumsen said.
Adding a 5-pound largemouth late in the day increased Jocumsen's total and gave him a 3-pound, 10-ounce margin of victory.
Jocumsen told the Bassmaster crowd his first win has been a lifelong dream.
"Since I was four years old, I've loved fishing and I've dreamed of the day I would do this," Jocumsen said. "Today is that day. This is a lifetime of work; a lifetime of passion and loving this sport with every ounce of my body." He said.
Jocumsen dedicated the win to fiancee, Kayla, his sponsors and fans following his journey in Australia.
Source: Bassmaster