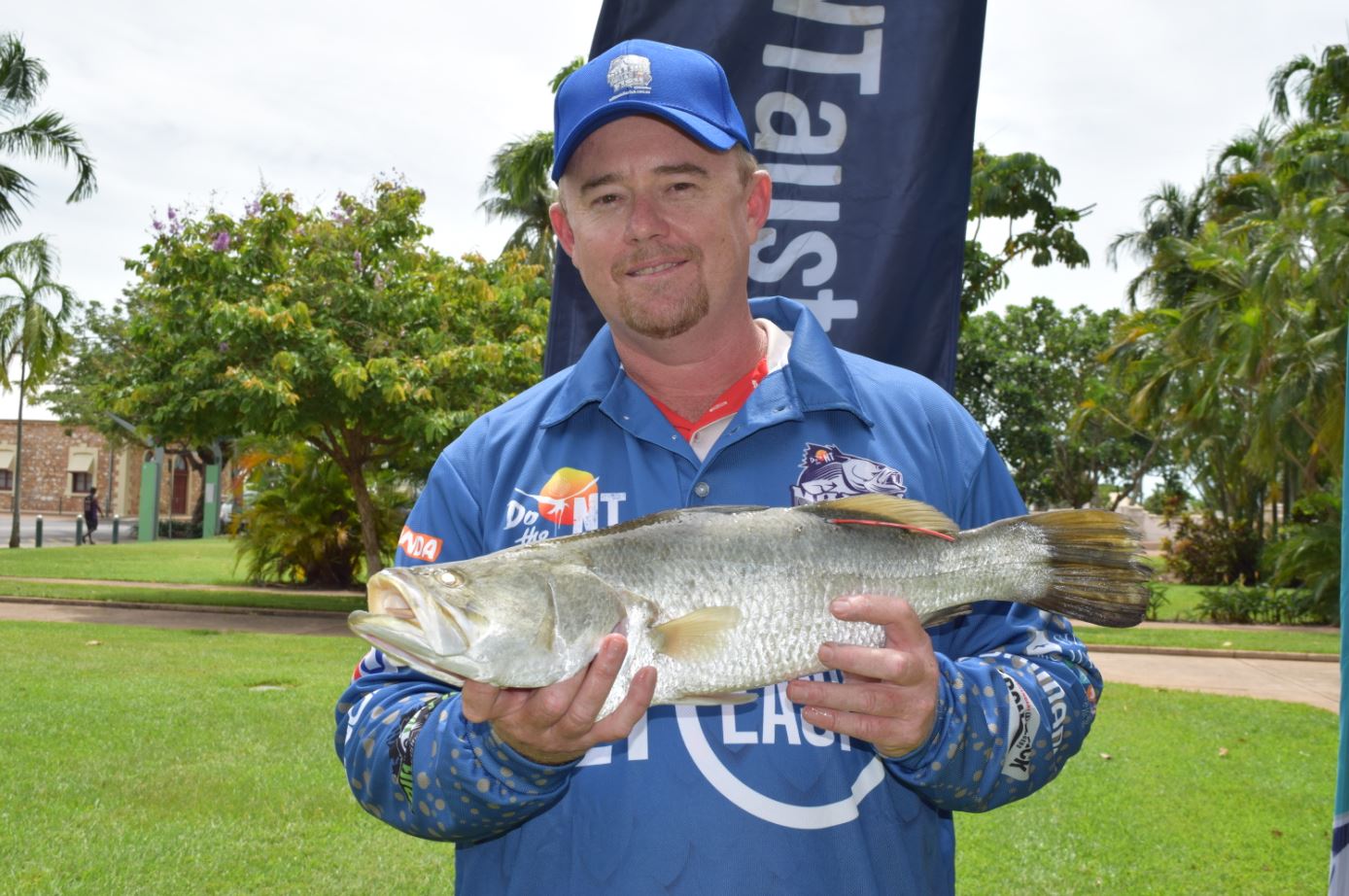 A DARWIN fisho is celebrating a bit of late festive cheer after reeling in a tagged $10,000 barramundi from the barrage at Shady Camp.
Travis Stevens caught the highly sought after barra while fishing with a mate during his week off from work.
"This is an awesome start to the year. It will definitely help cover any left over Christmas bills," Travis said.
"I'm a born and bred Territorian and have entered the comp every year since it started.
"I couldn't believe it when I saw the tag. It went from very calm to a bit frantic and nerve wracking when I realised it might have been the Million Dollar Fish.
"I work on a remote NT mine with a heap of guys from Queensland who are always talking about wanting to catch a tagged fish. A heap of guys have actually come up to the Top End solely to go fishing to try and get the big one. I can't wait to tell them!
"I'm going to share the money with my mate and I'll probably spend most of the rest fixing up the boat, beers and more fishing."
Department of Tourism and Culture Executive General Manager Marketing, Tony Quarmby, encouraged fishos to get out fishing for Season Four of the Million Dollar Fish.
"After a dry start to the wet season, a small amount of rain has the fish biting again so get out there and try your luck," Mr Quarmby said.
"With three months remaining, five $1 million fish, 97 of the $10,000 fish and 19 of the purple-tagged $5,000 charity fish still out there, there's never been a better time to get out and wet your lines."
BetEasy Strategic Partnership Manager, Brad Fanning, said there were more chances than ever to reel in a winner.
"We have released tagged barra right across the Top End, with the charity fish all in really accessible locations. We want you to catch them!" Mr Fanning said.
"Congratulations to Mr Stevens for his catch. He's had a great start to the New Year. With so many tagged fish still remaining, now is the perfect time to book yourself a trip to the Top End."
For information on Territory fishing regulations and best practice catch and release methods, download the free Northern Territory (NT) Fishing Mate app on your smart phone.
Season Four of the Million Dollar Fish competition commenced on 1 October 2018.
Those looking to come to the Territory and catch a Million Dollar Fish can register for free HERE.