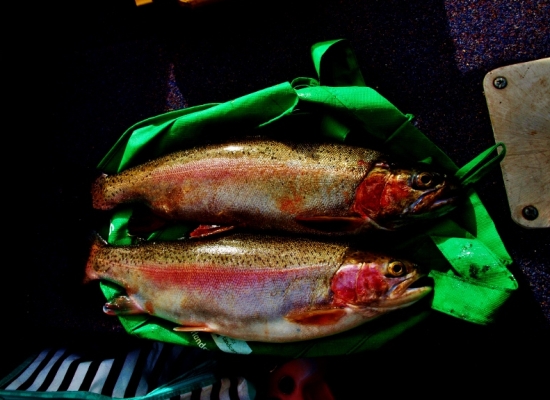 THIS Saturday, September 30, will mark the official opening of the State's annual trout season, which is tipped to be a cracker for anglers across NSW.
NSW Department of Primary Industries (DPI) Senior Inland Fisheries Manager, Cameron Westaway said with the weather warming up it is expected that good numbers of fishers will be heading for the State's general trout streams and artificial lure and fly streams.
"Although the spawning run started late this year, due to a lack of water and rain events, the four month annual trout closure has allowed trout to travel up rivers and streams to breed and replenish numbers," Mr Westaway said.
"Both the Gaden and Dutton Trout hatcheries have completed their stripping programs with eggs laid down.
"The Dutton hatchery is already releasing the first of their fish in streams in conjunction with Acclimatisation Societies and at the Gaden Trout hatcheries, there were good runs of both brown and rainbow trout and post spawning fish should be in good numbers in the Thredbo and Eucumbene rivers.
"Many of our rivers and streams have also benefited from DPI's fish stocking program. Approximately 2.9 million rainbow trout, brown trout and brook trout have been released across NSW in the last year, which will increase the benefits for recreational fishers while also boosting the economy in many regional communities."
The most popular trout fishing locations this weekend are expected to be Thredbo and Eucumbene Rivers in the Snowy Mountains, the Fish River near Bathurst, Lake Wallace and Thompson's Creek Dam near Lithgow and many streams in the New England area.
DPI's Director of Fisheries Compliance, Patrick Tully said it is important anglers are aware of the rules associated with recreational fishing to ensure the sustainability of trout for future generations.
"Firstly it is important that all anglers check they have a current and valid NSW Recreational Fishing Licence prior to wetting a line," Mr Tully said.
"The size limit for trout is 25cm, the daily bag limit is 5 and the possession limit is 10 for general trout streams and dams or a bag limit of 2 and possession limit of 4 in fly and lure waters.
"Fisheries officers will be out and about over the long weekend to ensure anglers adhere to the rule."
A summary of the rules and regulations is provided in the NSW Recreational Freshwater Fishing Guide available at DPI offices or fishing fee agents or by visiting the DPI website.
Anyone with information about illegal fishing or suspected illegal fishing should contact the Fishers Watch phoneline on 1800 043 536 or visit the DPI website.