PART 1: In Transit
With a few GT popping trips under our belts in New Caledonia, our thoughts turned towards exploring some of the mythical bonefish potential of the area we were hearing whispers about. It seems that the fly fishers have had this fabled creature up on a pedestal for many years now and we kept asking ourselves were we up to the task with our limited fly-fishing skills and inexperience at stalking the elusive bones?
Our previous two attempts at chasing these fish had failed, with one trip never coming to fruition due to inter-island politics, and the other trip cancelled as we flew into New Caledonia as our host and guide headed to hospital with a medical emergency. Third attempt and fingers crossed, what could go wrong….?
Three strikes you're out, was the sinking feeling we got as Etienne our guide was stuck in the Cook Islands and then NZ on the day we were meant to be heading up the the extreme north of New Caledonia chasing bones. Deep breath … no worries, his partner in crime and one of our regular hosts and guides, Manu Heru from Nekweta Fish camp, would be on hand to pick us up, take us fishing and feed us until Etienne arrived.
We touched down in New Cal at 11 am, headed up the coast to Bourail and Manu's place, ate lunch, had a beer, unpacked our gear and hit the water at 3 pm. We caught seven GTs to blow out the cobwebs and then headed back in for a few more beers and a crayfish feast by 7pm. We were in heaven, only having left Sydney 12 hours earlier!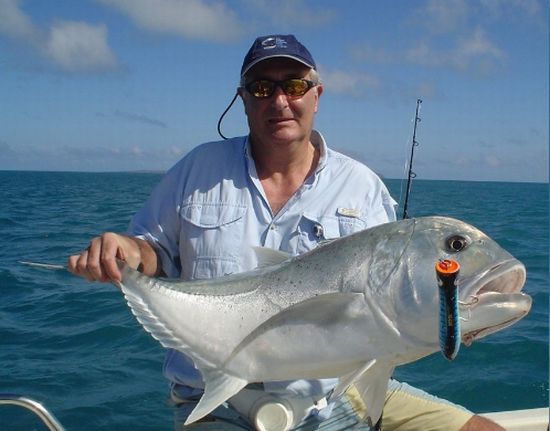 Day 2 dawns: Etienne was back in town, but we had one more day's fishing with Manu before E arrived with his boat for the 8 hour trip north. Our second day "waiting" turned out great, with some more GTs, big trout and a mile of wipeouts that had us laughing all day. In the morning we approached a bend in the outer reef where 12 months ago we had lost some big fish that left us beaten and bruised. Right on cue a huge fish swiped and missed Mitch's stickbait, a few casts later a smaller fish charged my popper and it was on!
Some close calls as the fish headed back into the surf zone and the big rolling reef breaks, but 130lb tackle and an angry Greek on the rod saw a beautiful GT subdued on the deck. A quick photo and we zipped back into the shallows to release it. It measured about 135 cm which put it at about 52–54kg, according to the length to measure guide put out by the Secretariat of the Pacific Community – a new PB for me.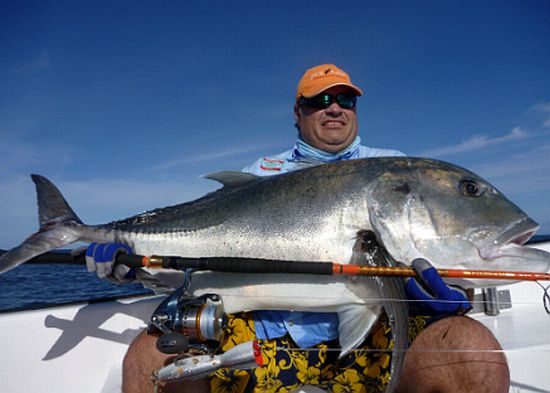 Part 2: Bonefish Heaven
Had we used all of our luck on the GTs the day before? Would the bones be on, would all the hype about them be true, who chases them with spin tackle (is it a sin, would we be sent to eternal damnation by the fly fishers for breaching their sacred grounds and codes???), would the months of research and emails with spin anglers in Florida and the Bahamas pay off, would the lures they sent me work, how far can they run on 6lb tackle, would we be able to see them since we had never ever seen one …???
It's funny what an 8 hour drive towing a 7m boat up the coast will do to you as we all bounced these scenarios around the car. It was 1pm, as we pulled into Koumac, the last town before we hit the extreme north. We'd been going since 8am and were hungry, tired and emotional. We saw a French patisserie, sign says OPEN, we do a U-turn, sign now says CLOSED, and we don't know whether to laugh or cry and keep thinking what else can go wrong as we pull over for a pit stop.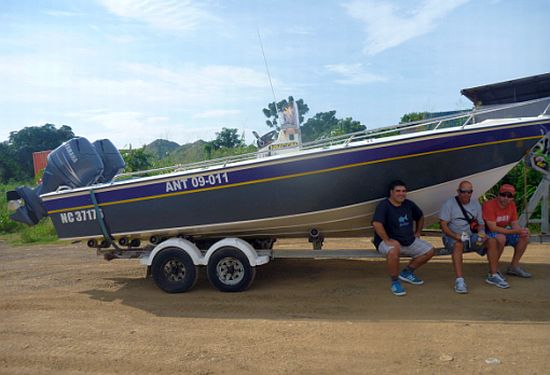 We get to Poum at about 3 pm. Ben, our guide and local Kanak tribal representative, is also a keen bonefisher and is waiting to take the boat the last leg of the trip as we tow the boat trailer over a goat track to the very tip of New Caledonia. We arrive at our camp for the next few days and it looks magnificent and the weather is calm. We unload the boat, help Ben moor it for the night and have swim and a few beers out in the lagoon and start to relax. Walking around the camp with a cold beer we take a seat in front of a roaring fire next to the beach and watch the sunset. A few minutes later a spit appears and two locally slaughtered pigs are put on to slow cook for dinner – now we are truly in heaven!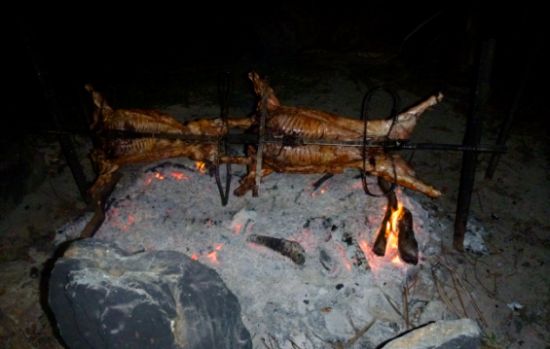 Off to attempt to sleep and again experience the ever present doubts about being worthy to chase bonefish and encroach onto the hallowed fly fisher's turf. I didn't sleep much that night…
"It's not about the destination, it's about the journey" is often quoted by me, and it rang true as we arrived at our destination to start fishing. We did catch bonefish, big bonefish, and then bigger bonefish. And after the first day of zero wind and no cloud cover we encountered 35 knot winds, rain and clouds for the next three days, but we did continue to catch bonefish, big bonefish and even bigger bonefish, but only because we stuck it out with spin rods and lures supplied by our new friends in the US and Bahamas.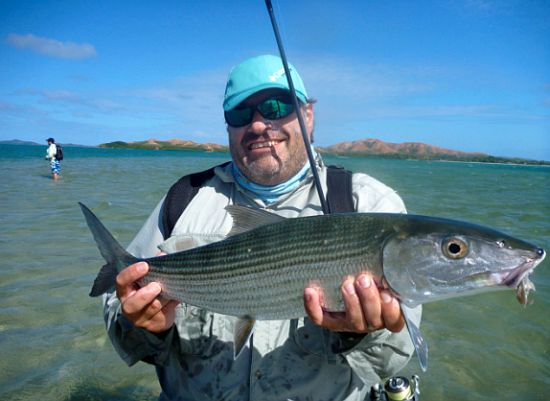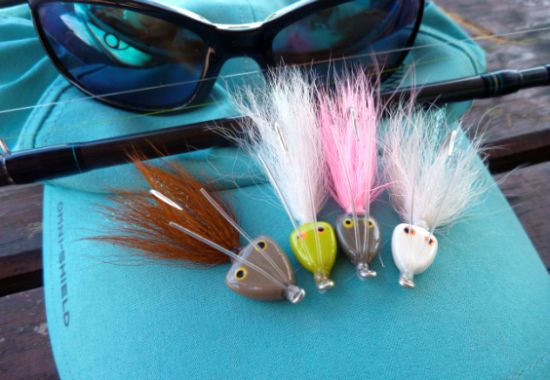 Imagine the first steps you take onto a magical sand flat are with a guide who lives and breathes bones and sees you holding a fly rod you have not picked up in five years; a guide behind you over your left shoulder and a ball of nerves that is about to burst out of your gut. A silver shape glides past over the weeds … "bone" is the only word I hear.
Keep walking and we head to a little sand cay 50 metres away. Like a lamb to the slaughter I keep walking, "three bones" is all I hear as a finger juts out to my left. OK, I see them and see them easily. I cast the fly, overshoot the landing and the bones take off. We keep walking. "Big bone ahead in shallows". OK I see him, lift the rod and he is off … Spooked. We still see his bow wave 50 metres away as he doesn't stop and drops off the flat.
We keep walking.
"Five bones ahead!"
I cast the fly. It lands OK, the bonefish swim over and then take off again. This is hard and easy at the same time. "Get your stuff together" I say to myself.
A hundred metres away Marinos has landed his first bone on his spin rod and is whooping like a kid. I hate him, blasted flyrod and fly fishers codes of ethics, gentlemen's rules and all the other baggage that one-eyed fly fishers carry around with them – I hate them. We move on. "Two bones ahead." The fly is cast short and I let the lead fish move over it, time stops, my fly line tightens, I set the hook and the silver rocket express takes my fly line and then my backing in a blur! The rest is an anti-climax as my first fly caught bonefish ever is released. Mandatory man hugs out of the way and then my spin rod comes out! Time to get to work.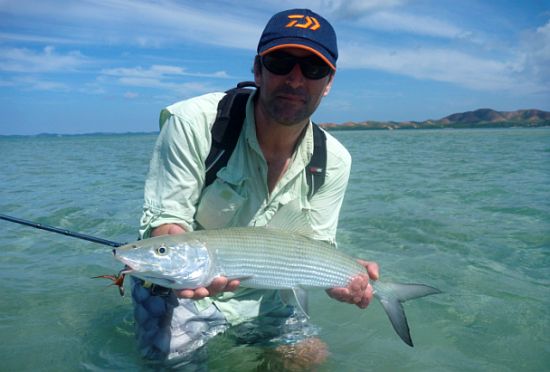 The great thing about the above scene is that it all unfolded in under 20 minutes on the very first day any of us had ever been bone fishing. How good is this place?
As the wind and clouds increased over the next three days we struggled to even get to any of the other 20 sand flats we hoped to fish and were limited to where we could go to with the car as the boat with 300 litres of fuel in it sat on the mooring for three days. We still caught bonefish by fishing the drop off and spots we knew they'd be at. When the clouds broke we enjoyed casting to them and sight fishing them, but with a 35 knot wind in your face we were thankful for the spin rods and not the fly rods. We never stopped catching fish and could only imagine what it would be like with no wind and sun for four days – it would be as close to heaven as you could get.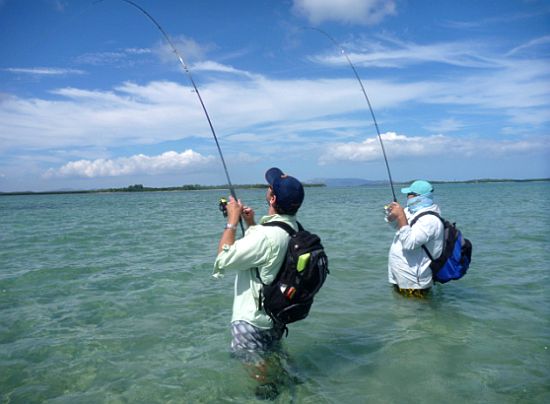 On the tackle side of things our guides were gob smacked at how effective the spin rod was and how deadly small jigs and plastics were at fooling these bones. Now we are not talking about some remote location that you could only get to by boat, the spots we were stuck fishing due to the wind are all drive up, and had swimmers, paddlers and people walking on the flats when the weather was nice, so imagine what the other spots were like!
It helped that all three of us live and breathe spin tackle for bream, trout, barra, jews and snapper so it was nothing new for us. What delivered the knockout punch was when they first looked at our rods we brought – 9ft squid rods. They shook their heads, but we have been casting hard bodies and vibes with these for a few years now for trout, bream and school jews so we knew what they were capable of. Casting a ¼ oz jig head into the teeth of a 35 knot wind with some form of accuracy is what these rods were brilliant at, as well as holding the line clear of obstacles and these bones often had 150m first runs at warp speed.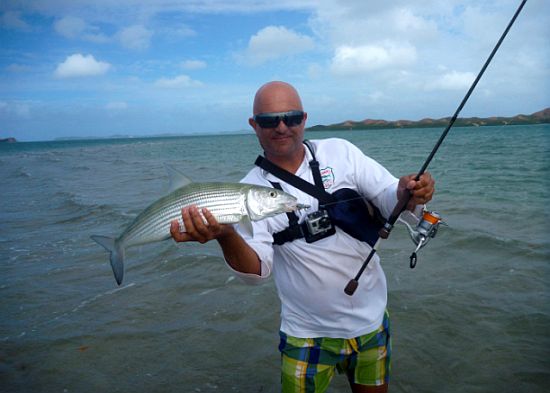 The lures that worked are tried and proven on the other side of the world, so having some faith in my new found friends on the internet proved a winner. A bit of experimentation with some plastics also saw a few standouts as well and taking over everything but the kitchen sink proved a winner as we'd culled the lures down to what worked well and what just worked.
This trip is highly recommended. Au revoir!