FRIDAY night was spent prepping the boat and gear for what was set to be a monumental two days' fishing. There were jigging outfits, game outfits, spin outfits, popper outfits- you name it, we wanted no option left unavailable if we were to find the tuna. So with high hopes and expectations, we headed out the 40 odd miles to the grounds on Saturday morning.
As luck would have it, we trolled for hours on end with nil result. It wasn't until 4:30pm before our good friends from Victoria, Dale McClelland and Paul Barton, found a tight school and called us over. First jig down resulted in a lovely albacore. We deployed a live bait and a few moments later, it took off with what was sure to be our first bluefin. The tuna proved no match for the 15kg Okuma Makaira outfit, and a lovely 35kg bluefin tuna was boated. Back down with the jigs, and a second tuna was hooked. The power and hurt an 80lb jig outfit can put on this fish is almost unfair, and the Cedros gave the tuna all of about three minutes before it was also landed! High-fives all round and we headed for home in the dark in the glassed out conditions.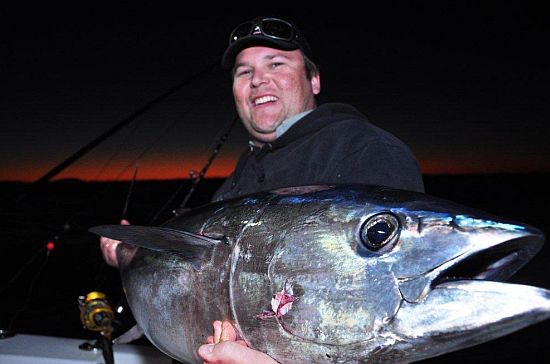 On Sunday we arose to another "glass out". We headed out to the same area the fish were the day before and found them after only trolling for 30 minutes or so. The next three hours can only be described as pandemonium! We managed to land about 15 tuna and busted off about the same on a variety of cube baits and jigs. By 1pm we pulled up stumps absolutely exhausted,before heading for home. The fish were all in the 20-35kg mark. We found the trick was to maintain a solid and thick cube trail, to keep them at YOUR BOAT amongst the herds of others. They also seem to feed in waves – around 30 minutes on and an hour off.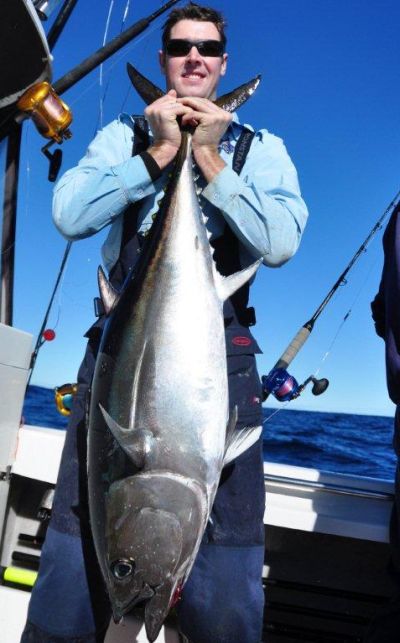 It was simply a matter of keeping them at your boat, watching them on your sounder and waiting for the next wave of bites to come through! Awesome stuff.