Judging by the link to an entertaining youtube clip Fisho recently received it's safe to say the spirit of adventure is definitely alive and well – at least if a couple of young fishos named Kristian and Ben, aka Salmon and Turtle, have anything to do with it…
The clip features highlights of some great fishing and crazy times the two mates experienced while travelling to the tip of Australia. Ben (Turtle) Berry sent us this short account of what ensued for the pair over a crazy action-packed two months. Funny stuff.
Ben Berry's trip rundown:
In September 2009, my mate Kristian (Salmon) and I (Turtle) headed north from Townsville with one plan in mind – to reach the tip of Australia.
We packed our 60 Series Landcruiser with swags, rods, spearguns, bow and arrows, a trusty Engel fridge, video camera, a red 3m tinny on the roof and anything else that would help amuse two 24-year-olds. Prior to leaving a few people described us as the modern day Alby Mangels (x 2), others, a poor version of the Leyland Brothers.
After a near death experience on our first night in Cape York, we celebrated by swimming in our croc proof pool, fishing on a dry river bed and dress-up partying…
We headed north on the Old Telegraph Track, looking to get some good photos of 4WD nuts throwing their cars off Gunshot Creek. After winching one guy out and drinking his thankyou beer, it didn't take long before we were throwing ourselves over the edge too. He returned the winching favour and we returned the thankyou beer.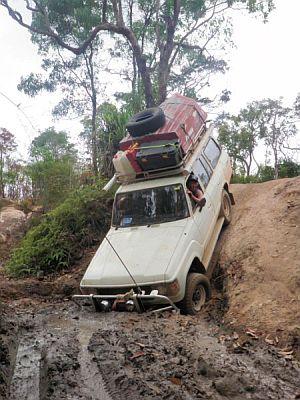 We crossed the Jardine River Ferry and found ourselves talking to a bloke who had his pig hunting dog taken by a croc the night before. The threat of crocs was finally sinking in.
We also found the best way to light a fire is to douse it in petrol and fire a burning arrow at it (this also gets you free beer from impressed on-lookers). To escape the unbearable heat of the day, Kristian spent 6 hours building a hanging chair entirely from driftwood and ghost nets. To celebrate his handy skills, we drank beer with the wireless on, picking up only Indonesian and PNG radio stations.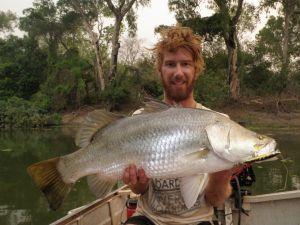 Kristian aka "Salmon" and barra.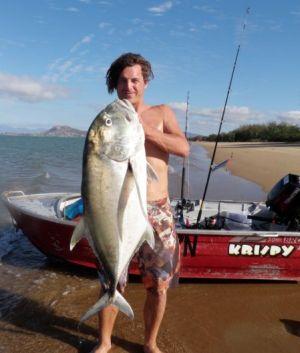 Ben "Turtle" Berry and a solid GT.
The fishing kept stretching to new levels. We'd bagged a monster GT and a few good Spanish macks, but soon we were hooked into longtail tuna, mangrove jacks, fresh and saltwater barra and a few different reef fish. And sharks. The damn sharks. They took bait, retrieved lures, trolled lures – anything.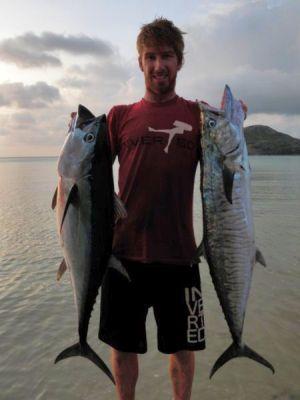 Longtail tuna & Spanish mack.
Word-of-mouth was working overtime and everyone we met seemed to hear of our catches. We were known as "the boys with the red boat on backwards", and at one stage were the only people willing to take their boat out in howling winds and swell for a week. It paid off as we got a day of amazing tuna fishing about 3km off the tip of Australia and another few days catching endless numbers of tea-leaf trevally – even one on 4lb line with a plastic.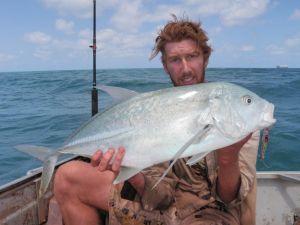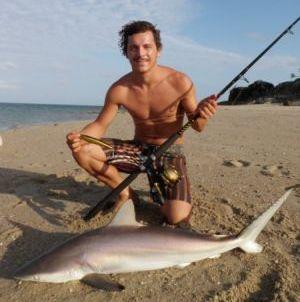 Some fish we had no choice but to release in the water as they were too big to get in our boat. Fish even got traded with other people for beer, red meat, and even a cray diving trip with some local Thursday Island guys. They took us out to a spot they ensured us was croc free. When we asked the question "are we the bait?", they said something in their native language, laughed and dived overboard. We followed them, hoping for the best, and came out with a few crays and reef fish.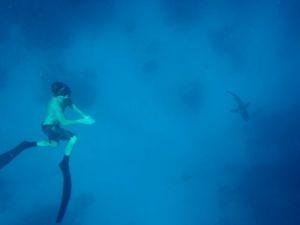 Reaching the very tip of Australia gave us a feeling of accomplishment we'd never had before. In getting there, some people think we've wasted good opportunities to get stable jobs, buy houses and save money. We've thrown our car into a creek, ran out of fuel at a remote waterhole, almost got burned alive, forgotten about the world, caught more fish in two months than some people do in a lifetime and met some of the most interesting people Australia has to offer – we wouldn't do anything different second time around.
We've only got one thing on our mind now – Western Australia via South Australia in May.
You need Flash player 8+ and JavaScript enabled to view this video.
//
//