Fishing reel technology has moved along at lightning speed over the past 10 years. We have seen a transition in popularity from metal bodied reels to graphite and then back to metal reels. It seems as though we have come full circle again with the introduction of some very clever composite material reels that epitomise where fishing reel technology is headed into the future. At the forefront of this technology is the new Shimano Stradic Ci4 with "carbon interfusion material".
I have had the pleasure of using these new-beaut reels for three months, and while this review may be a little premature to test the longevity of the product, the initial indications are this line of new-age reels are set to revolutionise the light fishing industry. This may be a big call on my part but the pure pleasure of fishing with an ultra light rig for hard pulling fish makes estuary fishing far more exciting. In some instances weight reductions of up to 25 per cent make a tremendous difference to the overall feel and balance of an outfit. When you couple the diminutive size and weight with some impressive drag settings, you have a pocket rocket capable of tackling big fish.
The current range comes in two sizes: 1000 and 2500. The 1000 only weighs 176 grams and runs 3kgs of drag while the 2500 weighs 198 grams and run a staggering 7kgs of drag. In some instances the overall weight of rod and reel could be less than 200 grams. Now that's impressive! Ideally I would like to see a 4000 added to the line-up but I'm not too sure if the line class for a reel of that size would start to flex the composite body under high drag. My guess is this will not be a problem and larger sizes will be just around the corner.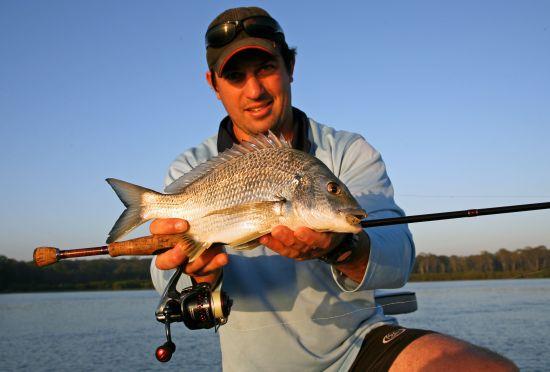 The aesthetics of the Stradic have been given an overhaul and a cool looking colour scheme really gives the impression of quality. Even in the hand it is difficult to tell it is not metal. I was told that these new Stradic's have replaced the Fireblood range which has been discontinued. The good news for us fishos is that they are far less expensive than the Fireblood and in the reach of most fisho's budgets; a good move on Shimano's part to make sure the average weekend warrior is able to afford this new technology.
The EVA grip handle is a nice touch and feels very comfortable in the hand. The newly designed spool lip, which in actuality has been around now for quite some time now, practically eliminates all wind knots in the smaller spool sizes. This is refreshing as I basically turned my back on 1000 sized reels due to the dreaded wind knot. Respooling a reel after one session on new braid is no fun at all.
The reel feels pretty smooth out of the box but is a little heavier to wind than I would have expected. This may be till the gears bed in a little and free up, who knows? Either way it's a pedantic observation but I personally love a light winding reel.
If you're in the market for an ultra light, ultra tough, little battler in a moderate price range then the Stradic could very well suit. It has served me well to date, and I think it will for a long time to come.
More at www.shimanofish.com.au