Fishing World got a hands-on demonstration of Lowrance's long anticipated Structure Scan unit earlier this week at Glenbawn Dam in the NSW Hunter Valley.
The incredible new sonar-imaging module is the world's first to offer fishos a new dimension in underwater picture-like displays, with side-to-side, and straight down, full panoramic viewing.
The StructureScan features a combination of SideScan and an exclusive new DownScan Imaging technology. The new DownScan Imaging feature allows anglers, for the first time, to see submerged detail directly beneath their boats, providing a complete underwater picture in a screen format that is easy to interpret.
This week's demonstration at Glenbawn Dam showed us the huge potential this product would have for freshwater impoundment fishing, river fishing and estuary work. By shooting the beam sideways, fishos can view a detailed image allowing underwater structure and fish to be viewed clearly. With a range of 120 feet from the boat, the beam also allows anglers to pinpoint the exact location of the fish.
We were able to view a drowned farmhouse beneath the flooded dam, and even the chicken shed nearby. A mannequin, which Lowrance placed below the surface was eerily visible with arms and legs easy to define.
The Structure Scan unit is available as an add-on black box unit for the Lowrance HDS series and will be released mid-December.
Check out the attached video for a demonstration of the Lowrance Structure Scan. And Fishing World will feature a full rundown on the new unit in the February 2010 issue.
WATCH VIDEO BELOW…
You need Flash player 8+ and JavaScript enabled to view this video.
var params = { allowScriptAccess: "always", wmode: "transparent" }; var atts = { id: "myytplayer_4931" }; swfobject.embedSWF("http://www.youtube.com/v/oRDu5CuEmLA&enablejsapi=1&playerapiid=ytplayer", "ytapiplayer_4931", "480", "385", "8", null, null, params, atts);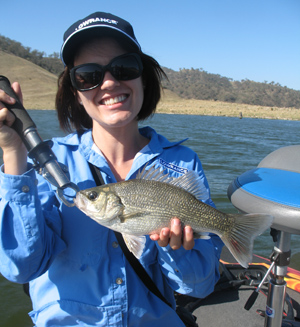 Lowrance's Estelle Baldry with a Glenbawn bass
Scanning submerged timber is ideal with this new unit from Lowrance