Starting in August, Aussie fishos have the chance of winning $100,000, courtesy of Carlton Mid beer. By catching specially tagged "Rich Fish" in popular fishing spots throughout Queensland, Western Australia and the Northern Territory, the lucky anglers will net a cash prize of $5,000 or $10,000. The subsequent nine Rich Fish caught in each area will win a Shimano fishing pack valued up to $325.
The promotion kicks off in August with tagged fish released into Moreton Bay, Darwin Harbour and the Swan River. Each month until December 2010 a new batch of Carlton Mid Rich Fish will be released in a different location, with a total prize pool of $100,000 up for grabs.
To find out where the Rich Fish have been released, what type of fish they are and the best way to catch them, buy a specially marked carton of Carlton Mid, head to www.carltonmidrichfish.com and enter the unique code to register.
Registered Rich Fishermen will receive updates each month as to when and where fish are dropped and the species type, as well as specialist fishing tips from Bill Sawynok from Info-Fish.
Once you catch a Rich Fish you need to contact Carlton Mid via the phone number on the tag and quote the unique tag number to claim a prize. You must be over 18 and registered in the promotion to win.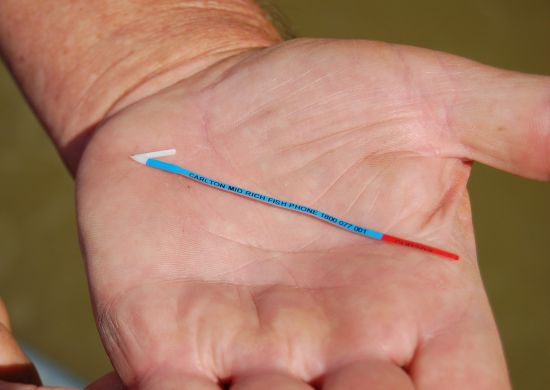 Catching a Rich Fish isn't the only way to win great prizes. From August to November there is also a monthly fishing trip to be won and, in December, Carlton Mid will be giving away a Quintrex boat. Every time you purchase a specially marked case of Carlton Mid you can enter the competition at www.carltonmidrishfish.com.
"Sustainable fishing practices are vital to ensuring that Australian waterways remain plentiful for future generations," said Bill Sawynok.
"We've adopted a tag and release strategy in order to identify our Rich Fish. We also encourage those lucky enough to catch a Rich Fish to take a catch and release approach – winners should remove the tag from the fish and then release their catch."