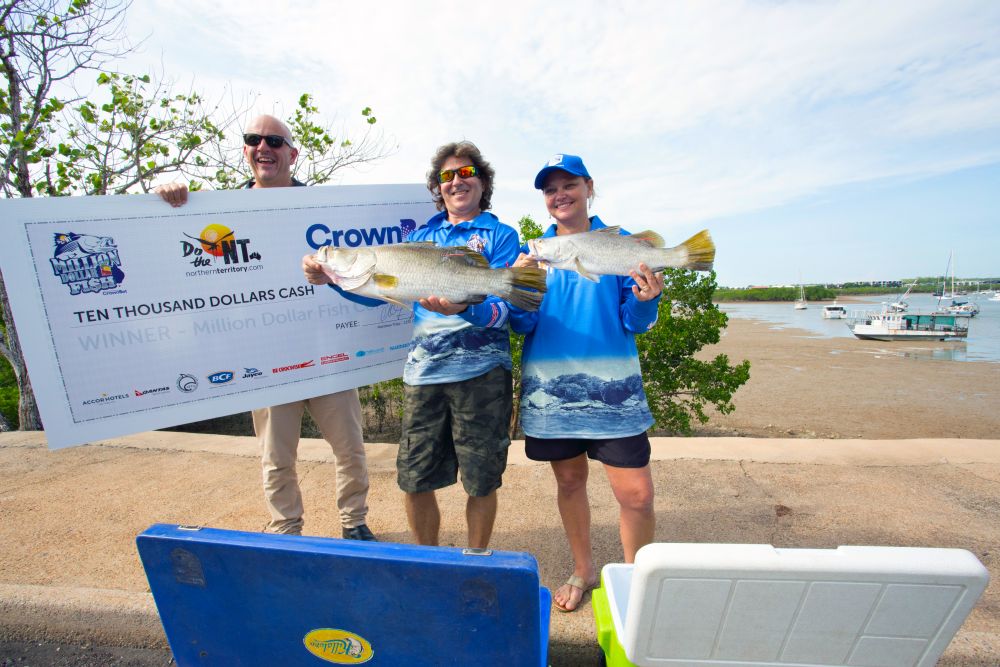 TWO lucky Top End fishos have each reeled in a $10,000 tagged barramundi, just four days into Season 2 of the Northern Territory's Million Dollar Fish campaign.
Kicking off with a splash, the competition has seen NT residents Kelli Carroll and George Voukolos catch this season's first two prize-winning barramundi within 24 hours of each other.
The fish are among the 101 prize-tagged barramundi released in Top End waters on October 1st for the campaign. While one of these fish is worth $1 million, 100 of them carry a $10,000 prize tag – leaving 99 prize barramundi still at large.
The first to hook a winner, Ms Carroll, 44, says she was stunned and never expected to reel in a prize barramundi at East Arm, just 20 minutes outside Darwin.
"It was just a fluke! I was out fishing with a friend and I didn't even notice the tag at first," said the Palmerston-based mum-of-two. "I'm looking forward to telling my husband – he will be proud as punch."
"To be the first female to ever catch one of the tagged fish is amazing. I feel so privileged," she said.
Meanwhile, Darwin-based Mr Voukolos, 53, who caught his winning barramundi at the Daly River Crossing was just saved from missing out on his prize.
"I was just out at one of my regular fishing spots and didn't even see the tag. I was about to throw the fish back," Voukolos said.
The second season of Million Dollar Fish, which ends on February 28, 2017, builds on the success of Season One, where 10 prize-tagged barramundi worth $10,000 each were caught in Darwin Harbour, Daly River, Corroborree Billabong and Bynoe Harbour.
The first season attracted more than 43,000 registrations from 62 countries, including 25,800 people from interstate and 14,600 Territorians.
In addition to the prize-tagged barramundi, registrants for Season Two are also in the draw to win $96,000 worth of prizes, including five HelloWorld holidays to five different regions in the Northern Territory flying Qantas, a Jayco Camper Trailer worth $30,000, Engel fridges, Shimano and BCF Fishing Tackle, JMGillies Classic Lures, Accor Hotels for Le Club points, Qantas flights, XXXX GOLD cartons and a fishing charter. All sponsor prizes are being drawn monthly up until February 2017.
For more information, or to register, visit the Million Dollar Fish website.