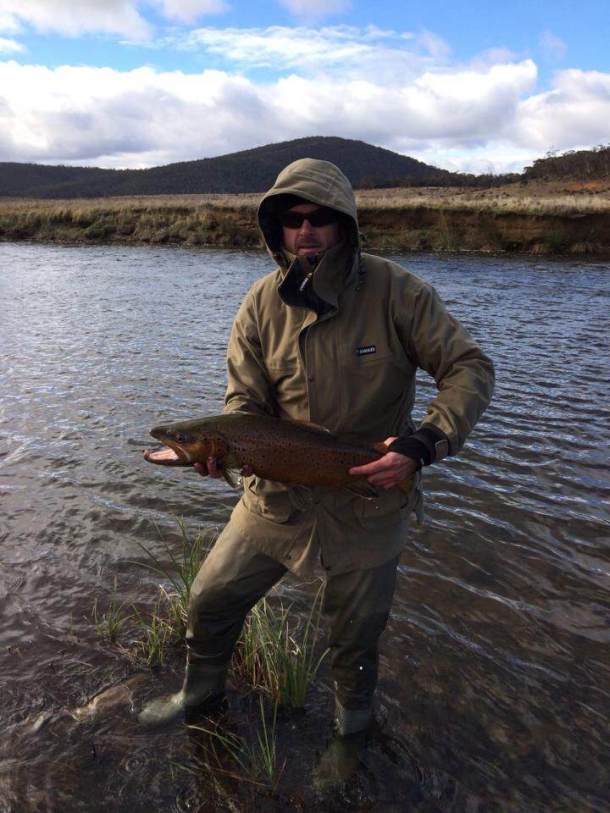 WEDNESDAY 30th March 2016 saw the Monaro Acclimatisation Society Inc (MAS) host a meeting to try and resolve the issue of continuing environmental degradation of the Eucumbene River banks at the Denison Campground near Providence Portal, NSW.
Present at the meeting were anglers and representatives from Snowy Hydro, Kosciuszko National Park, NSW Fisheries, NSW Maritime and the Lake Eucumbene Chamber of Commerce
Steve Samuels, President of the MAS said his organisation had received many calls from anglers who were concerned that the unlimited vehicle access to the river during the annual brown trout spawning run posed a threat to the river and the spawning fish. He also said that other authorities such as Snowy Hydro and NSW Fisheries had received similar calls.
The brown trout spawning run in the Eucumbene River has gained significant popularity over the last few years. Last year vehicle counts indicated that up to 140 vehicles per day were accessing the river bank at Denison, crossing the river with drivers often cutting new tracks in an effort to reach more secluded water. Kosciuszko national park authorities were also concerned about the continued illegal vehicle access to the Park from the Denison access point.
Mr Samuels said that if something was not done now to limit the damage, he was fearful that authorities would take a hardline approach in the future that might make access to this fabulous fishing event even harder.
The meeting discussed all the issues and it was clear that all present wanted to see angler participation on the river continue, but the uncontrolled vehicle access could no longer be tolerated due to the damage being done.
The obvious thing to do Mr Samuels said was to develop a car park away from the river where anglers could park in safety. This would stop the damage being done, but would also allow anglers to access the river with relative ease. While it may be a bit of a walk, he said, that is better than losing this fishery either through the spawning run being "loved to death" or a harsher measure later on when things were much worse.
The meeting members identified that if vehicles were to be directed to a designated parking area it would have to be built above the high water mark of the lake so that it did not become a navigation hazard during higher lake levels.
Mr Samuels said that the meeting resolved to progress the issue. While it is not possible to do anything for this year's run, he said, the intention was to have the matter resolved for the 2017 run.
Mr Samuels said that he hoped all anglers would recognize the need to protect the river because without it remaining in pristine condition it places the brown trout spawning run in jeopardy. While there may be a bit of a walk in the future, he said, the benefits to anglers and the fish will outweigh any inconvenience.