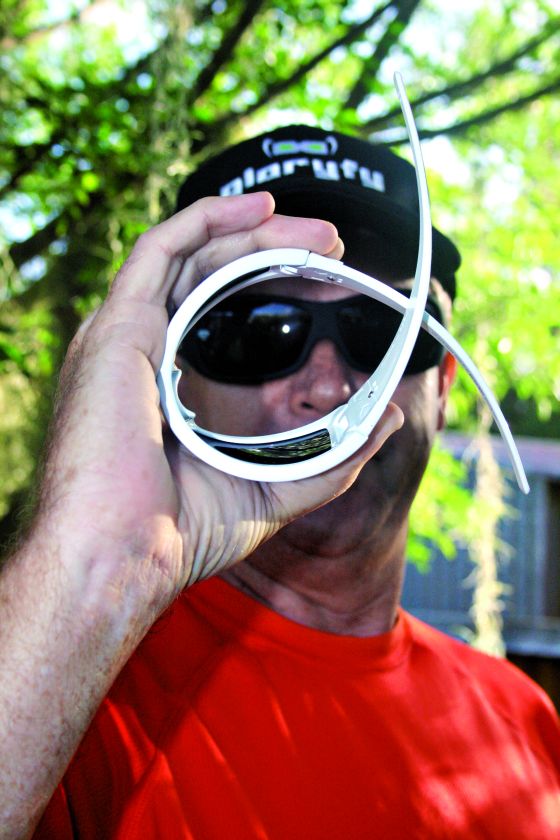 A CHANCE meeting with Gloryfy's Paul Hillary a few months back was a blessing in disguise. Paul is the Australian distributor for Gloryfy unbreakable Sunglasses. Many of us may have heard this term before, but I can tell you, these glasses have to be seen to be believed. You can bend and twist these incredible glasses to any shape and they don't break, distort or have the lenses fall out.
Gloryfy sunnies are designed and made in Austria and are well known and used by some of Europe's "Extreme Sports Stars". I've used them for a few months now and can honestly say they're amazing. They come on a wide variety of models and colours and most of all they are all quality. Paul was kind enough to give me two pairs to try, and with a head like mine, getting a pair of anything to fit is a challenge in itself.
The G2s comfortable and light and the polarising in these new glasses is equal to any I have used. Theses lenses are not glass or polycarbonate. They're made of a secret formula that Gloryfy keeps close to its chest…
Another real bonus is these glasses are extremely scratch resistant and the fitting of prescription lenses can be done by Gloryfy. Just give them your prescription details. The lenses offer crystal clear clarity with no distortion and are light in weight.
All up I recommend you give these lightweight unbreakable glasses a try. You can even hit them with a rubber mallet as Paul demostrates on YouTube.
More info www.gloryfy.com
By Bob Russo
https://www.youtube.com/watch?v=zz3EZdxs0_o