In the cover story of the March issue of Fisho (out now!), young Jack Harnwell is pictured with a 20lb snapper he caught on a red snake lolly he put on his jighead as a joke. During that same trip down to Arno Bay for snapper opening day, fishing guide Ash Smith tied a hook to a 13mm ring spanner and caught a big snapper, which was unfortunately eaten by a 5m great white shark before he could get it to the boat.
Red snake lollies and spanners aren't usually considered prime snapper food. This brings to mind the crazy lures made out of tin foil that fishing adventurer and filmmaker Malcolm Douglas used to great effect on GTs in the Kimberley in one of his classic films. In fact, when you think about it, fish have been caught on all sorts of weird "baits" – from cigarette papers to chicken bones to bits of old plastic.
That got us wondering what you guys have used as "weird" baits. Send in your stories and pics of fish caught on weird baits and you'll go in the draw to win a cool Fisho-branded Rapala X-Rap lure. We've only got 20 of these fantastic lures to give away.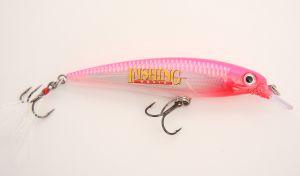 These are an exclusive, once off prize – you can't get these lures anywhere else! All you need to do is send your story (200 words max) or picture to comps@fisho.com.au by COB Thursday, February 18, 2010. Winners will be chosen at random; the judges' decision is final. Winners will receive the exclusive Fisho-branded Rapala X-Rap plus have their pic and/or story featured on the Fisho website. Remember, weird will win!