Fusion's new MS-RA200 super-compact marine audio is designed to deliver powerful, clear and dynamic sound with amazingly simple controls.
No last-century CDs needed, simply connect a USB stick or powered hard-drive, for hours of music. Or add the optional Dock and glide your iPod or iPhone into the waterproof-housing for near-identical control of these music sources, safe from the elements.
This amazing unit will even output video from Apple devices in the dock to many chartplotter screens, or to any flat-screen TV with video in.
Fusion's unique receiver tunes AM/FM and Marine VHF broadcasts for stereo entertainment, VHF chatter and weather updates – with programmable selection of the VHF channels you would like to monitor. It features a huge 50 watts x 4 channels, or for those who want even more power Fusion's optional amplifiers and speakers can be added.
The receiver head unit sells for $279 and the optional Dock $99.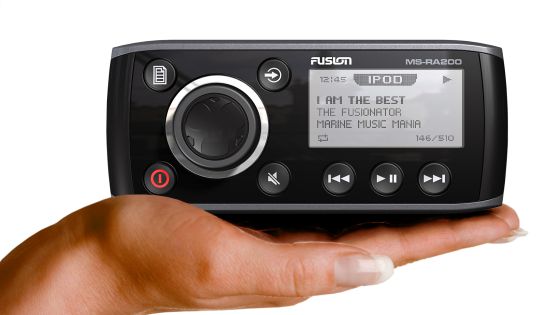 For more info: Ph: 1300 736 012; website: www.fusionelectronics.com