Dunbier Marine Products has been appointed an official distributor of the innovative Eco Trailerwash System.
Sold in kit form, the Eco Trailerwash System is a clever network of poly tubing and nozzles which is fitted to the trailer frame and connected to a water supply via a standard hose fitting. The nozzles, which are positioned all around the trailer, can be adjusted to spray specific areas such as wheel hubs, brake systems and axles.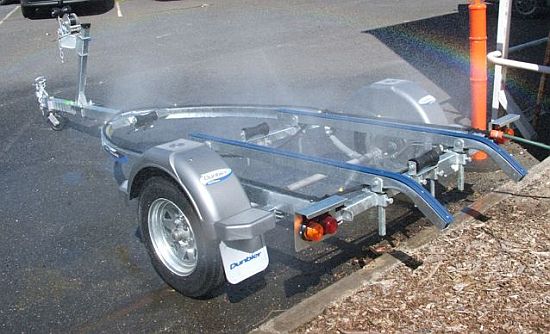 More effective than rinsing the trailer with a hose, a fine mist of water is simultaneously sprayed around the entire trailer as soon as the tap is turned on, which thoroughly washes the trailer – as well as the bottom of the hull.
With 25m of poly tubing and all the required fittings, gal screws and nozzles included in every kit, the Eco Trailerwash System is suitable for trailers up to 8m in length. RRP is $99.
Dunbier Marine Products – (03) 9580 2455 – dunbier@dunbier.com – www.dunbier.com
For a test review of this product check out Put To The Test via Gear Bag link on the homepage.