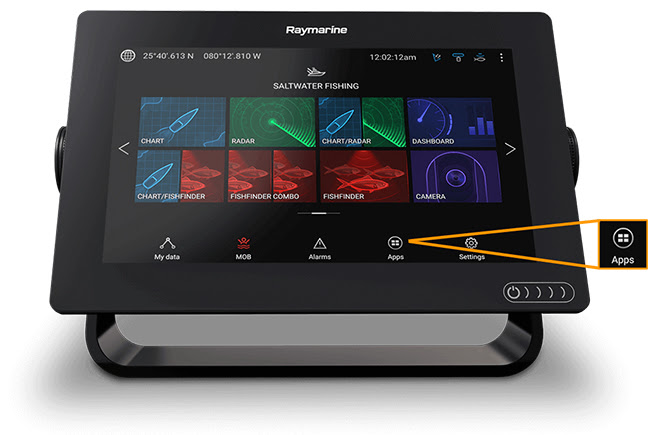 WHAT turns a chartplotter into a multifunction display (MFD)? Performance, technology and connectivity. In this spirit, Raymarine is pleased to announce LightHouse version 3.4, the latest free update to Raymarine's LightHouse 3 OS software system.
Laden with upgrades and enhancements, LightHouse version 3.4 brings to your helm functions and digital services previously reserved for mobile phones and your living room.
Key enhancements provided by LightHouse version 3.4:
LightHouse Apps for Entertainment, Communications and Integration
LightHouse Apps are an exciting new way to expand the power and capabilities of LightHouse OS. Axiom users can now stream entertainment from Netflix and Spotify, as well as access Theyr's GRIBview precision global weather service app.
With LightHouse Apps, Raymarine is making it easy for marine technology partners and app developers to integrate with Axiom and LightHouse 3 OS. And Raymarine will continue to expand LightHouse Apps with future support for Seakeeper gyro stabiliser control, Mazu satellite communications and more! LightHouse Apps are only available on Axiom and Axiom Pro.
Bluetooth Audio Output
LightHouse 3.4 also adds Bluetooth audio output from Axiom and Axiom Pro MFD's. Connect Axiom's Bluetooth to your marine stereo system or Bluetooth enabled speakers and enjoy digital audio from your streamed movies and music. Bluetooth audio is only available on Axiom and Axiom Pro.
Other LightHouse 3.4 features:
Vessel Alarm History and Management. LightHouse 3.4 now offers easy access to alarm settings and history right from the home screen.
Chartplotter "Find Nearest" Hot-Spotting. Use a simple long-press anywhere on the chart and trigger the "Find Nearest" menu to instantly see a listing of common chart-related Point-Of-Interest data points including wrecks, marinas, fueling stations and many more.
Chart Tide Mode for Tides and Currents. Enable tide mode on your chart display and instantly see all the nearby tidal height and tidal current stations.
Fuel Management Tools. Fuel management interacts with your NMEA2000 engine data and tank level senders. See real-time fuel burn, range and economy, and receive low fuel alerts.
Network Dimming for MFDs and Instruments. LightHouse 3.4 is now compatible with Raymarine's network dimming system, also employed by our i50, i60 and i70 instruments and autopilot controllers. Dim or brighten your entire helm with a single command.
Custom Splash Screens. Add a personal touch to your Axiom by selecting a favourite photo or graphic to display onscreen at startup. Remember a favourite moment, celebrate your boat or team, or just change it up for fun and variety.
Upgrade Today and Keep Your System Up-To-Date
LightHouse 3.4 is available free now at Raymarine.com. You can also update your MFD using its built-in Wi-Fi networking if you are in range of a wireless or mobile internet hotspot. Full details on Raymarine software updates are always available HERE.