SAVAGE last week unveiled its new range of fibreglass cabin boats at a media event on Queensland's Moreton Island. The event also saw the release of an updated version of Savage's fibreglass bowrider series.
The new range is Savage's first foray Into the fiberglass fishing market since Queensland boat maker Telwater purchased the company in 2008.
The Savage fibreglass range includes 485, 585, 645 and 655 cabin models and 175 and 195 bowriders. The largest model in the range, the 655, features a walk around configuration.
The new hulls, which are derived from a New Zealand design, are built in China under regular supervision from Savage. The finish and build quality certainly appeared on par with most similar locally made boats, and all warranty issues are handled locally through Savage.
Having the hulls built offshore means Savage can offer the new boats at a competitive rate. The entry level 485, as tested, retails for $34,318, right up to $62,172 for the top end 655 cabin model with 200hp Evinrude ETEC. That seems like pretty decent value for a offshore capable fishing rig.
Any of the four new cabin models would make an ideal family friendly fishing boat. Features include a unique movable rear lounge with storage. Fishos could leave this at home, while families could take advantage of the extra comfy seating, which can be moved around the cockpit to suit. The range also features a dual walk-through transom for easy access and there's ample bunk space and wide open access to the cabin for family use.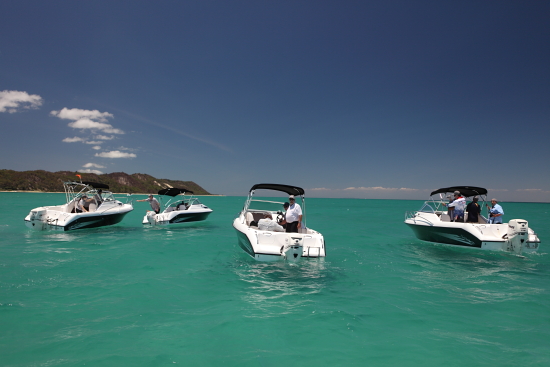 Moreton Bay whipped up quite a chop for last week's unveiling which provided an ideal playground for the new boats. The steep deadrise across all models handled the messy conditions nicely and all occupants stayed surprisingly dry.
Savage has constructed the hull with minimum timber to eliminate risk of rotting. All stringers are built using fiberglass and there's no timber adjoining the upholstery.
Savage offers a number of options including clears, live well, cutting board etc. The new boats are available packaged with Savage's own locally built multi-roller trailer.
See the boats in action and hear from Savage's Jason Draeger In the video below and stay tuned for a more detailed boat test in an upcoming issue of Fishing World.