FISHING and boating is as popular as ever and the number of new boats sold over the past few years were in record numbers. Many of these boats were sold to first time boat owners.
Unfortunately, plenty of these boats will be listed for sale over the next few years. The reason for this are varied, but often it's because a poor choice was made and the boat didn't fit with their requirements. It's a shame!
Over the following pages, let's look at some of the factors to avoid and what to look out for in a new boat.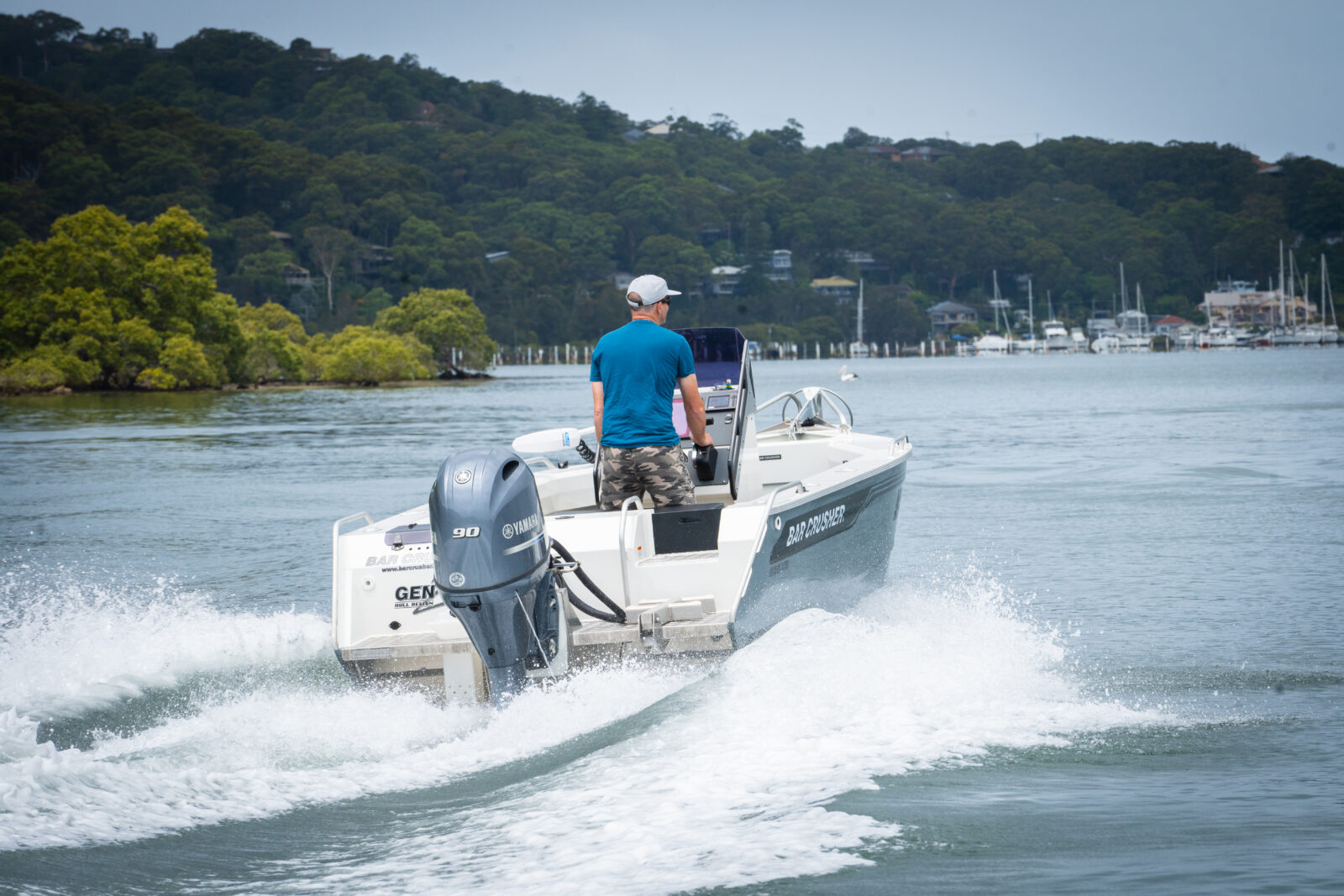 The 80/20 rule
Most Aussie fishos target a wide range of species and destinations. Personally speaking, I fish for everything from trout to game fish, and most species in between… and enjoy it all. I use bait, lures, and fly and fish with family, friends, and sometimes solo.
How do you ever find a boat to cover all of these scenarios? You don't! This is where the 80/20 rule comes in. Find what you do most and focus on that. Be honest with yourself and ask yourself where and what you're genuinely going to be targeting and where you intend to fish over the next couple of years. If you live on the coast and most of your fishing is for snapper and kingfish around the inshore reefs, but occasionally you hear up river for bream, chances are 80% of your fishing is done on the reefs. Buy a boat that reflects that and make do when you head up river.
I've always wanted a larger boat to hook up, hit the road and head north to explore our northern tropical waters. Maybe one day it will happen, but for the most part it's still just a dream and the vast majority of my fishing is done within an hour from my front door.
As such, I own a plate centre console. My Bar Crusher 535XS is a versatile boat and perfect for 80% of the fishing I do, and not bad for the other 20%.
Thankfully, there are many boats out there like the Bar Crusher. Boat manufacturers have answered the needs of fishos and designed boats that are capable of covering many bases. My boat is equally at home chasing bass or cod in a river as it is targeting snapper and kings offshore. It's not perfect, but as long as I'm aware of the compromises, it's a balance I'm happy to accept.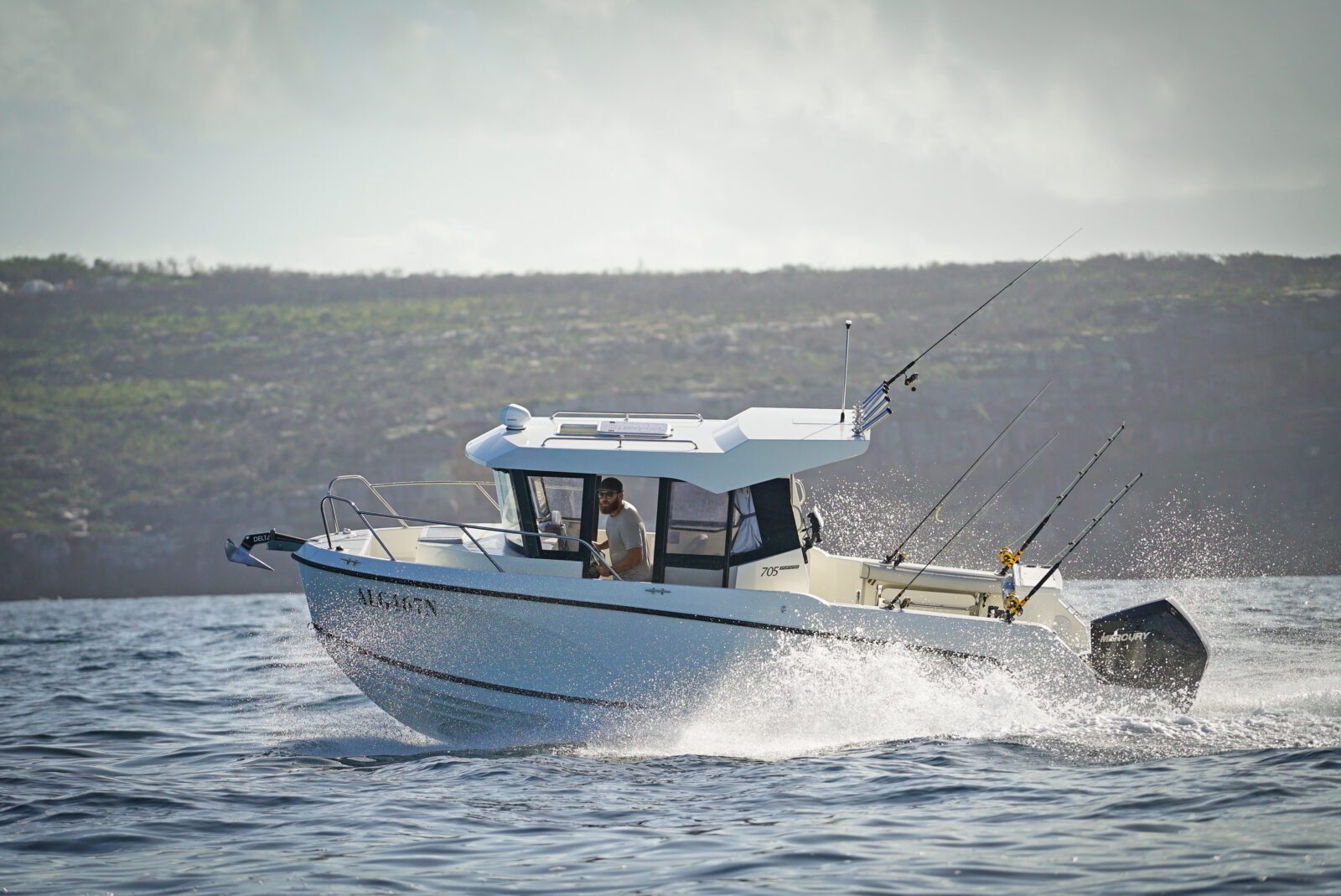 Plate or fibreglass?
Search for plate vs fibreglass on Google or social media and you'll get a lot of mixed messages, not to mention a lot of bad advice.
It's a controversial topic, although it really shouldn't be.
I've owned both and still own both. I genuinely love my plate alloy Bar Crusher, and I love my small composite 'glass boat. I also miss my US-built Scout fibreglass boat. Both have pros and cons and both are very good fishing boats.
For many people it may simply come down to personal choice.
Fibreglass is known for its superior ride in heavy seas or chop and an overall refined finish. Meanwhile, alloy is better known for its resilience and practicality for serious fishos.
There are exceptions for both of course. I know of plate boats that ride beautifully in heavy seas and vice versa.
My advice is to ignore all of the bad advice and look at each boat's individual capability and features. There are no shortage of great boats in all materials.
"Tinnies" are another popular choice. There are more small (sub 5 metre) pressed alloy boats in this country than anything else. They're cheaper, light, easy to tow and manage at the boat ramp. And they're perfect for a wide range of our most popular species and locations.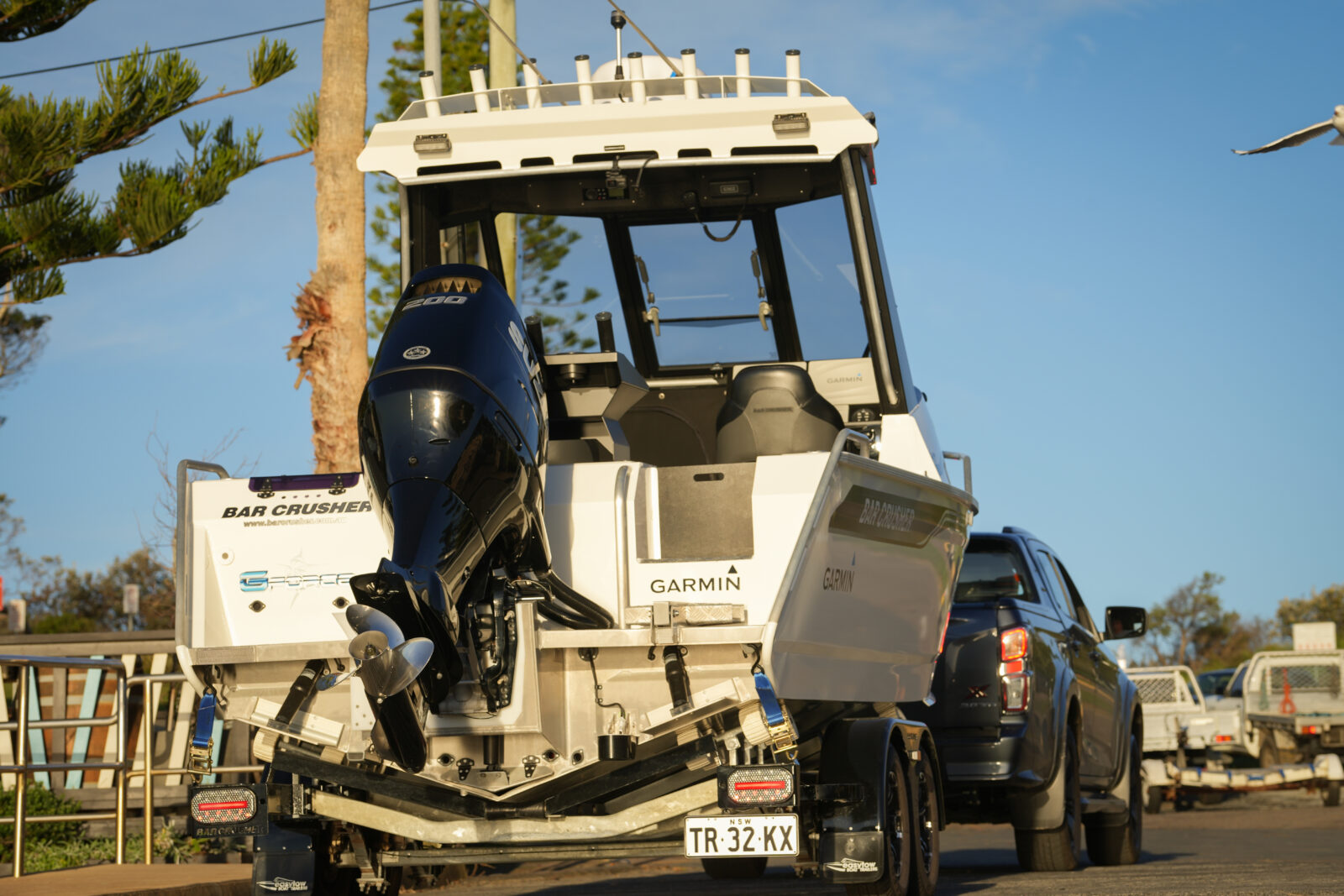 Engine choice
Choosing an engine is often just as difficult as choosing a boat.
The good news is, almost all modern four-strokes are reliable these days. You usually don't have to worry about a "dud" brand or model. Again, do a search online and you'll find conflicting answers. The truth is, the technology these days is pretty impressive and the choice of engine comes down to other factors.
When choosing between brands, look out for the length of warranties, service times, and look for feedback or reviews on the company's response to problems. Problems are rare, but you do want to ensure it will be fixed if something does happen.
I also look for an engine light in its class and as up-to-date as possible.
Most people choose the maximum horsepower for their boat. For re-sale purposes, its not a bad idea, but its not always necessary. Different boat manufactures rate their boat's maximum horsepower different and you might find going down in horsepower is a good choice.
Be careful not to go too low. Although we don't see it much these days, in the past, some boat dealers would sell boat packages with small engines to keep the overall cost down and remain competitive. However, the boat buyer would usually have to upgrade the engine and that became an expensive exercise.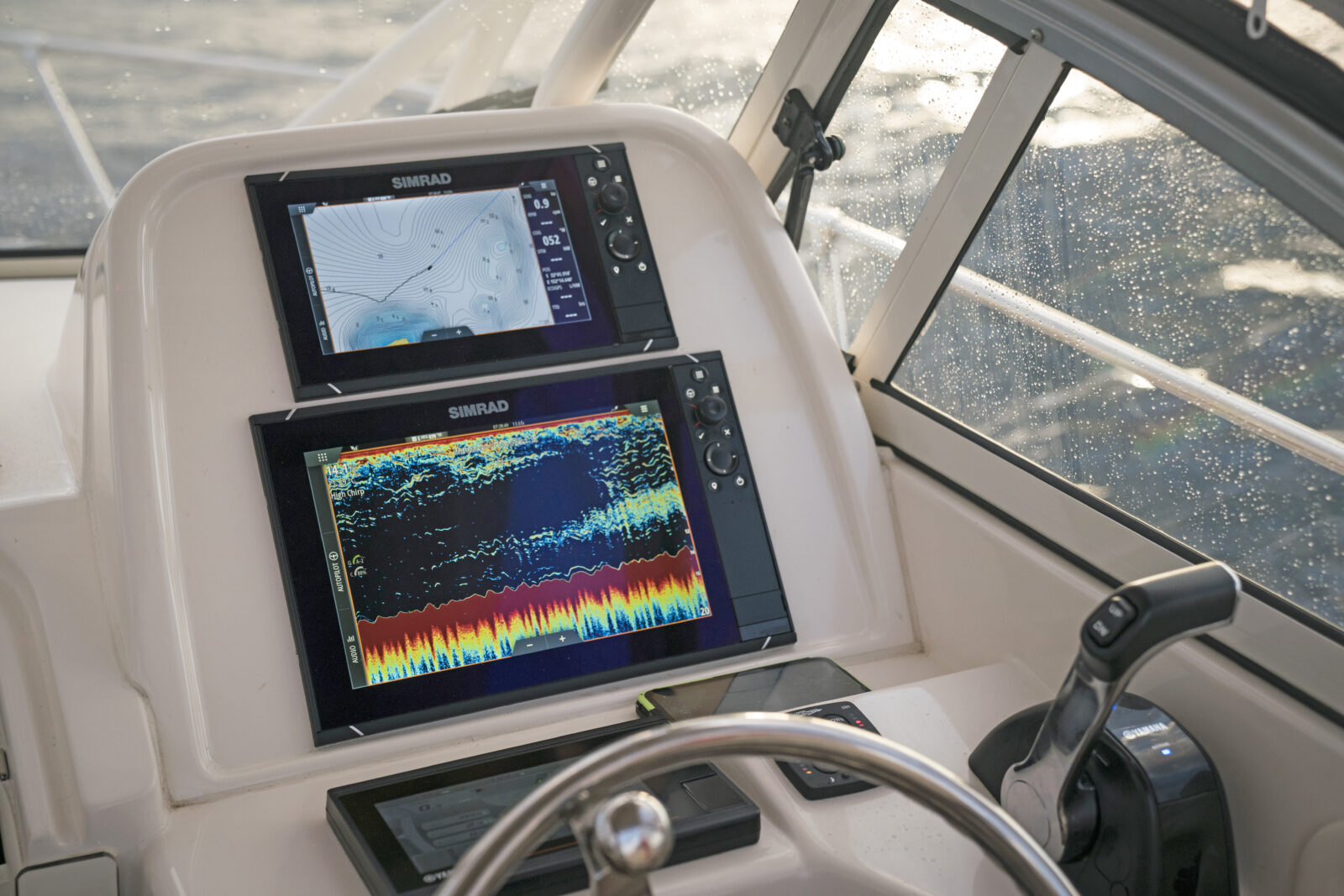 Fishing features and options
One piece of advice is to ensure you have everything installed when you buy the boat. Going back for bits and pieces and doing upgrades to accessories is sometimes necessary, but not preferred. You will find these little jobs never get done and it becomes more expensive. Get as much does before you pick up the boat and have a complete package ready to go.
The list of fishing features and options is long. Talk to the manufacturer or dealer about the common items sold for your style of fishing and individual boat.
If it's game fishing, you need things like outriggers, live wells, sounders with powerful transducer, tuna tubes, rocket launchers, and more. If it's estuary boat, you might need an electric trolling motor, rod holders, sounder with side, down and, live images, plus a live well.
Many of the better manufacturers offer the essential features as standard. Brands such as Bar Crusher and Quintrex offer standard boats with very little need for extra additions.
Items such as sounders and electric motors are usually a personal choice and can be fitted at the time of purchase.
However, watch out for boat manufacturers that charge for features that ideally should be included as standard on all boats. Items such as rod holders, cup holders, colour choice, seats etc.
The wrap up
There are a lot of decisions to be made when'd deciding to buy a fishing boat.
Again, my emphasise is to look at the fishing you "mostly" do and find a boat to suit it. While many boats are built as "all-rounder" and do a great job at most things, there's no true boat that will be perfect in all scenarios.
Find a reputable boat brand and engine manufacturer with good warranties and a reliable history of service.
Getting the green light to buy a boat is a big win. Do it right and you'll spend the next few years enjoying your pride and joy without regrets.